Female Genius
BC Law Professor Mary Sarah Bilder chronicles the political feats of the eighteenth-century education activist Eliza Harriot.
Modern politicians understand how to play to the media with provocative tweets and photo ops. In her new book, Female Genius: Eliza Harriot and George Washington at the Dawn of the Constitution, BC Law School Founders Professor Mary Sarah Bilder introduces readers to one of the original political influencers, the eighteenth-century education activist Eliza Harriot O'Connor. To draw attention to her mission, Eliza Harriot—as Bilder refers to O'Connor—knew she had to secure an audience with George Washington. And in doing so, Bilder suggests, she altered the course of history.
In the late 1700s, the well-connected O'Connor—born in Portugal of British parents—toured the United States, advocating for women's education as the nation's first female public lecturer. Determined to get Washington's attention, she scheduled one of her talks for a time when the future president was most likely to be available. And in fact, shortly before the Constitutional Convention, Washington did attend one of her 1787 lectures at the University of Pennsylvania. "She realized that, if Washington was the most important person in the United States, and if he could come to her lecture, then all the newspapers would pick it up and comment," Bilder said. "She delayed her lecture for a day so that he could show up. It went viral in the eighteenth-century sense, with over 150 advertisements or commentaries about her in the summer of 1787."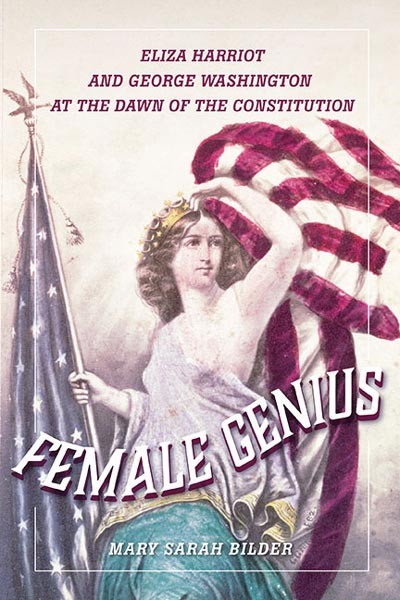 Bilder believes Eliza Harriot's ideas about gender equality in education and political participation influenced the Constitution's gender-neutral language, with its references to "persons" or "citizens." It was an exciting, promising time, Bilder said, when American law was very much in flux and the question of women's suffrage hadn't yet been decided. "This is a moment where things were more open—the kinds of constitutional exclusions that became very clear in the later 1790s aren't quite yet in place," she said. For instance, New Jersey's constitution authorized women to vote until the state legislature stripped that right away in 1807.  
Bilder discovered Eliza Harriot while researching her last book, Madison's Hand: Revisiting the Constitutional Convention, which won the Bancroft Prize. In perusing Washington's diaries, she spotted references to the ambitious Eliza Harriot, who ran a boarding school for young women in New York that focused on belles lettres, elocution, math, and geography. Washington even called her ideas "tolerable," which was true praise for the time. "I always love that: It's how Mr. Darcy describes Elizabeth Bennett in Pride and Prejudice," Bilder said. "It's not a complete embrace, but it's certainly not rejection. It's a kind of openness to the idea that women aren't inferior."
As such, opposing republican motherhood—the post-Revolutionary notion that American women should be educated only to support male family members—figures prominently in Eliza Harriot's story. One of the idea's most vocal critics, she secured a five-day invitation to Washington's Mount Vernon estate in 1788 to discuss plans for a young ladies' academy there. "She doesn't move to the United States thinking, 'I'm a lesser human being,'" Bilder said with a laugh. "She invited herself to Mount Vernon. She didn't even have a carriage, so Washington sent a carriage for her." Eliza Harriot went on to open female academies throughout the South.
The title Female Genius is a nod to Eliza Harriot's ingenuity, which stood out at the time in America, even as female debating societies and political involvement were taking root in Europe. In some ways, Bilder considers Eliza Harriot to be the lesser-known, stateside version of the British activist Mary Wollstonecraft, who authored the landmark feminist work,  A Vindication of the Rights of Woman, which argued that women deserve the same fundamental rights, including access to education and political representation, as men.
Female Genius spotlights not only a trailblazer for women's rights but also an overlooked era, pre-Constitution, when women had the potential right to vote, and weren't merely consigned to domestic duties. Yet, despite this brief moment of hope, women were gradually edged out of politics and education—and the trajectory of Eliza Harriot's life unfortunately followed suit. After her initial success, she lived an itinerant life due to the debts of her would-be writer husband. "It's a sort of sad story," Bilder said. "Early nineteenth-century constitutions moved toward explicitly enfranchising white men. Eliza Harriot's story tracks that larger story—and yet, it also reminds us how inspirational women pushing at these boundaries were." 

---