Take Heart
catholic writers on hope in our time

Purchase a copy of Take Heart and a care package will be sent to an American soldier overseas. Donate a book to the cause and a copy of Take Heart will be placed in the care packages for the troops. Please click here for more information or contact Chris Bergin at christopher.bergin@bc.edu.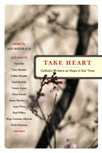 Edited by Ben Birnbaum
Where do you find hope? In this exquisitely written volume, thirty of America's most eloquent Catholic writers reflect on where they find and sustain sources of hope in their own lives. These reflections draw on a wide range of sources – from reason, love, anger, prayer, and humor, to inspirational figures such as Dorothy Day, Flannery O'Connor, and Pope John Paul II, in illuminating the battle against despair that is always at work in religious faith.
Editor:
Ben Birnbaum, is editor of Boston College Magazine and executive director of the BC Office of Marketing Communications. He holds degrees from Ner Israel Rabbinical College and the University of Vermont, and he lives in Brookline Massachusetts.
Contributors:
Msgr. Lorenzo Albacete, Ron Austin, Lisa Cahill, Lawrence Cunningham, Paul Elie, Harold Fickett, Paul Griffiths, Paula Houston, Robert Imbelli, Luke Timothy Johnson, Peter Kreeft, Paul Mariani, James Martin, Cullen Murphy, Melissa Musick Nussbaum, Timothy Radcliffe, Peggy Rosenthal, Valerie Sayers, Paul Wilkes, Kenneth Woodward, Ann Wroe, Phyllis Zagano, Philip Zaleski
Praise for The Church in the 21st Century series:
"These highly interesting essays, written by so many articulate and passionately committed persons, are timely, informative, and a joy to read. The central issues of these volumes are of such critical importance for the Church today that one can only pray that these studies will trigger further sustained conversation, and God willing, serve as a catalyst for real action."
-Lawrence S. Cunningham, John A. O'Brien Professor of Theology, The University of Notre Dame
---
You can order this book through the Boston College Bookstore.