Priests for the 21st Century
the church in the 21st century center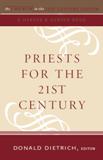 Edited by Donald Dietrich
For many people, priests are the most visible face of the Catholic Church. Yet in recent years, many inside and outside the Church have viewed the priesthood as a troubled institution, beset by low morale, dwindling numbers, and a doubtful future. In Priests for the 21st Century, Donald J. Dietrich introduces the work of leading Catholic theologians, writers, and scholars to dispel pervasive myths, shed light on the history and nature of the priestly calling, frankly address current challenges, and point to future opportunities for the priesthood.
Editor:
Donald Dietrich, is a professor of theology at Boston College, has focused his research and publications on German Catholic experiences, ranging from the Tubingen School of Theology to the Third Reich. He is a member of the Church Relations Committee at the United States Holocaust National Museum.
Contributors:
James Bacik, John Baldovin, S.J., James Burns, Donald Dietrich, Elizabeth Donnelly,
Thomas Groome, Edward Hahnenberg, Dean Hoge, James Keenan, S.J., Eugene Lauer,
Thomas Mahoney, Joseph Nuzzi, Thomas O'Meara, O.P., Amy Strickland, John Strynkowski, Susan Wood, S.C.L.
Major topics include:
IS THERE A SHORTAGE? - "THE PEOPLE OF GOD" AND LAY MINISTRY - PASTORAL MINISTRY - MINISTERS OF THE SACRAMENTS - "BURNOUT" - RENEWING COMMITMENTS - PREACHING AND GRACE - THE MORAL RIGHTS OF PRIESTS - PRIESTS AND BISHOPS - THEOLOGY OF MINISTRY 40 YEARS AFTER VATICAN II - CONTEMPORARY CHARISM AND HOPE FOR THE FUTURE
Praise for The Church in the 21st Century series:
"These highly interesting essays, written by so many articulate and passionately committed persons, are timely, informative, and a joy to read. The central issues of these volumes are of such critical importance for the Church today that one can only pray that these studies will trigger further sustained conversation, and God willing, serve as a catalyst for real action."
-Lawrence S. Cunningham, John A. O'Brien Professor of Theology, The University of Notre Dame
---
You can order this book through Amazon.