Inculturation and the Church in North America
the church in the 21st century center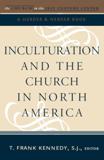 Edited by T. Frank Kennedy, SJ
What does the Church look like to outsiders? How do Catholics understand their shared identify from within? How do Catholics participate in the Church, and what is distinctive about the Church in diverse settings? In Inculturation and the Church in North America, T. Frank Kennedy introduces the work of leading Catholic theologians, writers, and scholars to address the challenge of inculturation in the North American context.
Contributors:
Rev. John P. Beal, Nancy A. Dallavalle, Dean R. Hoge, Natalia M. Imperatori-lee, Mary Johnson, S.N.D.deN., T. Frank Kennedy, S.J., Mark S. Massa, S.J., Peter C. Phan
Major topics include:
YOUNG ADULT CATHOLICS - GENDER AND CATHOLIC POLITICAL LIFE - CATHOLICS IN AMERICAN POLITICAL CULTURE - THE IMPACT OF WOMEN THEOLOGIANS - THE PARTICIPATION OF THE LAITY - BUSINESS CULTURE AND THE CHURCH - SECTARIAN THREATS - "A TRULY LOCAL CHURCH" - COLLECTIVE IDENTITY - US HISPANIC MARIAN DEVOTION - CHALLENGES FOR THE FUTURE
Praise for The Church in the 21st Century series:
"These highly interesting essays, written by so many articulate and passionately committed persons, are timely, informative, and a joy to read. The central issues of these volumes are of such critical importance for the Church today that one can only pray that these studies will trigger further sustained conversation, and God willing, serve as a catalyst for real action."
-Lawrence S. Cunningham, John A. O'Brien Professor of Theology, The University of Notre Dame
---
You can order this book through the Boston College Bookstore.