Handing on the Faith
the church's mission and challenge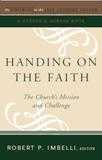 Edited by Robert P. Imbelli
What is the substance of Catholic faith and hope? What are the best means for conveying the faith, particularly in North America? In Handing on the Faith Robert P. Imbelli, a renowned theologian and teacher, introduces the work of leading Catholic theologians, writers, and scholars to discuss the challenges of heanding on the faith and the opportunity it creates for Catholics to rethink the essential core of their identity.
Editor:
Robert P. Imbelli, a priest of the Archdiocese of New York, studied in Rome during the years of the Second Vatican Council and was ordained there in 1965. He obtained his Ph.D. in Systematic Theology from Yale University. From 1986 to 1993 Father Imbelli was Director of the Institute of Religious Education and Pastoral Ministry at Boston College and is currently Associate Professor of Theology at Boston College.
Contributors:
Robert Barron, John C. Cavadini, Bishop Blase Cupich, William D. Dinges, Paul J. Griffiths, Thoomas Groome, Michael J. Himes, Robert Imbelli, Luke Timothy Johnson, Mary Johnson, S.N.D.deN., Christopher and Deborah Ruddy, Terrence W. Tilley, Robert Louis Wilken.
Major topics include:
CURRENT RELIGIOUS EDUCATION - THE IMPORTANCE OF CATECHESIS - COMMUNITY-BASED FAITH FORMATION - IDENTITY AND INDIVIDUALISM - GENERATION Y - THE CREED - CHRISTIAN WAYS OF SPEAKING - DISCERNMENT AND TRANSFORMATION - FUTURE CHALLENGES - COMMUNICATIONS - THE NEW ATHENIANS
Endorsements:
"The Church is faced by no more serious problem than that of handing on the faith to the young. Recognizing current failures, Boston College recently assembled a distinguished group of Catholic scholars and educators, whose considered reflections are presented by the essays in this volume. The series closes with a summons to hope and courage evoking the spirit of Pope John Paul II. The authors seem to agree that teachers of Catholic doctrine can succeed if they are joyful witnesses to the Lord as he continues to dwell in the community of faith."
-Avery Cardinal Dulles, S.J.
Praise for The Church in the 21st Century series:
"These highly interesting essays, written by so many articulate and passionately committed persons, are timely, informative, and a joy to read. The central issues of these volumes are of such critical importance for the Church today that one can only pray that these studies will trigger further sustained conversation, and God willing, serve as a catalyst for real action."
- Lawrence S. Cunningham, John A. O'Brien Professor of Theology, The University of Notre Dame
You can order this book through the Boston College Bookstore.