Church Ethics and Organizational Context
learning from the sex abuse scandal in the catholic church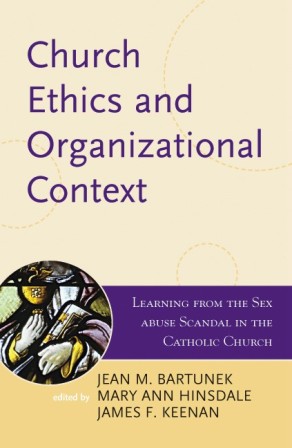 Edited by Jean M. Bartunek, Mary Ann Hinsdale, and James F. Keenan
Church Ethics and Its Organizational Context is the first book to provide a broadly interdisciplinary approach to understanding the leadership crisis in the Catholic Church in the wake of the sex abuse scandal and how it was handled. Well-known scholars, religious clergy, and lay people in the trenches of church formation and leadership come together from the disciplines of organizational behavior, theology, sociology, history, and law, to foster the creation of a new code of ethics that is both ecclesial and professional. Touching on issues of governance, authority, accountability, and transparency, this volume goes on to specifically explore whether and how professional ethics can shape the identity and actions of Church leaders, ministers, and their congregations.
While evoked by the sex scandal in the Church, the essays in this book raise questions that have implications far beyond this current issue, to much broader issues such as the role of professionalism in ethics and what it means for an organization to engage in moral action.
Editors:
Jean M. Bartunek, RSCJ, is the Robert A. and Evelyn J. Ferris Chair and professor of organization studies at Boston College. Her most recent book is Organizational and Educational Change. Mary Ann Hinsdale, IHM, is associate professor of theology at Boston College. She is coauthor of It Comes From the People: Community Development and Local Theory. James F. Keenan, S.J., is professor of theological ethics at Boston College and author of both The Works of Mercy and Moral Wisdom.
Contributors:
Jean M. Bartunek, John P. Beal, Francis J. Butler, Patricia M. Y. Chang, Daniel R. Coquillette, Michele Dillon, Kimberly D. Elsbach, Richard R. Gaillardetz, Richard M. Gula, C. R. Hinings, James F. Keenan, Paul Lakeland, Michael K. Mauws, Judith A. McMorrow, Richard P. Nielsen, James M. O'Toole, James E. Post, Denise M. Rousseau
Romwan & Littlefield Publishers, Inc., 2005
Reviews:
"The essays collected here are unparalleled in the breadth and depth of their analysis of a church in crisis. Moreover, the authors take us beyond their penetrating analysis to a realistic vision of renewal and reform."—Donald Cozzens, author of Faith That Dares to Speak
"I sat down to review and ended up devouring this book. At last we have a comprehensive perspective on the American Roman Catholic Church that combines sound ecclesiology with a contemporary organizational critique. This book will empower those trained in organizational theory and sociology to enter into the dialog of the present crisis of the Church no longer having to feel that the domain is restricted to psychology and moral theology."—Andre L. Delbecq, McCarthy University Professor, Santa Clara University and Director of the Institute for Spirituality of Organizational Leadership
"This book should be required reading for all members of all churches, and especially for all church leaders or anyone in a particular office or role in the church. The interdisciplinary essays in this book never lose their clear and solid focus on ethical guidelines for the internal life of the church and its external mission. We have here, therefore, a remarkable new set of insights into church relationships and roles, and a significantly new understanding of the church itself. Moral responsibility is finally brought together in very specific ways with profound faith and accountable service. The result holds great promise for new life in the multiple concrete situations of every church."—Margaret A. Farley, Gilbert L. Stark Professor of Christian Ethics, Yale University Divinity School
"Bartunek, Hinsdale, and Keenan have edited an impressive volume of multi-disciplinary perspectives on unethical behavior. Analyzing sex abuse in the Catholic Church, the chapters explore the complex causes underlying the scandal and show how the larger organizational context contributed to it. The book goes far beyond church abuses to provide a comprehensive understanding of how unethical behavior can emerge in all kinds of social contexts and how it should be handled. Anyone with a serious interest in ethical behavior in modern organizations will find it a compelling read."—Thomas G. Cummings, Professor and Chair, Department of Management & Organization and 2005-2006 President of the Academy of Management
---
You can order this book through the Boston College Bookstore.