The Treasure of Hispanic Catholicism
WE TYPICALLY TAKE it that "catholic" in reference to the Church means universal, and indeed it does. However, the first Christian authors to use it to describe the Church (e.g. Ignatius of Antioch, writing circa 106 ce) were well aware of the Greek roots of the term – kata holos - literally "to include all." They were proposing total inclusivity for the Christian community. Perhaps James Joyce captured this best when he wrote in Finnegan's Wake, "catholic means 'here comes everybody.'" But then, we might ask, what does each particular "everybody" bring to the holos (whole).
As the essays and statistics in this issue of C21 Resources attest, now is clearly the "Hispanic moment" for US Catholicism. It invites other cultural expressions that have held center stage at another time or place (e.g. the Irish in Boston) to pass the baton and to welcome this "breath of fresh air" blowing from Hispanic Catholic cultures. Hispanic Catholicism is truly a treasure that enriches the whole US Catholic Church; as Jesus advised regarding the treasury, we will take from it both old and new (see Matthew 13: 52).
C21 Resources Spring 2016

The Treasure of Hispanic Catholicism
We are grateful for the thoughtful guidance of guest editor Hosffman Ospino. Please share this magazine with family, friends, students, colleagues, and fellow parishioners. We are happy to fulfill requests for additional copies. Please send an email to church21@bc.edu
Robert Ver Ecke artículo en Español
Una batalla cuesta arriba
25 de febrero de 2013 Robert VerEecke
Heartbreak Hill (La colina Rompecorazones) es un tramo famosamente difícil del maratón de Boston, como cualquiera ha corrido la carrera, o la ha visto, le puede decir. Justo al otro lado de esta larga subida a través de Chestnut Hill, Massachusetts, encuentra St. Ignatius Church, donde he sido párroco durante casi 25 años. El edificio se encuentra en la periferia del campus de Boston College y atrae feligreses de toda el área metropolitana. Robert Ver Ecke artículo completo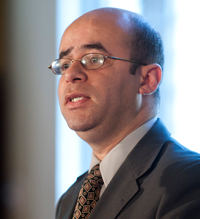 Hosffman Ospino is an assistant professor in the School of Theology and Ministry and director of graduate programs in Hispanic ministry at Boston College. Ospino holds an M.A. in theology with a concentration in church history and a Ph.D. in theology and education from Boston College.
C21 VIDEOS
Search under Hosffman Ospino and Hispanic Catholicism on our C21 Videos page to find all events related to this focal issue.
The Imperative of Ministering to Hispanic Youth: Pastoral Juvenil Hispana: Dr. Carmen Maria Cervantes introduced the model "Pastoral Juvenil Hispana" as a treasure for the Church. She explored "Pastoral Juvenil Hispana" in comparison to traditional models for youth ministry, its contributions and challenges, and provided insights on the resources available for ministers working or planning to work with Hispanic youth.