University of Ulster School for Entrepreneurs
Non Profit Management and Development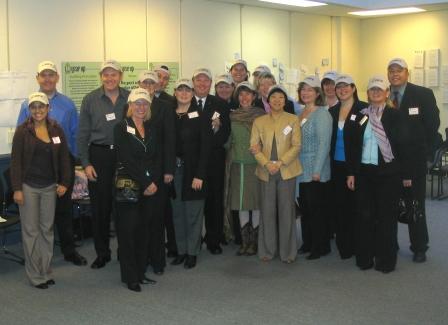 Northern Ireland Assembly Committee on the Environment
The Irish Institute at Boston College is pleased to have hosted, in cooperation with the University of Ulster/School for Social Entrepreneurs in Ireland, the Nonprofit Management and Development Program, which took place in Boston, October 10 – 20, 2005. This program brought together fourteen senior executives from Northern Ireland for a series of interactive seminars with distinguished faculty, roundtable discussions with industry leaders, and site visits to innovative and groundbreaking organizations in the Boston area.
Since 2000, the Irish Institute has worked closely with the University of Ulster to offer an international component to many of its executive Master's programs. The 2006 Nonprofit Management and Development Program built on the success of previous programs, exposing participants to best practice models in the U.S. and providing them with international networking links.
While in Boston, the participants attended graduate-level seminars led by members of the Boston College's nationally ranked Carroll School of Management. The group also had the opportunity to meet some of the leading nonprofit executives in Boston, including Kingsley Aikins, President and CEO, American Ireland Fund; Patrice Keegan, Executive Director, Boston Cares; George McCully, President, Catalogue for Philanthropy; Kathleen O'Connor, Interim Executive Director, Haley House; David Waters, Executive Director, Community Servings; Bill Walczak, CEO, Codman Square Health Center; Lydia Lowe, Executive Director, The Chinese Progressive Association; Siobhan O'Riordan, member of Daily Muses Giving Circle; Linda Swardlick-Smith, Director of Community Partners, Year Up; and Andrew Wolk; InnerCity Entrepreneurs and Boston University.