Education Leadership
Boston, MA & Milwaukee, WI: April 24 - May 5, 2004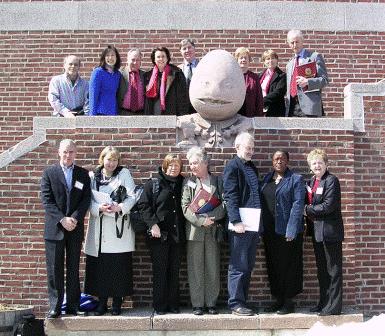 The Irish Institute at Boston College is pleased to have hosted the Program for School Leadership Development, which took place in Boston, Massachusetts and Milwaukee, Wisconsin, April 24 – May 5, 2004. Bringing together ten education policymakers, school principals, and teacher educators from the Republic of Ireland and Northern Ireland, this ten-day program examined innovative models of education in the United States in order to promote successful management of change within primary and second level schools in both Ireland and Northern Ireland.
The program featured graduate-level seminars with Boston College Lynch School of Education faculty and visited educational organizations in and around Boston and Milwaukee. In Boston, the group met with Professors Judy Clair, Andy Hargreaves, and Irwin Blumer, Boston College Lynch School of Education; Professor Cathy Wong, University of Massachusetts Boston; Jose Duarte, Headmaster, and Andy Tuite, whole-school change coach, Boston English High School; Sr. Ellen Powers, CSJ, Principal and President North Cambridge Catholic High School; John Jordan, Principal Charles E. Brown Middle School; Richard Stutman, President Boston Teachers Union; and Annajean McMahon, Program Director, and Jennfier Amaya, Social Service Coordinator, Action for Boston Community Development.
While in Milwaukee, the group met with Professor Marleen Pugach and Assistant Professor Hope Longwell-Grice, University of Wisconsin Milwaukee; Cris Anderson, Executive Director of Milwaukee Partnership Academy; Bob Lehmann, Milwaukee Teachers Education Association; Edward G. Kovochich, Principal Bradley Tech High School; and Dr. Lowell Holtz, Superintendant, Eagle-Palmyra School District.