Catholic Intellectual Traditions
Boisi Center for Religion and American Public Life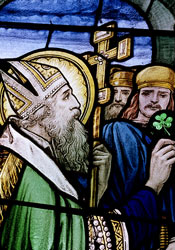 The Provost's Office initiated two multi-year Catholic Intellectual Traditions Seminars. They provide an opportunity for a diverse body of faculty members to discuss and articulate opportunities that the Catholic Intellectual Traditions offer. The interdisciplinary discourse will involve faculty members from across the university meeting on a specific topic for each seminar and on a broader, overarching theme for the seminar as a whole. They also support a faculty dialogue about the origins, nature and future responses to issues related to Boston College's Catholic identity. In addition, they are designed to contribute to conversations involving the role of secular and Catholic universities both in the United States and abroad. The two groups will investigate complementary aspects of Catholic Intellectual Traditions.
One seminar is exploring 'The University and the Catholic Intellectual Traditions.'
For more information contact David Quigley (chair) at david.quigley.1@bc.edu.
The other seminar, for which these pages are primarily intended, is focusing on 'Ways of Knowing and Catholic Intellectual Traditions.'
For more information about this website contact Suzanne Hevelone at hevelone@bc.edu.