A Taste of Spiritual Fulfillment
This BC Jesuit's recipe-infused memoir is seasoned with a love for cooking. 
The year was 1966, and Walter Smith, SJ, had not yet been ordained a priest when he made a pivotal life decision. A scholastic Jesuit studying and teaching in Paris, he walked into the famed culinary school Le Cordon Bleu one day and asked the director, Madame Elisabeth Brassart, if he could audit an introductory course. Brassart, who had been running the school for forty years and formerly taught Julia Child, agreed—under two conditions. The first was that Smith would have to purchase a set of Sabatier knives. The second, he recalled recently, was that "if you hold the group back in any way, you're out."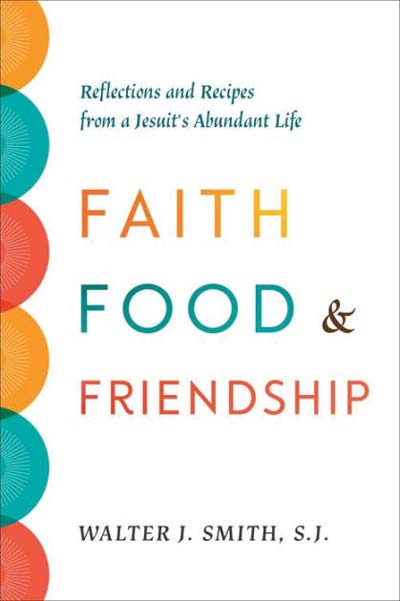 The course sparked Smith's love for French cuisine, and his discovery of that love is one of hundreds of colorful anecdotes featured in Faith, Food, and Friendship: Reflections and Recipes from a Jesuit's Abundant Life. Half cookbook and half memoir, the book takes readers through Smith's life via the lens of food. He opens with tales of growing up in Boston, and later relays anecdotes of his wide-ranging career, which included years spent as a psychology professor, a clinical specialist in palliative care, and the chief executive officer for a New York City nonprofit. Smith now teaches at Boston College's School of Theology and Ministry, and holds several degrees from BC, including his bachelor's and two master's degrees. Each chapter includes recipes that he encountered during specific times in his life. The types of cuisine featured in the book's 175 recipes represent Smith's shifting environment and worldview through the years, beginning with an updated version of his mother's oven-baked macaroni and cheese, and later reflecting global fare like dal chawal, an Indian lentil dish that Mother Teresa once recommended to him.
Smith began working on the book in 2017, when he spent five months aboard a cruise ship as its chaplain, celebrating Masses with the passengers and crew as the boat circumnavigated South America. He began by writing reflections of his life, which sparked memories of dishes he had learned to make along the way. Cooking, he explained, has helped him build community in both his personal and professional life, whether through hosting dinner parties for friends or serving residents at the nonprofit he ran. "Cooking, in that regard, was a ministry," he said. "It's labor in prep, in presentation, and cleanup. But I never grew tired of it, because it had a purpose."  

Enjoy this recipe taken from Faith, Food, and Friendship.

Salade de la Pastèque au Citron Vert
Watermelon salad with English cucumber, avocado, feta, and a lime-mint dressing
Makes 4 to 6 servings


Ingredients

---

For the salad:
4 cups cubed, seedless watermelon
1 large unpeeled English cucumber, cubed
2 ripe avocados
8 to 10 mint leaves, roughly
shredded
1 cup French feta cheese


For the dressing:
Grated zest and juice of 2 limes
2 finely minced shallots
2 teaspoons Dijon mustard
1 teaspoon granulated sugar (optional) 
½ cup extra-virgin olive oil
¼ cup dry white wine 
salt and pepper



Method

---

1. Prepare the avocado by cutting it in half and, with a large spoon, removing the flesh from the outer skin. Cut into wide strips and then into cubes, and toss the pieces with lime juice to prevent discoloration.
2. Place the chilled watermelon cubes, cucumber, avocado, and mint in a large bowl.
3. In a small bowl, whisk together the Dijon mustard, salt, pepper, and olive oil to form an emulsion. Add white wine, shallots, sugar (optional), and lime zest, and blend into the emulsion. Add lime juice and whisk until fully incorporated.
4. Drizzle the dressing over the melon, cucumber, and avocado mixture and toss to coat.
5. Sprinkle with crumbled feta cheese and serve.