A Farewell to Jerry York
After twenty-eight years and four national championships at BC, the legendary hockey coach has retired.
Throughout the thousands of practices and games that made up his career, the legendary BC Hockey Coach Jerry York '67 was rarely seen without a spiral notebook in hand. Generations of York's players speculated about just what was written inside. They never found out.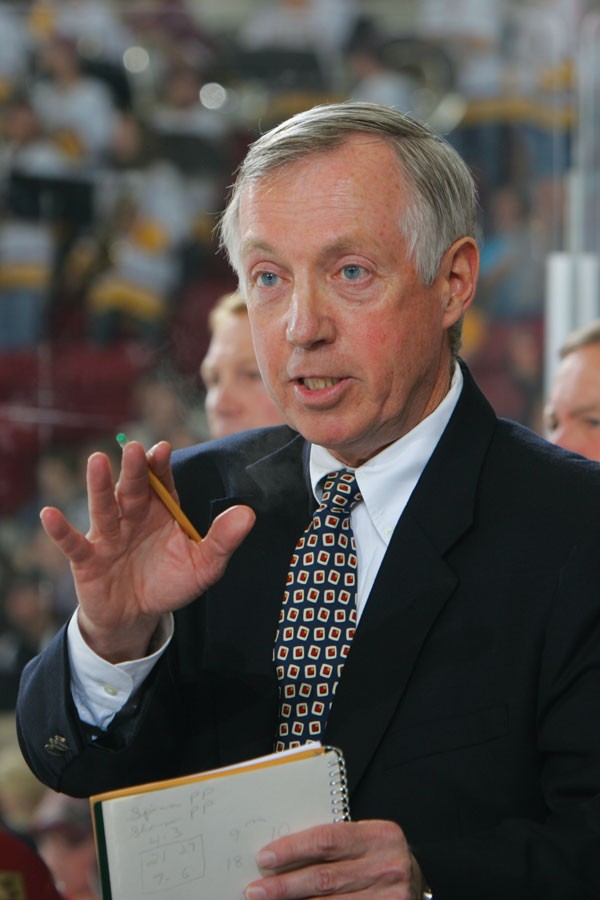 And now, the contents of York's notebook will remain a secret forever, as the winningest coach in college hockey history has retired. All told, York coached Division 1 college hockey for fifty years at three different institutions—Clarkson University, Bowling Green State University, and BC. Along the way, he won a staggering 1,123 games and five national championships (no other college hockey coach has won 1,000 games). York, who is widely known for his humility, announced his retirement with little fanfare, simply issuing a press release. The end of his 50th season seemed like the right time to step down, he said. "I am so blessed to have been involved with Boston College these past twenty-eight years," he said during a meeting with his players and coaches, "and to have had the opportunity to coach so many wonderful student-athletes." An outpouring of praise for York followed his announcement. "Jerry York is not just a championship coach," the renowned sportswriter Mike Lupica '74 tweeted. "He is one of the greatest figures in the history of our school. And he is one of the great gentlemen any college sport has ever produced." The former BC hockey star Blake Bolden '13, who in 2015 became the first African-American woman to compete in the National Women's Hockey League, also tweeted her appreciation. "My goodness, thank you Coach Jerry York," Bolden wrote. "An icon that has shaped the lives of so many young men and women, including mine."
Speaking of icons, perhaps no one in the world is better qualified to assess York's career than his fellow coaching legend Jack Parker, who led the Boston University men's hockey program for forty years, won three national championships of his own, and is the third-winningest coach in the history of college hockey. Parker and York have spent the majority of their lives as friends—and fierce on-ice rivals. They both grew up in the Boston area, played against each other first in high school and then in college (York at BC, of course, and Parker at BU), and eventually spent a few decades battling each other as head coaches. That started in the 1970s, when York was coaching Clarkson University and Parker was already at BU. Whenever Parker's team would play at Clarkson, Parker recalled, the two head coaches and their assistants would get together at York's house to talk hockey over beers. Eventually, their competition would play out on one of the biggest stages in college hockey. "BU and BC is an unbelievably heated rivalry," Parker said. "When games were over we'd shake hands at center ice. It was always hard to lose to BU or to BC when you were playing each other. And yet it was always an enjoyable handshake. I don't remember ever having a bad thought about Jerry York as the head coach." Well maybe just one, Parker admitted when pressed. That time had to do with York successfully recruiting a player Parker also wanted. Parker couldn't remember the player's name at first, recalling only that he was a small center. Then it came to him—Brian Gionta. "I thought 'Boy, that kid is going to make BC,'" Parker said.
Gionta '01 did indeed go on to become one of BC's greatest athletes ever. As captain, he led the Eagles to the NCAA championship in 2001, BC's first since 1949. He then played for sixteen seasons in the NHL. When Gionta heard York was retiring, his first reaction was shock. "That kind of longevity, that kind of run, that kind of success, it's unsurpassed in hockey," he said. But the lesson that has stuck with him after playing for York all those years ago has nothing to do with hockey. "He reinforces how you treat people," Gionta said. "Whether it is the athletic director, or it's the security guard when you walk in, or it's the janitor, the trainer, the equipment manager, everyone is on the same level. No one is above anyone and no one is below anyone, and everyone is to be treated with respect."
Outgoing BC Hockey Captain Marc McLaughlin '22 may have joined the program two decades after Gionta, but the lessons were the same. Asked for a memory of playing under York, the first thing McLaughlin mentioned was the friendship the coach had developed with a custodian who cleaned the team's locker room. "Coach York went and introduced himself to him, created a relationship with him, and really made him feel like what he was doing was important to our team and we were all in this together," recalled McLaughlin, who recently signed with the Boston Bruins. Later in the season, York brought the custodian in again to give the Eagles a motivational speech before the playoffs. "It's just little stuff like that," McLaughlin said. "He really went beyond the hockey aspect of being a coach."
Several of York's former players have gone on to hold prominent positions in the NHL. Among them is George McPhee, who won the Hobey Baker Award as the nation's outstanding player while playing for York at Bowling Green and today is president of hockey operations for the Vegas Golden Knights. McPhee said that he always admired York's personality at Bowling Green, so uplifting that he often wondered if the coach had ever had a bad day. So when it came time for his son to choose a hockey program, McPhee knew exactly where he belonged. Graham McPhee '20 played for York at BC. " He's demonstrated for the rest of college sports that there's a right way to do it," McPhee said. "It wasn't just about hockey for Coach York, it wasn't about this cloistered life. It was about family, education, and faith, and then hockey."
York is one of only three coaches to have won NCAA titles with two different schools—Bowling Green in 1984, and BC in 2001, 2008, 2010, and 2012. He also led the Eagles to twelve Frozen Four appearances, nine Hockey East Tournament titles, twelve Hockey East regular season championships, and nine Beanpot titles. His forty-one NCAA Tournament victories are the most ever, and he was named Hockey East Coach of the Year five times, most recently in 2021. York coached four Hobey Baker Award winners in his career. Eighteen of his former players were selected in the first round of the NHL draft, and fifty-eight have appeared in at least fifty games in the NHL. In 2019, he was inducted into the Hockey Hall of Fame in Toronto. And in 2020 he was named to the U.S. Hockey Hall of Fame. Of course, York was a celebrated player before he became a coach. He scored 134 points for Boston College during his collegiate career, and still ranks among BC's all-time leaders in points, goals, and assists.
And somewhere along the way, he started carrying that notebook. "For us, that was the running joke," Brian Gionta said. "We wanted to get ahold of his notebook and see what's in there. His game notes, or whatever it might be." Unfortunately for the many players who have called him coach, Jerry York has closed the book for the final time. 

---
How did Jerry York become a coaching legend?
 1,123 victories, a record
5 NCAA titles: 1984 (with Bowling Green), 2001, 2008, 2010, 2012
18 NCAA tournament appearances
12 Hockey East regular-season titles
9 Hockey East Tournament titles
NCAA Division I Coach of the Year in 1977 (with Clarkson)
5-time Hockey East Coach of the Year: 2004, 2011, 2014, 2018, 2021
9 Beanpot titles
Member of both the Hockey Hall of Fame and U.S. Hockey Hall of Fame
4 players who won the Hobey Baker Award
18 former players selected in the 1st round of the NHL draft
58 former players with at least 50 games in the NHL
---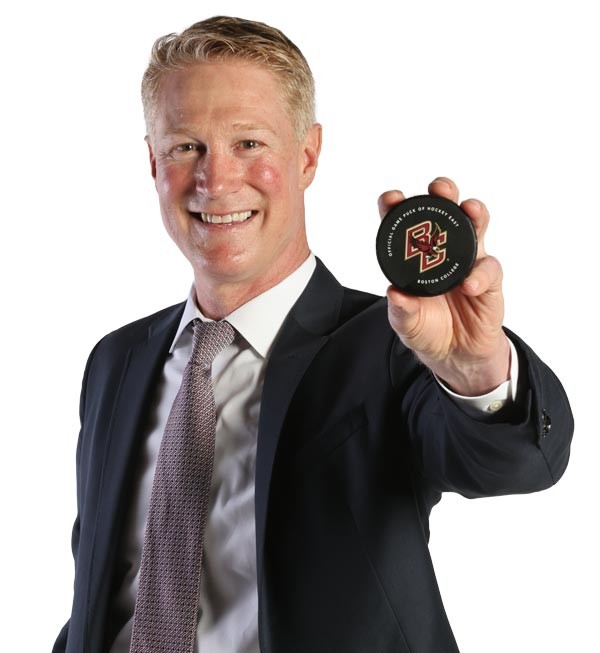 Meet the New Coach
Greg Brown '90 has been selected as BC's next Schiller Family Head Hockey Coach. It's a homecoming for Brown, an All-American defenseman at BC who served as an assistant on Jerry York's staff from 2004 to 2018. "I am truly honored to be named coach," he said, "and to succeed my coaching mentor and friend Jerry York."
---