Downhill Trajectory
Parker Biele '21 and the BC ski team made history last season.
Chuck Carmone had been on the job as Boston College ski coach for barely a week in 2019 when he took his squad to Nakiska in Alberta, Canada. It was bitterly cold—temperatures never rose above minus-5—and after a few runs, Carmone suggested that they head inside to warm up. Junior Parker Biele, an undersized racer who'd begged her way onto the team as a freshman, insisted on staying out for a couple more runs.
Since then, Biele has come to embody what Carmone's ski program is working to become. "We want to keep developing young talent and finding kids that other schools overlooked," Carmone said. "We want more Parkers."
In that junior season, Biele became the first female BC skier ever to qualify for the NCAA championships. (They were called off the night before the final run because of the emerging pandemic.) As a senior last season, she led the entire team to the event for the first time—and graduated as the most-decorated skier in BC history. "Parker is an amazing example of tenacity, determination, and focus," Carmone said. "She doesn't let anything interfere with her goals."
When several of BC's opponents opted out of last season due to COVID-19, the Eagles took the opportunity to compete on the national stage. The team's breakthrough performance came in February at the St. Lawrence Carnival at Whiteface Mountain in Lake Placid. Biele, who recorded the competition's fastest time in three of her four giant slalom runs, became the first BC skier to win an Eastern Intercollegiate Ski Association race, while freshman Zach Simmons '24 finished second in the men's giant slalom. "We've got some skiers now," Carmone remembered thinking. "We're at a whole other level. Coaches were looking at me like, 'Where are these kids coming from?'"
With only three carnival meets on the truncated schedule, BC's Lake Placid showing was crucial in qualifying the University to send a full complement of three skiers for both the men's and women's NCAA championships at Cannon Mountain in Franconia, New Hampshire. Biele finished 13th in the women's giant slalom, and she and Lauren Geary '24 placed in the top 20 in the women's slalom; Simmons and Trent Gutstein '22, meanwhile, placed in the top 20 in the men's slalom.
The Eagles are primed to continue building on their groundbreaking season, especially with seventeen underclassmen coming back next season. "The one thing I've learned is you have to keep improving just to stay where you are in the league because everybody just keeps getting better," Carmone said. Or, as Biele put it to her teammates, "I'm passing the torch. Don't drop it." ◽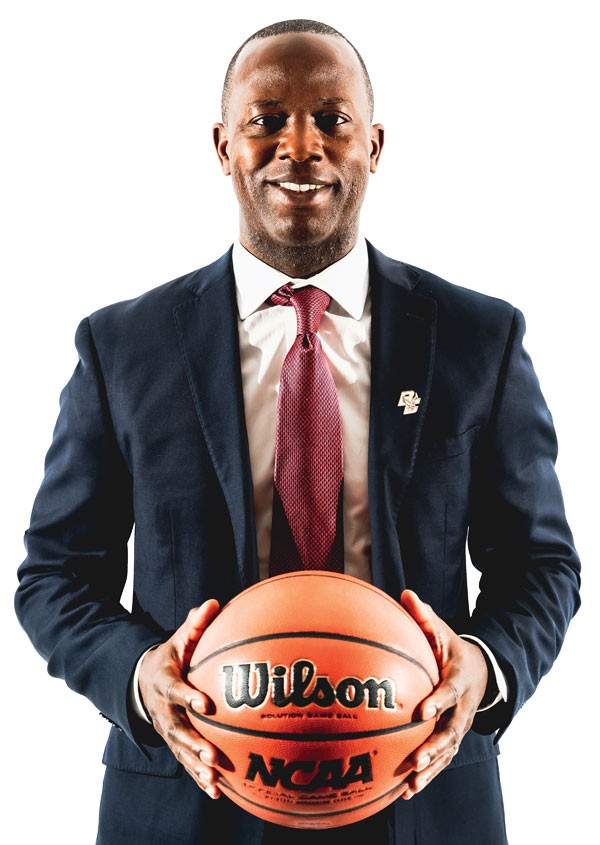 A new men's basketball coach
In March, Earl Grant became the 13th head coach in BC men's basketball history. Grant comes to the Heights after seven years at the College of Charleston, where he led the Cougars to the NCAA tournament in 2019, and had players taken in both the 2019 and 2020 NBA drafts. Previously, he spent four seasons as an assistant at ACC mainstay Clemson, where he excelled at player development and successfully recruited many of the Tigers' top players.
First-class football recruits
When head football coach Jeff Hafley was hired, Eagles fans were promised a topnotch recruiter. A year and a half into the job, Hafley is delivering. BC's 2021 recruiting class is among its best ever, ranked 38th nationally by ESPN, 37th by 247Sports, and 31st by Rivals. The class features two players in the ESPN 300, including offensive lineman Drew Kendall—a top-100 recruit who's the son of BC Hall of Famer Pete Kendall. "He is smart, tough, talented," Hafley said, "and his potential is through the roof."