Bottoms Up
How three BC students founded the liquor-delivery app Drizly...and sold it for $1.1 billion.
Think back to the early weeks of the COVID-19 pandemic—a time when grocery shopping suddenly felt perilous. Millions of Americans became first-time users of the grocery-delivery services offered by Instacart, Peapod, Amazon Fresh, Whole Foods, and others. But even after securing a coveted delivery slot and solving the perennial problem of "What's for dinner?" you soon encountered a new problem: How do I get wine to go with it?
As many discovered, there's an app for that, too. It's called Drizly. With a few clicks, your beverage of choice—beer, wine, or liquor—can be at your door, often in less than an hour. Drizly, as it happens, was founded in a Boston College dorm room. It's been in business since 2012, but its orders soared to ten times the normal volume during the pandemic. And even as COVID-19 restrictions have eased, many observers of retail trends believe Americans' embrace of the let's-just-get-it-delivered lifestyle is here to stay—which explains Uber's decision to pay $1.1 billion to acquire Drizly in early 2021, making it the highest-valued company to ever launch from the Boston College campus.
The epiphany that led to Drizly's founding occurred in Ignacio Hall, late on the evening of March 1, 2012. Nick Rellas '12 was a finance major who'd attended the Belmont Hill School and studied commercial photography before enrolling at BC. He'd just finished an internship at a local coffee roaster. Nearly everything that happened at that company was governed by strict food regulations, and Rellas had long discussions with his boss about how regulations create hurdles, but also opportunity. Rellas wasn't much of a drinker, but as he thought about his daily life— which had come to include frequent rides via the Uber app—he began to wonder why getting a six-pack of beer still required an old-fashioned trip to Chansky's Market. He texted Justin Robinson '11, a close friend: "Why can't you get alcohol delivered like an Uber?" Robinson replied: "Because it's illegal."
Rellas knew that Massachusetts had some of the country's strictest liquor laws, but he couldn't escape the feeling that there was an opening for a new kind of business. Well past midnight, Googling deep into the commonwealth's liquor statutes, he began using the "Find" function to search on the word "delivery." By the time he went to sleep around 5 a.m., Rellas had begun to see a way through the regulatory thicket.
He eventually envisioned a business model in which an app became a high-tech middleman between liquor stores and consumers. The stores, which held the liquor licenses, would provide the inventory, sell the booze, and use their employees to make the deliveries—the app would simply route customer orders to the stores. Since many liquor stores already took orders by phone or fax and made their own deliveries, it seemed to Rellas that, legally, taking orders from an app shouldn't be any different. When he consulted a Boston attorney with expertise in liquor regulations, the lawyer agreed.
What began to emerge was a plan for Drizly to charge liquor stores a monthly fee for the right to be the app's partner in a defined territory. But as Rellas and Robinson toyed with the idea, they identified one significant hurdle: neither of them knew anything about coding or building an app. So Robinson reached out to Spencer Frazier '11, whom he'd met during a campus VC-pitch competition. By 2012, Frazier had already graduated from BC and was pursuing a master's degree in computer science at the University of Southern California. After several discussions about the new company, Frazier agreed to move East after graduation to begin work on the project they'd decided to call Drizly.
The founders called their families to explain the idea, and raise a small amount of money to get the company off the ground. Frazier began working on the technology in the summer of 2012. This required not just the app that consumers would load onto their phones, but also systems that stores would use to take orders and that drivers would use to make deliveries. Frazier integrated the whole system with software that scanned IDs to ensure the customer receiving the delivery was of legal drinking age. "What a lot of people might forget in today's age of advanced mobile applications," Frazier said, "is that back when Drizly was founded, Uber itself had only been around a couple of years. There weren't a lot of examples to go off of." Frazier worked quickly: By early November, Drizly had registered with Apple's App Store.
Robinson, meanwhile, was charged with business development. He visited scores of Boston-area liquor stores asking them to partner with the soon-to-launch app. Everyone said no. Undaunted, the company bought a booth at a liquor-industry trade show that October in Boston. At the show, the founders met a small family-owned chain in the Boston area called Gordon's Fine Wines and Liquors. A few months later Gordon's signed on as the new company's first partner. Rellas began spending long days at Gordon's learning the liquor retailing trade.
On February 23, 2013, the Drizly app went live and… nothing happened. Since there'd been no publicity, there were no orders. Rellas began asking friends to make small purchases. "We wanted to make it look like the model was working, which it wasn't," he recalled.
Then, suddenly, the solitude ended. Carroll School of Management Professor John Gallaugher, who'd been mentoring the Drizly founders, introduced them to a reporter at BostonInno, a news site that covers the Boston entrepreneurial scene. Soon afterward, the first article about Drizly appeared online. The next day they started getting orders from people who weren't their friends—the first sign that customers might truly want what the company was selling. It was a turning point.
The company was so new it didn't have offices. Instead, the founders worked from apartments and coffee shops. "We had a dining room, and that was Nick's conference room," said Dylan Kellechan '12, Rellas's roommate both at BC and in a postgrad Strathmore Road apartment (where he placed some of Drizly's first orders himself). He recalled a scene reminiscent of the HBO sitcom Silicon Valley: "Everyone was sitting at the table at their laptops," working on the nascent app. "I remember thinking, 'We'll see how far this goes….'"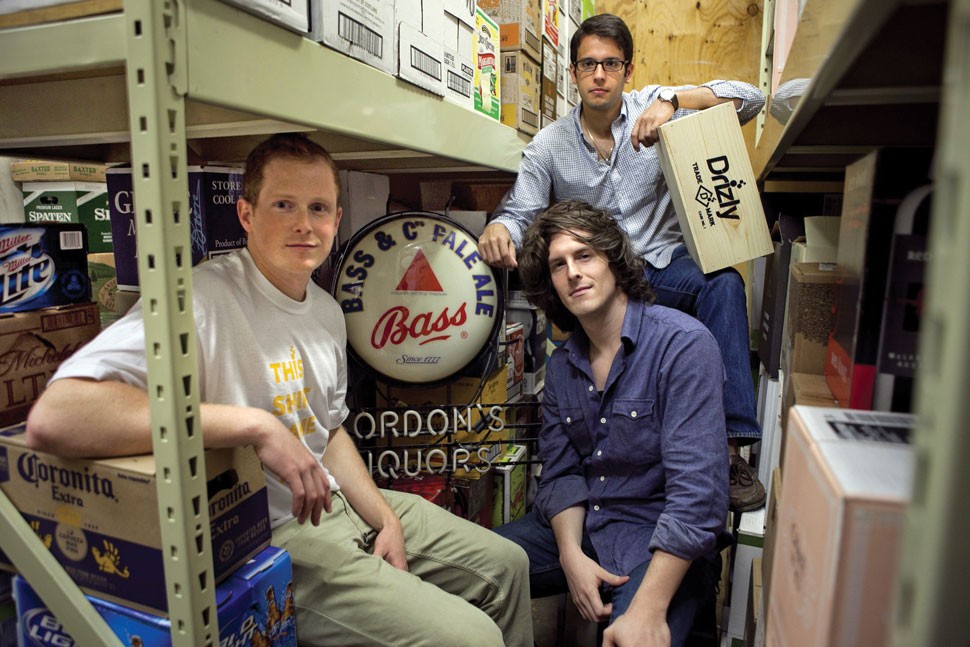 In fact, Drizly was showing momentum. Robinson, who was still energetically pitching Boston liquor stores, recalled visiting the surly owner of McCarthy's Liquors in Charlestown. Standing in the cooler while the owner stacked Bud Light cases, Robinson delivered his spiel. "I do my own deliveries, I don't need you or your app—good luck," the owner said. A year later, Robinson saw a Charlestown number on his caller ID. It was the McCarthy's owner calling him. He'd noticed his longtime delivery customers defecting to the app. "I guess I gotta get on Drizly," the owner said.
Even with its growing customer base, by the end of 2013 Drizly found itself in the place a lot of young startups do: with some traction but not enough funds to make the next leap. With the money raised from friends and family dwindling, Rellas began pitching venture capitalists for investment. It wasn't going well. When Drizly could no longer pay him a salary, Frazier stepped down as chief technical officer. "Continuing on for my Ph.D. was the way I needed to go," he said.
To help the inexperienced founders, Rellas reached out to a cousin. Cory Rellas was a Notre Dame alum who'd been working at the Boston-based private equity firm Bain Capital and had provided some early funding to Drizly. Cory agreed to join as chief operating officer. Meanwhile, the founders decided to expand beyond Boston and begin operations in New York City. Instead of just launching and hoping state authorities wouldn't object, as Drizly had done in Boston, in New York the company applied for a declarative judgment from the state Liquor Authority—effectively asking the state to bless its business model. When it did so, the company received not just access to a massive new market, but also a boost to its credibility in the venture capital community. Just after the New Year, Drizly raised $2.25 million in a seed round of funding. With cash on hand, Robinson hired Drizly's first real employees.
Over the next few years, the company fine-tuned its pitch to liquor stores. It expanded into Los Angeles, Chicago, and Denver, becoming adept at "onboarding" new stores to its system. By 2015, however, Rellas and Robinson had recognized a big flaw in their business model. People were downloading the app, browsing the inventory, and even adding items to their checkout cart—but many stopped short of completing a purchase. Drizly commissioned research, which revealed customers were dissatisfied with the limited product selection and fixed pricing. This stemmed from the company's business model: Because it was selling liquor stores exclusive territories, customers saw only the inventory and prices from the store with rights to their area.
As Americans became accustomed to buying more products online—and to the wide selections available at sites such as Amazon, where third-party sellers compete with each other—Drizly's limitations were evident. So the company scrapped its original business plan of selling exclusive territories, and instead shifted to a "platform" model, in which liquor stores would pay a monthly fee to be on the Drizly app, but would compete alongside other retailers, giving customers more choices and a range of prices. Conversion and retention rates soared. Although several other liquor-delivery apps had popped up by then, Drizly was growing more quickly than competitors—and the shift in its business model widened the gap. "That gave Drizly the lead, and we never relinquished it," Rellas said.
Drizly is undoubtedly a Boston College success story, but in some ways it was an exception to the rule at BC when the company was launched in 2012. "The startup scene at BC was very small back then," Robinson said. "[There were] maybe five or ten people in the whole school who were trying to start companies." Rellas recalls friends looking at him oddly when he talked about his plans to launch his own company. "The rest of my classmates were going to Wall Street," Rellas said. "That wasn't the track I wanted to go down, and I was trying to come up with a way not to."
Compared with students at Harvard, MIT, or Babson, BC undergrads have historically had a reputation for being less interested in entrepreneurial opportunities. Students and faculty describe an undergraduate culture that was focused on less-risky, more-linear career paths at established, recognizable companies. Some attributed it to BC's lack of an engineering school, which limited the number of students with the technical skills necessary to start a 21st-century startup. (That should begin to change in the fall of 2021, when BC launches its Human-Centered Engineering program.) Particularly among those majoring in finance—for many years one of the University's most popular disciplines—Wall Street tended to be the de facto aspiration.
During the early 2000s, John Gallaugher acted as a kind of one-man champion for entrepreneurship at BC. After graduating from CSOM in 1988, and joining BC's faculty in 1997, "I'd spent the first part of my career here cultivating contacts in the entrepreneurship, venture, and press communities, and linking this with what I did in the classroom," Gallaugher said. In 2004, he founded BC's TechTrek, which takes students on organized tours of startups in Silicon Valley and elsewhere. And he has routinely set up campus talks by BC alumni who have founded companies, including Jebbit, Streak Media, SyncOnSet, and WePay. Rellas said that without Gallaugher's mentorship, Drizly wouldn't have survived its early years.
As Rellas thought about his life, which had come to include frequent rides via Uber, he began to wonder why getting a six-pack of beer still required an old-fashioned trip to Chansky's Market.
By 2015, however, CSOM Dean Andrew Boynton had decided to institutionalize and broaden the School's entrepreneurial activities. That year, the School launched the Edmund H. Shea Jr. Center for Entrepreneurship. Boynton hired Jere Doyle '87, a serial entrepreneur who had been lecturing at BC, as the center's founding executive director. Doyle concedes that BC had a history of looking askance at entrepreneurship. "Traditionally BC students have taken the safer road: bigger companies in consulting and investment banking," he said. "When I started a company right out of school, most of my classmates believed that I couldn't get a job—they looked at me like I was a failure."
That's changing, though. Gen Z is recognizing that startups can offer interesting work and a path to potential riches without the lengthy, pay-your-dues grind of Wall Street. At BC, the Shea Center is helping to drive the change. Each year it hosts a collection of startup competitions and runs an accelerator program that culminates in students pitching their ideas to real-world VCs. CSOM faculty now offer a co-concentration in Entrepreneurship and more than a dozen courses on the subject. During the 2019–2020 academic year, 3,000 students—half of them from the Morrissey College of Arts and Sciences—participated in at least one Shea event, up from 1,800 two years earlier. "We're not trying to start companies at the Shea Center," Doyle said. "Our mission is to teach students what it's like to be an entrepreneur, to take risks, to get outside their comfort zone, to try something." Nonetheless, each year more students are flocking to the University's Startup & Entrepreneurship Career Fair to explore jobs with smaller firms. "Entrepreneurship has really taken its place as a full-fledged postgraduate outcome for students," said Joseph Du Pont, BC's associate vice president of career services.
For Nick Rellas, who'd come up with the idea for Drizly, the entrepreneurial journey came to an abrupt end in August 2018, when he ceded the CEO role to his cousin Cory and exited the company. The three founders are circumspect about his departure. "I just can't talk about it," Rellas said. When asked if he'd signed a nondisclosure agreement, he declined to comment.
Walt Doyle, an early Drizly investor who served as executive chairman and a close mentor to Rellas, described the transition as an ordinary part of the startup life cycle, with the brilliant founder giving way to a more experienced leader as the company scales. "Nick is a promoter by birth who can tell a story and excite a room, and that's a God-given talent," Doyle said. "His creative instincts and energy really drove the company to become a company. [But at] a later stage, you need a different skill set."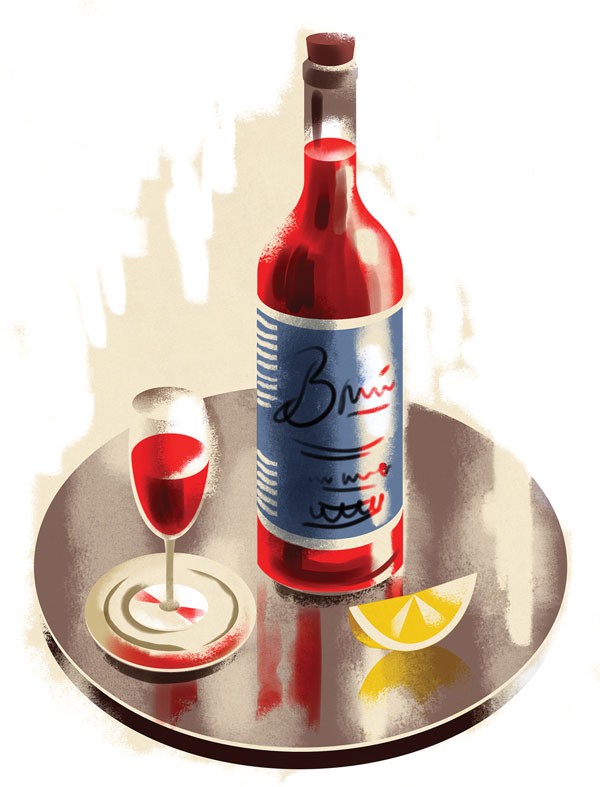 Looking back, Rellas speaks with humility about the challenges he faced as an inexperienced founder. "I came up with an idea in a dorm room, so I was young and ignorant. I'd never had a boss. I didn't learn what it was like to manage people, to build a culture…to demonstrate real leadership," he said. "I was someone in his mid-twenties who was trying to run very fast at a big opportunity. I learned by making mistakes, and those mistakes were really hard. But I can't fault 25-year-old Nick for the things he didn't know how to do."
From 2018 until early 2020, Cory Rellas, Justin Robinson, and several dozen Drizly employees kept the company growing steadily. Then, in March of 2020, everything changed. As COVID-19 forced Americans to stay at home, orders began pouring in. "The pandemic was catalytic—it probably put us two or three years ahead of plan," Robinson said. And Drizly wasn't the only beneficiary. Delivery was suddenly a hot business model: In December 2020, DoorDash went public, and within a week its market capitalization hit $72 billion. Amid the frenzy, potential acquirers began looking at Drizly.
For Frazier and Rellas, who'd left the company and were no longer privy to its day-to-day workings, the first inkling that something was up arrived on the morning of February 2, 2021, via text message.
The first one Frazier saw said: "OMG Drizly!"
Rellas, living in Los Angeles and three hours behind, awoke to a screen full of missives. "A billion dollars is a lot of zeros," said one.
Uber had just announced it would pay $1.1 billion to acquire Drizly in an all-stock deal, adding the brand to its growing collection of delivery services such as Uber Eats and Postmates. The deal provided a nice payoff for the founders' sweat and toil: Although none of the three would discuss their personal finances, two sources estimated that each founder would receive Uber stock worth more than $10 million.
For Uber investors, the looming question is whether Americans' embrace of getting everything (including liquor) delivered will outlast the pandemic. The founders, who believe it will, offered variations of the same thesis: The pandemic raised awareness and led more people to try Drizly, and a substantial chunk of them will keep on ordering, the way consumers who've grown accustomed to the convenience of getting household staples delivered from Amazon will continue to do so. Some industry observers said that logic is sound. "A lot of people didn't know you could buy alcohol online, they learned that during the pandemic," said Kyle Swartz, editor of Beverage Dynamics, who has followed Drizly for five years. "Why would you stop having it delivered to your door when it's so much more convenient?"
As for what lies ahead for the three founders, as of late April 2021, with the Uber deal not yet officially closed, none of them could say for sure.
Robinson was still part of the leadership team at Drizly. But he was considering leaving to oversee Lantern, a cannabis-delivery app Drizly launched in 2020 that is being spun out as part of the Uber deal. "We're still in the throes of figuring that out," he said.
Frazier, studying remotely in Somerville, Massachusetts, was working on a dissertation for his Ph.D. in computer science from Georgia Tech. His area of focus: human-centered artificial intelligence and value-aligned interactive machine learning. Asked if he's also working on potential new companies, Frazier paused. "Nothing public," he said.
After leaving Drizly, Rellas traveled the world with his camera. By late 2019, he'd settled in California, where he spent the pandemic restoring old cars, taking photographs, and working on what he calls "the next big thing in beverages." His LinkedIn profile currently lists him as the cofounder of a company called East of Eden. What's that? "No comment," Rellas said.
The founders' personal relationships remain complicated. Frazier stopped speaking with the others after his 2013 exit and only reinitiated contact with Robinson in 2018. Rellas hasn't spoken with Frazier since 2013 or Robinson since 2018. "We will be friendly at some point, just not right now," Robinson said. Rellas's take: "Life is long. I'm proud of what we accomplished together."
Acrimony like this isn't unusual. Founders are often pushed aside as startups grow; hard feelings and disputes over who deserves credit are common. Unlike some broken-up founding teams, however, when the Drizly guys recount their story, they speak respectfully about each other.
Robinson occasionally speaks at the Shea Center, and when he does, he urges undergrads to emulate what he, Rellas, and Frazier did by considering alternatives to the traditional, blue-chip career path. "I love BC, but we know how conservative it can be," Robinson said. "The lesson of our story is that if you're in the position to take a risk, take it early in your career. If you're graduating, 22 or 23 years old, and you have a chance to go full-time into your own company, you should do it. If it doesn't work out, the BC community will be there to pick you up afterward."
And if it does work out, Robinson can suggest a way to order a chilled, celebratory bottle of Champagne. 

---
Daniel McGinn '93 is an executive editor of Harvard Business Review.