She Runs the Show
Deirdre Connolly '97 is remaking late-night television as the head producer of the hit Bravo network show Watch What Happens Live with Andy Cohen.
On a Tuesday in late July, it was nearing airtime for the Bravo television network's irreverent late-night talk show Watch What Happens Live with Andy Cohen. A staffer was hyping up the studio audience, but frankly, the crowd didn't need any extra encouragement. The show strives to be a high-energy televised cocktail party that brings together interesting people who might not otherwise have the chance to sit down and chat—and everyone is invited to attend, whether watching at home and submitting questions via social media, or, as now, sitting in the Clubhouse, as WWHL refers to its intimate Manhattan studio. The twenty spectators were already atwitter, sipping hard seltzer and snapping selfies as they awaited the emergence of the night's guests: the socialite and singer Luann de Lesseps of The Real Housewives of New York, and the one-time The Bachelorette contestant Tyler Cameron. "I can't believe we're here," one woman exclaimed to her date, letting out a squeal.
When WWHL began airing in 2009, it primarily featured guests from Bravo shows and Cohen's famous pals. Since then, however, the show has evolved into a popular booking for big celebrities such as Meryl Streep, Oprah Winfrey, and Lady Gaga, who, drinks in hand, enter the Clubhouse ready to share. The actress Helena Bonham Carter, for one, admitted to drunkenly asking Prince William to be her daughter's godfather (he declined), while the actor Ray Liotta named Sigourney Weaver as his worst on-screen kiss and Jennifer Lopez called her on-again, off-again boyfriend Ben Affleck's expansive back tattoo "awful." Juicy soundbites like these later appear on gossip websites and in the pages of People and Us Weekly. And with its lively, house-party appeal—the set is modeled after a room in Cohen's actual apartment—the Emmy-nominated show has also become a hit, the number-one late-night cable program among women ages 25 to 54.
To kick off the evening's fun, Cohen, the show's host and a reality-TV pioneer who established his reputation as the producer of Bravo's hugely popular Real Housewives franchise, took questions from the studio audience. In this preshow Q&A, Cohen was asked about his bromance with the journalist Anderson Cooper, and to identify his favorite memento on display in the Clubhouse. Watching it all unfold on multiple screens just down the hall in the control room was the show's executive producer, Deirdre Connolly '97. "My role is to make sure the show always stays true to its intention," she told me. As WWHL's showrunner for the past twelve-plus years—one of a small but growing number of women to occupy such a position in late-night television—that's exactly what Connolly has done, while overseeing all aspects of production. And even more impressive than holding the top job at a successful, long-running talk show is that, according to those who've worked closest with her, she's accomplished it all while fostering a supportive, creative culture in an industry where that can be a rarity.
"I've worked in morning news, I've worked in news, I've worked in daytime. I've literally worked in every genre of television, and this is certainly the most fun environment," said Dori Kornspan, a supervising producer who oversees the booking department at WWHL. But even though the show is "wacky and outside the box," Kornspan said, Connolly's hard work and professionalism ensure that it runs smoothly behind the scenes.
About an hour prior to airtime, I sat next to Connolly in the WWHL control room as she and her team went over a few final details. Nearby, Cohen was running through his lines, consulting the research and writing staff. When he got to an audience poll that he was supposed to announce during the show, Cohen paused. The survey would ask viewers to vote online whether Cameron should perform a risqué dance for de Lesseps, but Cohen wondered how it would go over. Didn't de Lesseps have a new beau? And wasn't Cameron's girlfriend scheduled to be in the studio audience? "Maybe we're objectifying him too much?" Connolly offered. They opted to scrap the idea and move on.
As the showrunner, Connolly has overall creative authority for the show—in other words, she's developing the "bible of what we want the show to actually be," Connolly said, "and then sharing that with all of the people who have to execute things as you see them." She manages forty staffers across various departments, including research, production, booking, brand integration, graphics, and social media. "It's really about being an effective communicator," she said. "You need to be able to tell somebody something very concisely and quickly."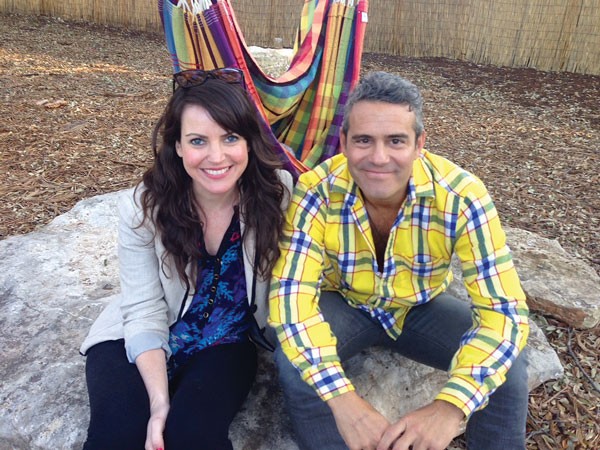 Above all, Connolly is responsible for making sure that the show feels like a party hosted by Cohen that features an interesting guest list, free-flowing alcohol, and parlor games. And being in Cohen's ear—via an earpiece he wears during the broadcasts—each night for most of the show's run has allowed Connolly to stay attuned to his sensibilities. "We've faced canceled guests, hurricanes, power outages, and just a teeny little pandemic, and through it all, Deirdre has remained an unflappable, inspiring leader," Cohen said. "She's who you want with you on the battlefield, which is what live television often resembles." 
Indeed, it was Connolly who made the call to start the show once without Mariah Carey when she was running late. (A backup plan to send out Mariah-themed drag queens was abandoned as the Grammy-winning diva at last strolled into the Clubhouse, four minutes after the show went live.) These things can happen on live TV, of course, but most nights are like tonight, with Cohen charming the celebrities and the cameras rolling without incident. As Connolly, wearing a headset, observed from the control room, Cohen welcomed Cameron to the stage. "My next guest wore his heart on his sleeve on The Bachelorette," the host said, "and if you peep his Instagram, you'll see he's rarely worn a sleeve nor a shirt at all since. His new book, You Deserve Better: What Life Has Taught Me About Love, Relationships, and Becoming Your Best Self, came out today…."
One of Connolly's earliest pop-culture memories involves watching MTV for the first time at the house of a friend's cousin when she was 9 years old. She still recalls the feeling of seeing the premiere of Michael Jackson's iconic 1984 Pepsi commercial that day. "It was just so exciting," she said. "I really got into it."
Connolly grew up in Hingham, on Massachusetts' South Shore, going to concerts and devouring books. "Deirdre was always writing," her mother, Maureen, remembered. Connolly arrived at Boston College in 1993 with her love of pop culture intact, but she was a student with a well-rounded set of interests. "She cares a lot about social justice and women's rights," said Kate O'Keefe '97, whose friendship with Connolly started during their freshman year at BC. "I definitely always saw her as someone who takes an active role in politics and pays attention to what's going on." It's no wonder, then, that Connolly majored in political science and planned to work in the State Department one day. However, a yearlong internship for the late Massachusetts Senator Ted Kennedy during her senior year turned her off to politics. "Every single person in that office truly, truly believed in what they were doing," she recalled. "But it just seemed to be more of a grind than I had imagined."
That spring, a woman who worked in production events at MTV happened to visit the store that Connolly's parents own, Aisling Gallery and Framing, and Connolly's mother told her about Deirdre and asked for the woman's number. From there, Connolly kept calling—"I harassed and bugged her," she said, with a laugh—even as she interviewed for a job at Merrill Lynch in New York, and then moved to San Francisco and later Ireland for temporary jobs in the year after she graduated from BC. Connolly's persistence finally paid off when, at the end of 1998, she talked her way into a two-week freelance gig at the network. A few years of project-based work turned into a full-time associate producer role in May 2001 for MTV's video-countdown show Total Request Live, known to early-aughts teens everywhere as TRL.
The show taught her about the thrills, and challenges, of live television. When the rapper Eminem appeared on TRL, his frenzied fans ran through Times Square, clogging the streets outside the studio. "We had to shut the blinds," Connolly recalled. She spent almost a decade working at MTV in progressively more senior roles, even moving to London for a year and a half to launch Total Request Live UK. "People knew that she expected results," recalled John Jude Schultz, who worked with Connolly at MTV in London and today is a co-executive producer on WWHL. "I think people wanted to—and still want to—make her happy and make her proud and deliver for her. I was going out to bars and not even thinking about leadership, and she definitely had that quality, even back then."
"

Early on, we realized it actually is more fun to have somebody show up, give them a cocktail, and see what happens," Connolly said. "This set the tone that people come on to be open, and they come to play.

"
Connolly left TRL in 2007 (though she returned to work on the final episode of the show's original run in 2008) and started freelancing for MTV and other outlets while searching for her next full-time opportunity. It was around that time that Bravo executives began noticing the large traffic numbers being generated by the web recaps that Cohen was doing for Bravo shows such as Top Chef. The network decided to adapt the recaps into a weekly TV talk show to be hosted by Cohen—then a senior vice president of original programming and development at Bravo—and they needed a showrunner for a three-month trial run. When someone at the network suggested Connolly, she found herself in a meeting with Michael Davies, the president of the show's production company, Embassy Row. "We clicked over our love of live TV," Connolly said, "with everybody coming together for moments to create something rather than editing something to create a story."
That was more than a dozen years ago, but as Cameron and de Lesseps sat across from Cohen on the set, it was clear that the pursuit of those moments continues to set WWHL apart in late-night television, drawing viewers and visits from bigger and bigger celebrities. Cohen led the guests through a silly quiz called "Are Those Tyler's Abs?" in which de Lesseps had to guess which of the shirtless torsos on screen belonged to Cameron. Incredulous at first, de Lesseps quickly warmed to the task, and got six out of eight correct.
Connolly started at Watch What Happens Live with Andy Cohen in June 2009, and the debut episode aired on Bravo a month later. The freewheeling, conversational feel of the show was inspired by Cohen's web recaps, and all of the production decisions that Connolly and Cohen have made since then have stayed true to that original spirit. "We built the show around Andy's personality," Connolly said. "He always describes it as, if I was going to host a party and I'm inviting two people that I know but they might not know each other…."
From the beginning, they decided to ditch the usual late-night format. There would be no opening monologue, no musical acts, and no preshow interviews with guests yielding the same rehashed anecdotes. The only thing they would ask celebrities for in advance would be their drink orders. (Oprah, for one, requested a very expensive bottle of tequila that she didn't touch and the staff later enjoyed.) "Early on, we realized it actually is more fun to have somebody show up, give them a cocktail, and see what happens," Connolly said. "This set the tone that people come on to be open, and they come to play." 
At first, WWHL aired only once a week, at midnight. As the show evolved, Connolly and Cohen experimented and started adding regular elements and games, like the revealing "Plead the Fifth," in which a celebrity can refuse to answer only one of three questions. And while the first few episodes featured just one guest, the team soon realized that seemingly random pairings could result in more interesting television. Connolly's staff confirms A-list stars well in advance and then fills out the lineup with Bravo personalities and other celebrities with projects to promote, while also calculating which guest combinations will generate buzz or chemistry. In one show last year, for example, the former Saturday Night Live star Cheri Oteri appeared with the NFL party animal Rob Gronkowski. Other unusual matches have included the domestic doyenne Martha Stewart with the snarky Family Guy creator Seth MacFarlane, and the actress Maggie Gyllenhaal with the rapper 50 Cent. To keep the banter flowing, there's also a bartender on set each evening, often a friend or relative of the guests or staff—it could be a baseball player from Cohen's beloved St. Louis Cardinals or even Connolly's mom, Maureen, who insisted on serving tea.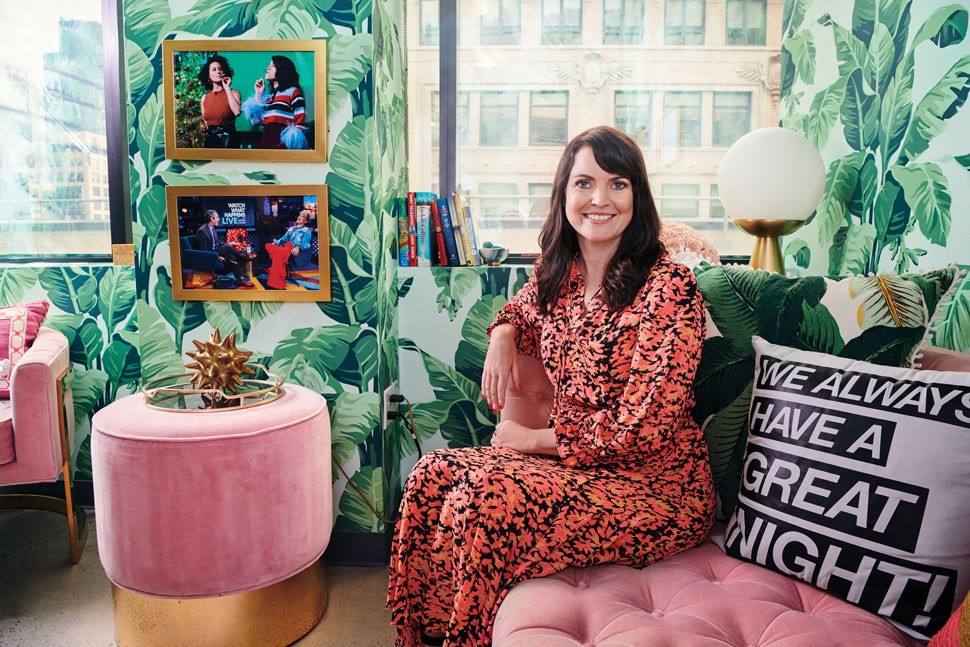 Over the years, WWHL has expanded to five nights a week, and moved up to 11 p.m. One thing that hasn't changed, though, is that the show continues to embrace social media as a means to connect with fans. This interaction doesn't just create exposure, it also gives viewers a rare chance to influence a television program. Most of the questions that Cohen asks come from viewers via Twitter and Facebook, and during the pandemic, fans literally became part of the show as they posed their questions over video in real time. "That's something that's really exciting about live TV," Connolly said. "People can actually impact what you're going to say."
Connolly remembers the moment when she felt that the show had truly arrived. It was early in season three, and not only had the 30 Rock creator and actress Tina Fey agreed to appear on WWHL, but she also told Cohen that she was a fan of the show. "Tina was, and still is, a big star that was giving props to what we were doing and it felt big and exciting," she said. Connolly's success comes as no surprise to her childhood friend Amy Thurlow '95, who until recently was the president of Dick Clark Productions. "Her creativity combined with her business savvy are unmatched," Thurlow said. Meanwhile, Schultz, Connolly's MTV colleague from years ago who now works with her on WWHL, said he was similarly struck by her inventiveness. "There are only so many things that you can really do in our little shoe box of a studio, but I think Deirdre has always instilled in us to keep pushing the boundaries, to keep trying to do things differently, to keep trying to freshen it up," he said. "That's a challenge that we will have until the very last day of this show."
Watch What Happens Live with Andy Cohen breaks the late-night mold in other important ways, too. Cohen is the only openly gay host. The majority of Connolly's staff are women, and a diversity of voices are included in the supportive workplace that she and Cohen have created from the top down. Connolly rejects the high-stress control rooms and toxic dynamics that can be associated with live TV, and instead leads with kindness. "That doesn't mean being a pushover," she said. "It does mean pushing people. It does mean telling people hard truths and the stuff they may not want to hear in the moment, but that will make them better." O'Keefe, Connolly's friend from BC, says she's proud of the paradigm shift her friend has instituted. "I am so happy that there are people like Deirdre who are doing jobs in what's considered more of a male industry—and doing them really well," she said. "A lot of the people who work with her are going to make changes wherever they go on to work."
With the broadcast portion of the evening's show coming to an end, Cohen reminded television viewers of an upcoming special guest: Dolly Parton. He then turned his attention back to Cameron and de Lesseps for the taping of the after-show, an even looser segment of five to fifteen minutes for an online-only audience. Cohen handed his interview responsibilities over to the night's bartenders, two Cameron-obsessed WWHL producers, who asked him their own somewhat personal questions.

The studio audience clapped and cheered one last time, and then it was over. Connolly stepped out of the control room just as her assistant was ushering me out the stage doors. Seeing her bright smile, I was reminded of something she'd said earlier about the show. "I'm going to ride this for as long as I can because I know it's lightning in a bottle—I just don't think it's going to come around again," she told me. "I just want to stay relevant and continue to create content that people enjoy and that makes people happy." Connolly walked me to the elevator, and I headed down with a few cameramen, then exited the building into the night. 

---
Chemistry Lessons 
A big part of the fun of Watch What Happens Live with Andy Cohen are the surprising guest pairings. Below, showrunner Deirdre Connolly '97 reflects on some of the combos that really worked.
Dan Rather + John Mayer
Aired: May 2012
"One of Andy's first jobs in TV was producing for CBS News, including field pieces with Dan. And Andy and John have been great friends for many years. So, it was very interesting to watch as Andy's personal worlds came together on TV."

Rachel Maddow + Lil Jon
Aired: May 2013
"An unlikely pairing who wound up proving that cocktails and conversation can spark some fun chemistry. It brought something out of each of them that was unexpected to the Lil Jon fans and unexpected to the Rachel Maddow fans."

Luann de Lesseps + Jennifer Lawrence + Bethenny Frankel
Aired: March 2018
"We surprised Jennifer with her two favorite Real Housewives. It was great to see such a big star absolutely fan out over two reality stars—her reaction was priceless."

Charlize Theron + Seth Rogen
Aired: May 2019
"They weren't an unexpected pairing, per se, because they were promoting the same film, but they were relaxed and very revealing. Their moms were behind the bar, too, so that made for some awkward moments."

Kamala Harris + Laverne Cox
Aired: June 2020
"Kamala and Laverne have a lot of overlap on issues that they are
passionate about. Plus, it's cool that we had the first female vice president on WWHL."