McMullen Acquires Textile Treasure
Over four decades of collecting, Barbara and Donald Tellalian acquired a rich trove of antique Coptic textiles—one of the finest such collections ever assembled. Produced over the fourth to eight centuries, the textiles are thought to have been produced by Copts and other weavers throughout the Byzantine Empire. Designs and motifs found in these fabrics influenced the visual repertoire of the early Islamic period.
To ensure that their carefully curated and conserved collection—and the comprehensive library related to them—are available for study and exhibition, the Tellalians have given the collection to the McMullen Museum of Art. Museum director Nancy Netzer called the Tellalian Collection a "transformational gift."
Barbara Tellalian said that in addition to encouraging scholarship, they also hope to "encourage others, who may have similar types of collections, to consider the McMullen as a repository. Their donations have a significance that endures beyond the lives of the original owners."
Read more at bc.edu/tellalian.
If you are interested in making a donation of art or other valuables to Boston College, contact the Office of Gift Planning at 6877-304-SHAW or bc.edu/giftplanning.
Play Ball!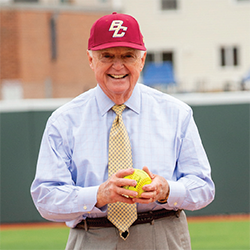 On April 14, University Trustee Associate John L. Harrington '57, MBA'66, H'10, P'82, '89, '94, threw out the first pitch at the dedication of the Harrington Athletics Village at Brighton Fields—the Brighton Campus home of BC's new baseball, softball, and intramural fields.
William V. Campbell Athletics Director Martin Jarmond said the naming is a tribute to Harrington's legacy of support to BC. Harrington said, "As I grow older and reflect, I realize that my heart and mind were always embedded in BC, mainly because of the gifts the Jesuits gave me from the very start."
To learn more about supporting BC's athletics programs, visit bc.edu/harrington.
In Service Of His Holiness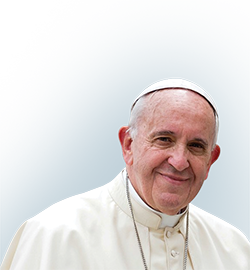 In response to a request from Pope Francis, the School of Ministry and Theology has created a Spanish-language online course on Amoris Iaetitia, the pope's 2016 apostolic exhortation on the family.
Associate Professor of the Practice Rafael Luciani said that during a private audience, the pontiff told him, "All your academic work has to have an impact on people's lives."
Luciani, the author of Pope Francis and the Theology of the People, says the pope "has a clear vision of what the Church should be and how it should be responding to problems in the world today.
Read more at bc.edu/stmcourse.