20 Things to Know For Your First Year at BC, As Told by Boston College Alumni
#OnceAnEagleAlwaysAnEagle
That's more than a hashtag. With over 172,000 alumni, the Boston College family extends far beyond Chestnut Hill. As the team behind the BC alumni social media accounts, we are well aware of the spirited passion our alumni have for BC. It was no surprise that when we asked them to share their best advice with incoming BC students, they eagerly replied.
Here, BC 2018, is what your fellow Eagles think you should know.
1. The Mysterious Powers of Your BC ID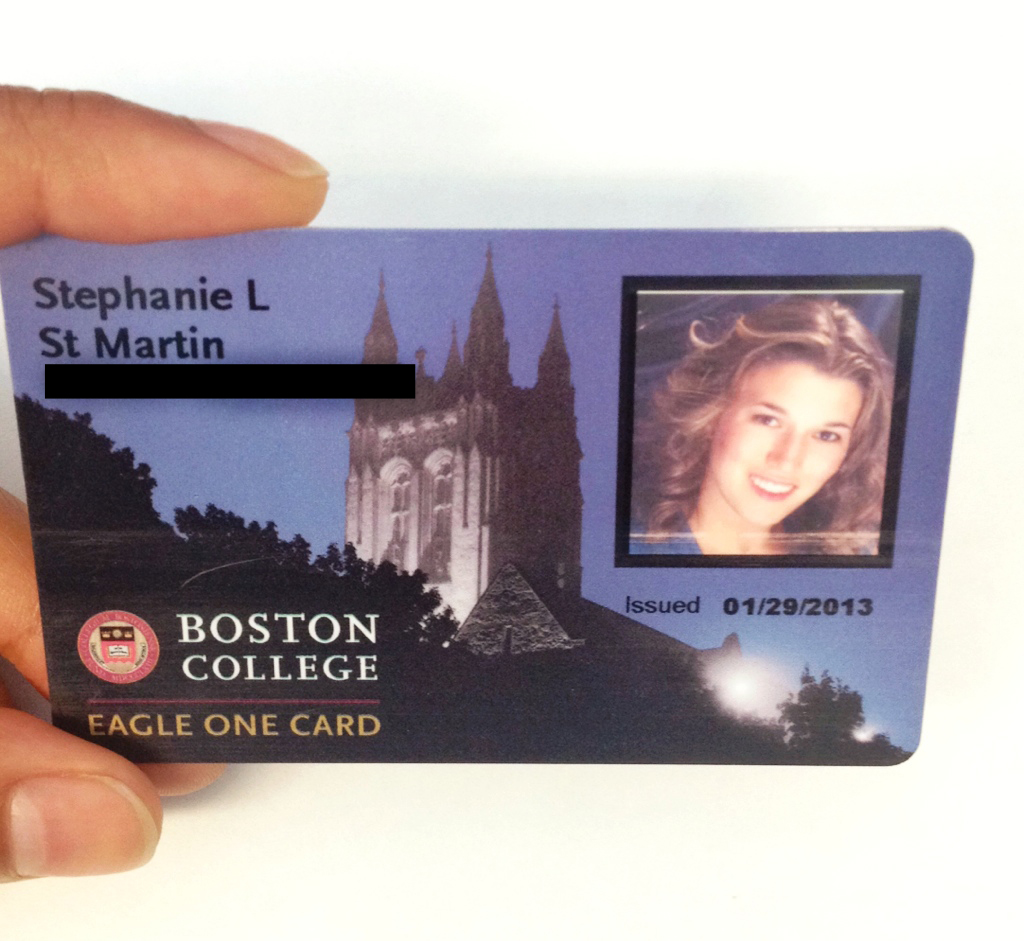 We all remember just how excited we were to receive our BC ID. And yes, many of us still remember our personal eight digit code. But your BC ID unlocks far more than just a meal plan.
EagleBucks are the key to more than you know: vending machines, laundry machines, printers, copiers, and yes, even freshman residence halls. The BC Bookstore allows purchases to be made with your ID and a number of off-campus restaurants (like Flatbreads!) accept them too.
But having a BC ID in your pocket unlocks a lot more in a college mecca like Boston. The Museum of Fine Arts and the Isabella Gardner Museum are FREE with a college ID. The AMC Fenway movie theater offers a student rate as do J. Crew, Banana Republic, and a number of other stores.
Take this advice: Always ask if there's a student discount.
Click here for everything you need to know about your BC ID.
2. VERY CRUCIAL: The Maloney Elevators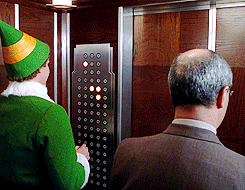 Rules have been written about appropriate elevator etiquette, and the ones in Maloney Hall are no exception.
First, let us remember this: the Boston College campus is basically a StairMaster. Our calves are burning by the time we reach the stone eagles. And within days you'll realize the magic of the Maloney elevators and their easy access to middle campus.
Maloney elevator etiquette is simple: You are only allowed to take the elevator to the first or fourth floors. Students will groan and give you death stares if you stop on any other floor. We've seen this. So if you need to get to the second or third floor, you're taking the stairs.
Pro Elevator Tips
► Comm. Ave. Garage elevators are just as wonderful. Take one to the seventh floor to get access to O'Neill Plaza. Need to get to the bridge between Maloney and O'Neill? That's the fifth floor.
► O'Neill Library elevators are slow and hidden. But, if you are in a jam, just remember the main floor is three.
3. Get out of the BC Bubble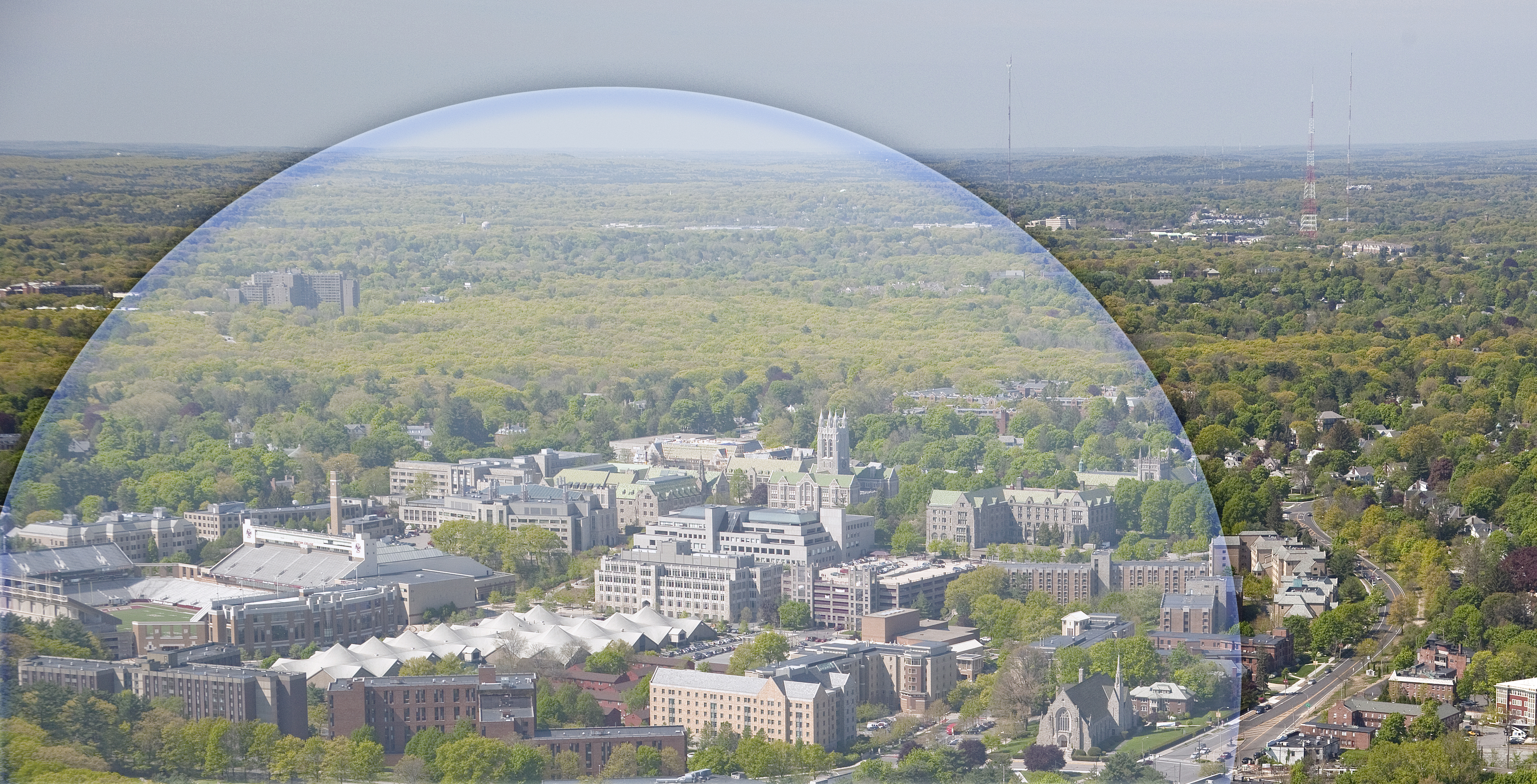 There's a whole world waiting for you…off-campus. Do yourself a favor and explore the area's eclectic neighborhoods. You'll be glad you did.
Here are a few that our alumni have pointed out:
Newton Centre: Not far from Newton Campus, Newton Centre offers everything one could want. There's coffee (Starbucks, Peet's), ice cream (JP Licks), and the legendary diner Johnny's Luncheonette. It's worth the walk.
Chestnut Hill's The Street: Over the past few years, The Street––basically, a fancy strip mall––has developed into a multipurpose center. There is a Star Market grocery store, a Verizon store, and a CVS pharmacy. There's also a Shake Shack, a LUX movie theatre, a hair and nail salon, cupcake bakeries, ice cream parlors, and some clothing stores. A cab ride over is cheap (under $5) and it's definitely worth checking out.
Newbury Street: Take the T to Hynes Convention Center or Copley and you're in the heart of Boston's "Rodeo Drive." Newbury Street has high-end shops, restaurants, and is a great place to walk around with friends.
Public Garden: A beautiful oasis in the heart of the city, Boston's Public Garden has long been one of its treasures, lovingly described in the beloved children's book Make Way For Ducklings. If you haven't read it, you are missing out. (Do it now. We'll wait.) Main characters Mrs. Mallard and her eight ducklings are immortalized here in bronze. During the holidays and any sports playoffs, the statues get dressed up in celebration.

Above is our photo of the ducklings gearing up for the Boston Marathon. Along with the ducklings, the Public Garden is home to the Swan Boats. One of the few tourist attractions that hasn't suffered inflation, the cost is still under $5. And it's worth the wait.
Boston Common: Across the street from the Garden is the Common, home to the Frog Pond (a popular destination for ice skating come winter), as well as a merry-go-round, if adulthood is weighing a bit too heavily. In early December, the city erects a huge Christmas tree here.
Faneuil Hall/Quincy Market: Touristy? Yes. Worth it? Absolutely. A great blend of local history, good food and drink, and frequent free entertainment, it's a fun place to hang out.
The North End: Boston's famous Italian neighborhood is known for its delicious restaurants—and more. There are gelato shops, cupcake bars, cappuccino bars, and even comedy stops. For the "under 21" crowd, we recommend a night out in the North End. Grab a bite to eat and then head to the Improv Asylum. After the show is over, head to one of the local cafes for a late night cannoli. It's the best.


4. Professor/TA (Teaching Assistant) Office Hours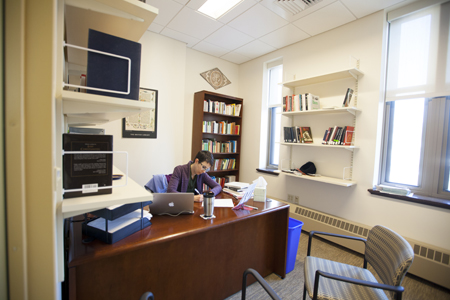 Sometimes the adjustment from high school to college courses can be tricky. And every Eagle has needed help in one subject or another. Remember: there is no shame in asking for help! BC has resources galore to help you if you're struggling, and you are meant to take advantage of them.
Stand out in the crowd: In some of the larger lectures (hello Survey of Biology), you are just a number––one out of 300 students. Take the time to introduce yourself to the professor. Why? Because if you have a question and need to email them, they will know exactly who you are.
The same goes with office hours. Sure, we want to head back to the residence halls or grab a coffee at the Chocolate Bar (do you know about the Chocolate Bar yet?!) between classes, but trust us, office hours are the best kept secret at BC. Professors and TAs are more than willing to help you.
You may be surprised, but many BC alumni have said that they regularly went to the professor's office hours to talk to them about things other than class––movies, funny YouTube videos, even roommate issues. It's amazing how willing our faculty is to help every Eagle get settled. Ever heard of a professor inviting a whole class over for dinner with his family? At BC, we have. A lot.
► Pro Tip: If you need additional support, upperclassman and graduate students will tutor you for FREE at the Connors Family Learning Center, located on the second floor of O'Neill Library. The staff will match you with a tutor who can help to edit a paper, talk through concepts with you, and even quiz you before a big final. It's a great resource and one that many alumni credit with helping them succeed at BC.
5. Clubs…Join 'em all!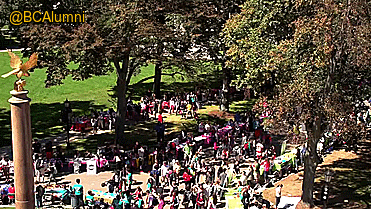 The Student Involvement Fair is a must! If we were to list all the extracurricular clubs on campus, this would be a much, much longer post––there are well over 300. A few on tumblr: bc4Boston, bcwomensclubsoccer, bcecopledge, bcksa, bostoncollegeamnesty, iamthatgirlbc, and wzbc.

The Fair is always on the first Friday of the academic year (This year the Student Involvement Fair will be held on Sept. 5th.). Take time to walk through Linden Lane and talk with the different clubs. And grab the free candy, Frisbees, and pens while you're at it! (Trust us––you will ALWAYS need a pen.)
6. Take Perspectives/PULSE
When asked what courses are at must a BC, overwhelmingly alumni responded citing two philosophy courses: Perspectives and PULSE.
Both courses are yearlong and thus offer a great transition from high school to college life. You develop friendships in the classroom that continue into the next semester because hey, you'll all be together again. And trust us when we say that many a sophomore-year roommate is found with these classmates.
Here's what you need to know about two of the most beloved courses at BC:
Perspectives: Perspectives I, Perspectives on Western Culture is a 12 credit course (six credits per semester) that asks the Socratic question: "What is the best way to live?" In the first semester, students are exposed to Greek philosophers as well as the Judeo-Christian experience of God's self-revelation in history. In the second semester, you'll look at the rise of modernity and explore philosophical reactions to theological concerns. Because it covers issues related to both philosophy and theology, Perspectives satisfies the core requirements for both fields.
There is a lot of reading, but it's paired with film critiques and engaging classroom discussions. Many alumni have said that taking Perspectives taught them how to think, which them understand concepts in other courses and enhanced their undergraduate education.
You can also major in Perspectives at BC, and it is considered an honors philosophy major. It consists of four yearlong courses (you can learn more about them here) covering philosophy of the arts, literature, math, science, and the social sciences, as well as a senior seminar and a thesis.
PULSE: Like Perspectives, PULSE also is a 12 credit, yearlong course which satisfies the undergraduate course requirements in philosophy and theology at BC. Unlike Perspectives, PULSE requires class work in conjunction with involvement in a PULSE placement.
These placements can be selected from among a variety of opportunities such as—volunteering at a local food bank, tutoring adults to help them earn their GED, helping veterans create resumes to get back into the work force, or volunteering at women's shelters.
Each week, students are expected to commit 10-12 hours to their PULSE placements, but many alumni have said that they contributed additional hours. Not surprisingly, many also have continued their volunteer work in the areas they selected long after their PULSE course is over.
As for Perspectives, a lot of reading is required, but you'll also draw on your experiences volunteering and reflect on how society can assume responsibility to help people overcome the social injustices they face.
To learn more about PULSE, go here.
And, PULSE is on Twitter, so be sure to give them a follow.
To say that these courses are life-changing doesn't even start to explain the impact they have had on the lives of BC alumni. Trust us when we say that you should take one of the two courses while at the Heights.
7. Residence Hall Events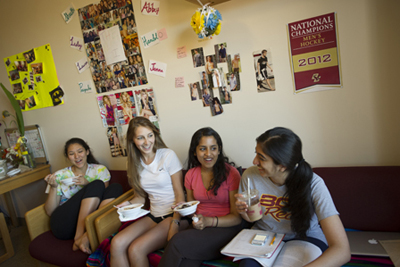 Two words: Free. Food. If your RA (or anyone else, for that matter) is holding an event that includes pizza or cookies, you should go.
You are in college. You are on a budget. You have our permission to take advantage of all these events. Plus it's nice to just sit and talk with an RA (over pancakes!) and get to know your residence hall mates better.
8. #Gassongram is a thing
A phenomenon created by students for students. Boston College has a stunning campus. And Gasson Hall is its crown jewel. That building in the center of campus is inimitably gorgeous. You will spend many days taking pictures of this monumental feat of architecture…and posting them online. As does everyone else. #Gassongram all day every day.
Head to our Instagram feed (you'll see many #Gassongrams).
9. Career Center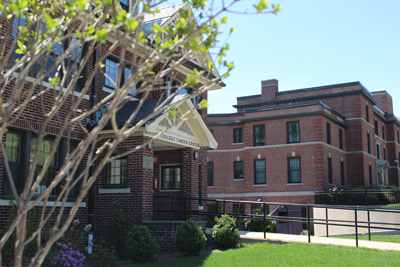 Looking for a job? Want to talk to an alumna who works in marketing? Hoping to network with folks in Denver? BC has a place for that.
The Career Center staff is well-equipped to help you with your job and internship search. They will gladly teach you how to interview, help build your resume, and even help create your LinkedIn profile. Many companies hold interview days at the Career Center for summer intern opportunities.
► Pro Tip: Set up a Gmail filter for all emails from the Career Center so you can be aware of opportunities and companies visiting campus.
► Pro Tip: You do not have to be a Carroll School student to take advantage of the Career Center. We repeat: you don't have to be in the Carroll School to go to the Career Center. Promise yourself that you will visit the Career Center—it's in Southwell Hall, on Commonwealth Ave.—at least once during your freshman year. You won't regret it.
► Pro Tip: Make a LinkedIn profile early and secure your custom URL. The Career Center staff will show you how to do this. You want to own your brand (i.e. your name) online and customizing your URL is a great way to ensure you do.
10. Say no to the B Line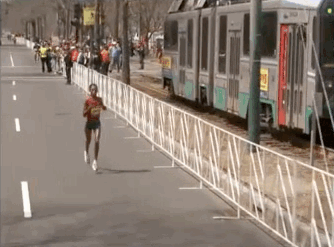 Ahhh, Boston public transportation. The city has a love/hate relationship with the "T" (the nickname for Boston's subway service, the MBTA), especially when it comes to the B train. This ever-so-slow branch of the T's Green line may tempt you, since its final stop is Boston College, but it takes about 20 extra minutes.
► Pro Tip: There are faster ways to get to Boston College.
Take the Green line D train to Reservoir Station, which only takes 25 minutes, and then climb the stairs to wait for the BC Shuttle. The "BC Bus" is a free service that will take you all over campus, including a line that runs directly to Newton.
Take the Green line C train to Cleveland Circle: The last stop on the C line brings you right into Cleveland Circle. Walk over to the Bank of America on Chestnut Hill Ave. to board the bus back to campus
You can buy reloadable "Charlie Cards" (fare cards) at most T stations. And BC offers a discount on monthly passes for students. Click here to learn more.
► One Last Pro Tip: The 86 bus. Lots of students headed to Harvard Square in Cambridge naively take the Green line to the Red line, which can take about an hour and a half. Instead, take the 86 bus from Reservoir Station directly to Harvard Square in 20 minutes.
There is only one time we'd encourage you to take the B line: The T Storm. During the Beanpot (a hockey tournament in February between BC, BU, Harvard, and Northeastern), BC students will pack the T and take it all the way down Comm. Ave., passing BU's "campus" along the way. With the T full to capacity, is it our fault that the Terrier fans can't get on the T? Of course not.
11. The beauty that is "Late Night"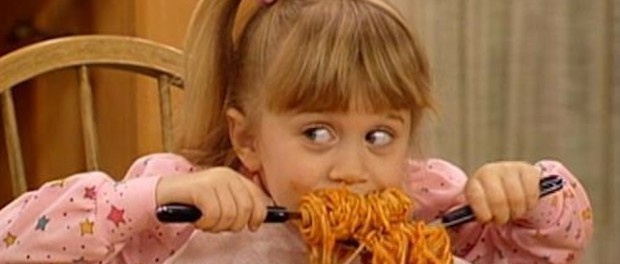 Ever dreamed of having chicken tenders, mozzarella sticks, and other various unhealthy fried foods late at night? Well, your dream has come true. The major dining halls on campus offer a late night service that runs till midnight on weekdays and until 2 a.m. on weekends. Alumni dream of these sandwiches. The BC Alumni Twitter account has even seen requests to ship a "late night buffalo chicken wrap" to California.
► Pro Tip: Watch out for that #Freshman15. Some of us alumni who enjoyed the magic of late night now regret it when our waistbands feel tighter than normal.
12. Keep your door open…and also, make popcorn.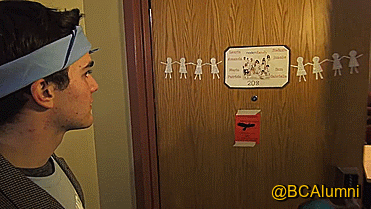 Having your door open is an invitation for conversation. If you're in your room, keep the door open and say hi to those who pass by in the hallway.
And, the smell of popcorn is one of the most intoxicating smells in the world—and that makes it one of the easiest ways to make friends.
Try it. Open your door and start microwaving some popcorn. By the time it's done (don't burn it! burned popcorn is the worst), you'll hear the chatter start in the hallway:
Do you smell popcorn?
I smell popcorn!
Your curious hall mates will sniff out the trail leading directly to your room. Place the popcorn in a big bowl and share: Voila! You just made friends.
13. Guide to being a Superfan
14. Go on Retreats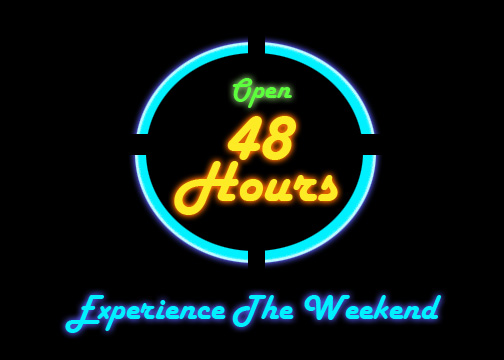 One of the best things you can do freshman year is sign up for retreats. The Office of First Year Experience's 48 Hours is a must freshman year. It's a great time to get away from campus and connect not only with fellow freshmen but also upper classmen. Ask a BC alum: 48 hours shouldn't be missed.
Kairos, Halftime, and many more retreats are available. You may have heard rumors about Kairos (it's full of secrets!), but trust us when we say to sign up for it and get on the waiting list. It's a special weekend that you'll never forget.
We would be remiss not to plug the Appalachia Volunteers, one of BC's most memorable programs. Spring break can be for trips to Cancun or road trips to Disney, but many students opt to give back. Each year, over 400 students volunteer with Habitat for Humanity building homes in Appalachia for those in need. If you do one thing before you leave BC, devote one spring break (or all of them) to the Appalachia Volunteers.
15. A lesson in laundry
For some of us, our first time away at college is also our first time doing laundry. Luckily, our alumni have provided tips and tricks for getting your clothes clean.
Begin by separating your laundry into piles of similar colors—all the darks in one pile, all of the lighter colors in another. Clothing tags will often say "machine wash cold" or "with like colors," and it's important to pay attention to those instructions to avoid shrinking, fading, discoloring, or otherwise trashing your clothes.
► Pro Tip: Because room space is limited, we recommend a simple mesh bag for your laundry. It will save space and you can do your separating in the laundry room. Your roommates will thank you.
You can use EagleBucks for the washing machines; you can also use quarters.
Colors: Wash dark-colored clothes in cold water. Always turn your jeans inside out to protect their color from fading. No white or lighter colored clothes (this includes neons) should be in this load, in case the colors run.
► Pro Tip: You may have to do two cold washes—one for darker colors and one for lighter colors. Darker colors often "shed" color, which will turn lighter colors dingy, so keep them separate.
► Pro Tip: Invest in Shout Color Catcher Sheets. If you have dark jeans (whose color may run), the sheet will protect the rest of your clothes in the wash. You want to keep your Superfan shirt bright golden yellow!

Whites: Wash your white or very light-colored clothing and delicate items in a warm wash; however, if some of your undies are more colorful, you can absolutely toss them in the cold wash. You can use a mesh bag to keep all your underwear safe and sound during the wash too.
Double-check that you do not have a red sock or T-shirt in with your whites! There is nothing worse that opening a washing machine and seeing that all your whites are now pink!
Towels and sheets: Wash them in hot water. Give them a good clean.
Drying basics:
Sweaters should never be dried in the dryer. Let them air dry.
Your comforter or towels might require a second shift in the dryer. Have your card or quarters ready for two turns.
Be sure to clean the lint trap before you put in your clothes. This helps to ensure safety (lint can start fires) and avoid any weird smells.
Invest in awesome dryer sheets that smell pretty––you'll thank us!
Lastly, we recommend that you invest in a good drying rack. Your jeans, delicates, and even some shirts probably shouldn't go in the dryer. Let them air dry on the rack while you're at class.
16. All about BC libraries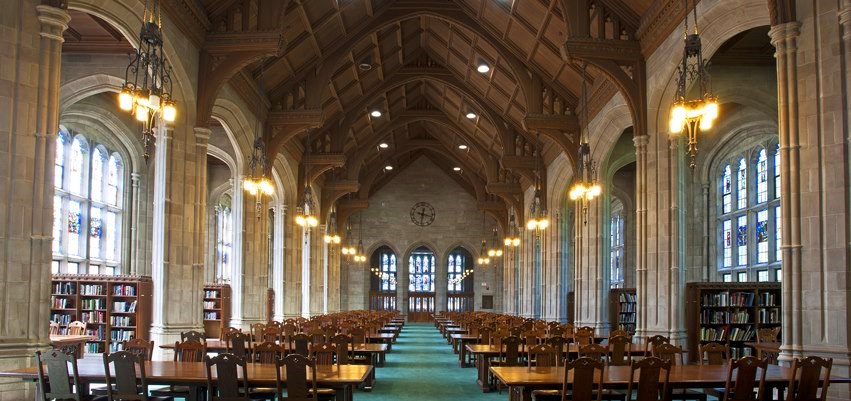 Here's a quick reference guide to the main libraries at Boston College. Keep in mind that you can also use the Library of Theology and Ministry, Social Work Library, and the Education Resources Library.
Bapst's Gargan Hall: If you have ever wanted to study at Hogwarts, head to Bapst. Gargan Hall is always super quiet and everyone there is extremely focused on the work they need to do. Try to find a good seat during finals, we dare you!
O'Neill: O'Neill tends to be more laid-back but can be crowded as well. It's the more modern one with more computers (both Mac and PCs) as well as other technology facilities. You can reserve small study rooms on the fifth floor to study with your friends during finals or work on a group project.
► Pro Tip: You can search for a book online and locate exactly where it is on the website, which saves a lot of time.
One of the hidden jewels on campus is the Media Resource Center. If your class requires you to watch a film, you can go to the center to watch it. What's better? They have a whole collection of DVDs and videos to rent. Want to watch an entire season of Friends? Rent it from the Media Resource Center and enjoy the marathon with your real-life friends.
17. Winter is harsh…but you will survive
Invest in a good, warm winter jacket as well as good quality boots. We strongly recommend waterproof boots as snow becomes slush very quickly in New England.
► Pro Tip: The best part about winter? Hot chocolate! Many restaurants on Newbury Street and around the city have specialty hot chocolate in fabulous flavors to keep us all warm during the coldest months.
18. Be nice to the facilities people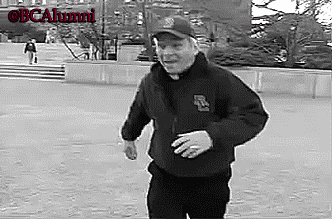 If something goes awry in your room, Facilities Services answers the call. Take a tip from many alumni: go out of your way to make them feel appreciated. Whether it's offering a bottle of water, a cookie, or even just saying "thank you," the smallest expression of gratitude means a lot. It's always good to make a friend and you never know when you may need them to fix something else.
19. Take in some culture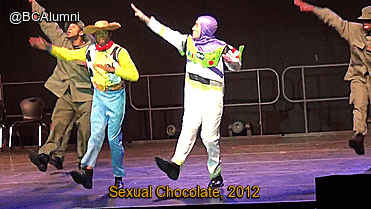 Sure, BC has loads of superstars on the field, but did you know how many incredibly talented students attend, and perform at, BC?
There are a plethora of entertainment options on campus—from a cappella groups to comedy troupes, to dancers, musicians, and even up-and-coming actors in every kind of show imaginable. Organize your friends to see the Heightsmen, take in a Sexual Chocolate show, or even attend a fantastic play at Robsham Theater.
Speaking of Robsham, the Robsham ticket office offers discounted tickets to many Boston attractions. You can buy tickets to the New England Aquarium, Museum of Science, and a number of other places in the city. The Robsham ticket office is also the place you go to buy tickets if any outside musical act comes to campus.
20. Go Green!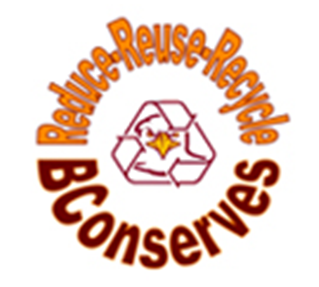 You may think you will never run out of money on your meal plan, but towards the end of the semester, you may need to wrangle in your budget. One of the easiest ways to save money (and the environment, for that matter) is to invest in a good water bottle. At each dining hall, you will find a filtered water station where you can fill it up. This is far cheaper (because it's read: free!) than buying a bottle of water.
BC also has designated trash cans for your recyclables marked around on campus and in each residence hall.
21. Handwritten notes go a long way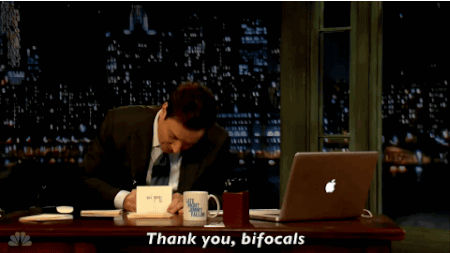 Ok, we lied. It's 21 tips, but this tip is one you should do for life and not just while at BC. Take the time to write a handwritten note. Sure, it's easy to write on someone's Facebook wall or text them "Happy Birthday," but how much more would it mean if you sent them a birthday card?
If someone on campus—a professor, a friend, one of those awesome Facilities people, anyone—goes above and beyond to help you, send a handwritten note of thanks.
Your life will be busy at BC, so take time to cherish and appreciate those around you. Slow down. Open your door. Have a conversation with someone that doesn't include texting. Smile. Say hello. Invite the person who is never invited. Branch out.
Boston College is a wonderful place because of its wonderful people. You are now a part of the BC family. Show the rest of the world how us Eagles roll.
Good luck during your freshman year! You are going to do great!