On Friday, September 29, 2017, we celebrated 25 years of Pops on the Heights: The Barbara and Jim Cleary Scholarship Gala. From the first note to the last, the joy in Conte Forum was palpable. This milestone event, marked especially for the opportunity it brings to so many deserving students, would not have been possible without you. Your financial support and your enthusiastic participation are what made the evening—and the program—the great success that it was.
Impact on the Heights
There are few gifts more precious than that of an education. This year's record-breaking landmark gala raised more than $14 million for the Pops Scholarships, making a Boston College education possible for over 476 students. In the 25 years since its inception, Pops on the Heights has raised $50 million in Pops scholarships for over 2,000 students.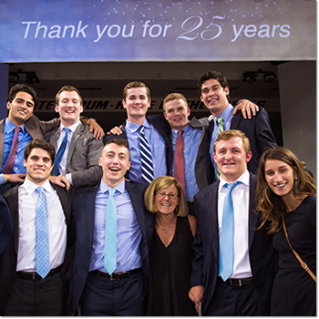 Pops on the Heights is more than a concert once a year. Choosing to sponsor a Pops Scholar through The Barbara and Jim Cleary Scholarship Gala program can be done at any time of the year. If you are interested in becoming a Pops Benefactor, please contact Peggy McCorkle at mccorkle@bc.edu or 617-552-1055.