Joseph Liu
professor of law. j.d., columbia university; ll.m., harvard university; b.a., yale university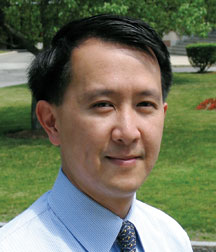 When asked about the strengths of BC Law, Joe Liu mentions the quality of the faculty and the amount of attention given to teaching. But what really sets the school apart, he says, is how it fosters a sense of community and cooperation among the students.

"Our students work with and support each other, and form close friendships in ways that I have not seen at other law schools," Liu says. "This sense of community and shared enterprise permeates the school, affecting everything from the classroom to the administration to the feel of the campus."

Liu's primary area of expertise is copyright law, the area that deals with the creation and dissemination of original, creative, and artistic works. His scholarly focus is on the ways in which the Internet and digital technology are dramatically changing not only how producers create and disseminate copyrighted works, but also how individuals interact and engage with such works.

Liu loves bringing these topics to the classroom. He describes the school's students as smart, motivated, well-rounded, and exceptionally thoughtful. "They're a pleasure to teach," he says. He strives to do everything he can to bring his students new ideas and perspectives, ways of thinking about the law that they might not be familiar with, while creating an atmosphere of active, intellectual engagement.

"Students should be challenged and pushed to think rigorously, yet feel safe and supported," he says. "I want them to feel free to strongly disagree with each other, in a respectful manner, while listening to and trying to understand different perspectives."