Emily Twiss, '08
b.a., bucknell university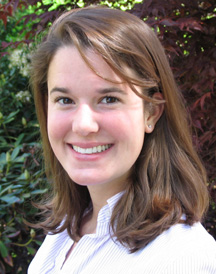 Emily Twiss never thought she would end up at law school, let alone one located in Boston, where she had spent 4 years working at the Charles River Conservancy. Twiss loved working at the environmental non-profit, but she was frustrated by a feeling of limitation.

"I was surrounded by extraordinarily intelligent and passionate people," Twiss said. "But without the legal skills to match the skills of those we were up against we couldn't get things done and make a lasting impact."

When Twiss' frustration peaked, she spoke with several professionals in the environmental law field, and their advice was all the same: "get a law degree and make things happen."

She received offers from schools in California, Washington, D.C., and BC Law. Twiss enjoyed the California weather but returned unimpressed with the schools. Itching for a change, Twiss stepped foot on BC Law's campus for an admitted students day hoping she would hate it. But it was love at first sight.

"From the moment I set foot on the campus, it just felt right," she said. "The faculty were genuinely interested in getting to know me and answering my questions, and the students were all people I felt would be great classmates."

After just one day, Twiss knew BC Law and the sense of community she felt that day was for her. "BC Law does not foster a competitive and stress-filled atmosphere," said Twiss. "The school is a wonderful place to spend three years. Students actually want to spend time here."

After graduation, Twiss plans on pursuing a career in environmental law. This summer, she is a summer associate at DLA Piper's environmental practice group in Washington, D.C..