Mary Bilder
professor of law. j.d., a.m., ph.d., harvard university; b.a., university of wisconsin.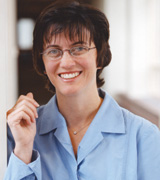 Mary Bilder brings her enthusiasm for the law into the classroom. "It's important to be serious about serious topics, but I also want to make class fun," she says. "I love the cases I teach and try to communicate that."

She hopes those students leave each day comprehending the material better than when they came in - but also aware that deeper law and policy questions cannot be definitively answered in a single class.

"I love teaching because the conversation is always new and exciting," she says. "I enjoy helping students understand complicated doctrines, as well as discussing together the real-world implications of legal decisions."

Trained as a lawyer and historian, Bilder has written extensively about early American constitutional government and law, as well as early American legal education and lawyering. She finds her students to be particularly gifted academically, but what distinguishes them is their commitment to serving the larger world, the world ethic, and their concern for others.

"BC Law combines academic excellence with a concern for the whole person," she says. "The faculty appreciate that deep connection between engaged teaching and outstanding scholarship, and the small campus encourages a close-knit community. The school cares about graduating students who will serve both the profession and the wider community."

She feels fortunate to teach first-year students in many of her classes. "These students stay in touch over their three years," she says. "I've been lucky to be able to help them as they contemplate the decisions that will form who they will be as lawyers."