Cedric Ireland
class of 2009; b.a., pomona college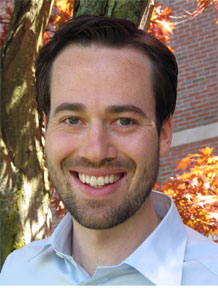 After working for four years as a program coordinator at UCLA's Neuropsychiatric Institute, Cedric Ireland was drawn to the law for the intellectual challenge and terrific career prospects. Having grown up in the Southwest, and after living in California for eight years, he wanted to see what life was like on the other side of the country. He settled on Boston College because of the tremendous camaraderie of its students and faculty.
"Having come to New England without any friends or family in the area, this nurturing community was really important to me," he says. "People here are legitimately friendly and nice. My peers really care about one another. While some competitive aura exists, it is generally constructive in nature."
Ireland says the School's biggest strength is its people. "Students take the time to get to know one another, both inside and outside the classroom. Anytime I miss a class, numerous classmates will send notes without me even having to ask. This warm community extends to professors as well. Professors are devoted to not just making us good lawyers, but also to making us better people."
During the fall semester, Ireland will be studying international commercial law at Bucerius Law School in Hamburg, Germany. This opportunity was made possible through a partnership between BC Law and Bucerius. "I studied abroad in Prague, Czech Republic during my undergraduate studies," he says, "and the experience was transformative. I am terribly excited to have the opportunity to study abroad for another semester."
Ireland spent the summer after his second year at Davis Graham & Stubbs in Colorado. "BC Law has a strong reputation in the southwest," he says. "I was pleased with the opportunities I received during the interview season."