Tracy Coogan
class of 2009; a.b., harvard university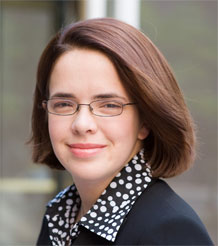 Tracy Coogan spent five years working in Congress, the last two as a Senior Legislative Assistant. "I loved the fast pace, the heady challenge of analyzing proposals and developing and refining legislative initiatives, and the intellectual excitement of policy debates," she says. But she wanted to learn more about how to transform public policy goals into effective legislation. She was drawn to BC Law because of its strong reputation in New England, and its reputation for camaraderie among students.
Coogan describes BC Law as welcoming, and that includes feeling like part of the greater Boston community as well. "This was clear to me during the 75th Anniversary event last year, when our alumni Members of Congress returned to speak at the school," she says. "We had practically half of the entire Massachusetts delegation!"
A dual degreee candidate in law and education, Coogan has been very active in a number of school activities. She was a 1L Representative and Vice President for the BC Law Democrats, Secretary of the American Constitution Society, President of the Women's Law Center, and was a member of the PILF Auction Committee. She will serve as a Regional Chair of the Ms. JD National Women's Law Students Organization and as a 3L Representative for the Law Students Association this year.
She spent her first summer as a Rappaport Fellow working at the Office of the Legal Advisor for the Boston Public Schools, and during her second summer she worked at the Boston office of Ropes & Gray LLP. "I had planned to use my degree in public policy, but BC Law's course offerings expanded my interests," she says. "Now I'm looking for ways to combine these interests in public policy, business law, and education policy and administration.