Donn Dingle
class of 2010; b.a., morehouse college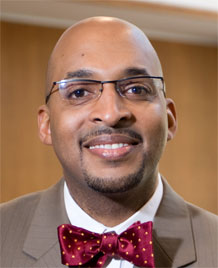 For Donn Dingle, law school was only a matter of time. A self-described admirer of the legal profession's "practitioners, professors, and jurists," Dingle knew he wanted to be involved in shaping the law. He went looking for a place that could provide both a welcoming and challenging academic environment. He found it at Boston College.
"BC Law became my inevitable choice after my first visit," Dingle says. "By the time I left the campus, I knew I had found my home for the next three years. The school has a mystique about it. Everyone I met was so bright and principled."
During his first year, BC Law has exceeded Dingle's expectations. He points to both his fellow students and his professors as sources of constant inspiration. "I've enjoyed the intellectual fervor of the student body, our heated debates on all sorts of legal issues, our friendly competitiveness, but most importantly, our willingness to help each other without pride or prejudice. And I absolutely love my professors. A former schoolteacher myself, I think I can tell when teachers love what they do."
Never one to sit on the sidelines, Dingle's activities include the negotiation and client counseling competitions, and next year he will be participating in the Juvenile Rights Advocacy Project. He's been active in the Black Law Students Association and plans on participating in Moot Court or Mock Trial his second year
Dingle interned this summer for Chief Justice Martha P. Grace in the Administrative Office of the Juvenile Court of Massachusetts. His future aspirations include working for a firm, likely in civil litigation. "Ultimately, I would like to be involved in helping to frame our nation's laws," he says.