Letter from the Dean
spring 2007
Dear Alumni and Friends of Boston College Law School:

I want to talk to you about the Law School fund. This is what some schools call "the annual fund"—recurring unrestricted cash gifts that we spend the year we receive them. One of the most exciting developments during my time as Dean has been the growth of the Fund, and the programs and activities it makes possible. Let me tell you about three of them, and then turn to the Fund itself.

LOAN REPAYMENT ASSISTANCE
Law school is expensive these days. Our tuition this year is $34,770. I think that figure is in line with the cost and the value of a legal education. First-year associates at big and middle-sized law firms make $125,000–$160,000. But for our graduates who go into public interest jobs, high tuition adds up to a debt that is hard to repay. There are two ways to solve this problem. One is to reduce the cost up front by giving more generous scholarship aid. I'll say something about that in a moment. The other is to give targeted aid at the back end—to design a program specifically for graduates who go into public interest work, that helps them repay their loans.

This program, which we call Loan Repayment Assistance, or LRAP, is something we began in 1987. In its first decade the funding grew from less than $10,000 to about $50,000 per year. We cobbled the money together from operating funds and a few small gifts, including one from Prof. William Willier, for whom we named the program. Those accounts could only sustain us for a limited time; and they were in any case inadequate to the demand for support. In the first two years we had five and seven students. After ten years we had twenty-one. This year, the twentieth anniversary of LRAP, we had sixty-four. It is the Law School Fund that has made this growth possible. Here is a picture of what we have done in the last ten years. We have more than doubled our awards since 2004. Most of this money comes from the Fund.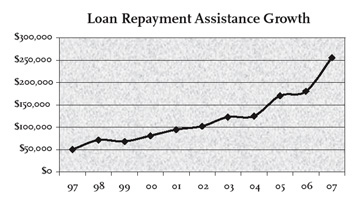 To be eligible for aid, a first-time applicant must have graduated within the past five years and earn $50,000 or less. The program covers three kinds of jobs: direct legal services to poor clients (legal services corporations and public defenders' offices, for example); nonprofits (like the Sierra Club and the ACLU); and city, state, and federal government agencies (like district attorneys' offices). Our aim is to fund 60 percent of a qualifying candidate's annual educational debt repayment obligation.

SCHOLARSHIPS
The other way to help students cope with the high cost of law school is to give more scholarship aid. Most of our students (63 percent) get some kind of aid. Most of it comes in the form of tuition remission, which next year will total more than $5 million. There are also a few (too few) generous endowed scholarships. But the fastest growing segment of our aid budget is scholarships paid out of the Law School Fund. This coming year we will give $692,000 to students who, but for the generosity of our alumni, would have gone to law school somewhere else.

The slope here is even steeper. The Law School Fund grew so impressively in the first few years of my deanship that we began to accumulate cash. I met with our alumni Law School Fund committee in 2004, and they recommended that we put more money into scholarship assistance. Since then, we have gone from $80,000 to nearly $700,000 in annual expenditures.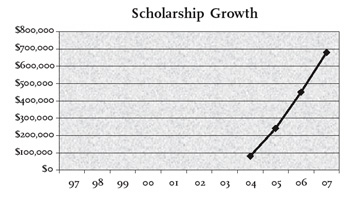 LL.M. PROGRAM
One of the pieces in the Strategic Plan which we approved in 2005 was the creation of an LL.M. Program designed to attract up to 30 foreign students to the Law School each year. The faculty approved the Program last spring. Last summer we hired a Director of LL.M. and International Programs, Gail Hupper, and she has been busy this year designing the program, marketing it abroad, recruiting students, and getting ready for our first class, which will arrive in August. We would not have been able to launch this Program were it not for the Law School Fund. All the infrastructure (phone, equipment, print marketing, travel, operating) needs to be put in place before the first student comes to campus. Because we have the Fund, we were able to go ahead with the LL.M. as soon as we had the trustees' approval.

THE LAW SCHOOL FUND
People who give as generously as our alumni do to the Law School Fund naturally want to know that their gifts make a difference in things that matter to them. That is why I am sometimes asked whether money given to the Law School Fund will be spent on Law School projects, and not on programs elsewhere at Boston College. The answer is most certainly, yes. There was a time when the Law School, because it had such a high student-faculty ratio (in 1960 it was 33:1), generated a surplus from tuition that was available to help the University. Today our ratio is 14:1 and we are a net consumer of University resources. The University actually subsidizes the Law School, rather than the other way around. We keep the money we raise through tuition and gifts, and the University gives us more besides.

In the case of Law School Fund dollars, we have resolved to spend them not to pay everyday normal operating expenses, but to do things that make the Law School a better place. Investing in scholarship aid brings us better students. Investing in Loan Repayment Assistance affords our graduates the chance of living out their dreams. The LL.M. Program will diversify our student body and change the way we teach and learn law. In addition to these causes, we use the Fund to support faculty scholarship through summer grants; to provide more and better oral advocacy programs for our students; and so on. I think that our alumni have been pleased with the return on their investment. When I came to Boston College in 1999 the Law School Fund raised about $600,000 annually. Last year it brought in $1.79 million.




Sincerely,

John Garvey