Sneak Preview
bc law magazine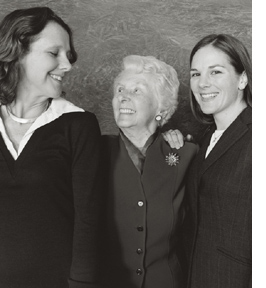 The Hon. Mary Beatty Muse '50, center, surrounded by her daughter, Patricia Muse '90 (left), and her granddaughter, Julie Muse-Fisher '05 (right).
The Fall/Winter 2004 issue of BC Law Magazine is scheduled for publication at the end of January. Here's a preview of what's inside.

The cover story is a photo essay called "BC Law Generations." In beautiful black and white portraits we capture six families who have multiple members with Law School connections. Among the photographs are the kissing cousins of Altanta, a set of twins from Cambridge, two father and son teams, and a trio of women: grandmother, daughter, and granddaughter.

Elsewhere in the magazine is a profile of William P. Robinson III '75, a man who translates poetry for fun and is nicknamed "Lexis" because he has a mind like the search tool. Robinson was recently appointed to the Rhode Island Supreme Court as an associate justice after a distinguished career marked by some high profile media, civil rights, and employment discrimination cases.

Last fall, BC fundraising veteran Marianne Lord joined the Law School as the new Associate Dean for Institutional Advancement. Her arrival seemed the perfect opportunity to examine BC Law's economics and the impact that alumni support has on students, faculty, and programs. Full of statistics, the story makes transparent a process that is often misunderstood and outlines many new initiatives to engage alumni more fully.

Finally, we launch a new feature this issue called "Law Lite," a short comprising legal jokes and anedcotes supplied by readers. We hope it will inspire other alumni to send in their favorite laughs.