More Stories from In Brief
fall/winter 2008
Lukey Becomes First Woman to Head ACTL
Setting a new precedent, Joan Lukey '74, a partner in Ropes & Gray's Litigation Department, has become president-elect of the American College of Trial Lawyers (ACTL). She will be the first woman president of the ACTL and is the first woman elected to a national office in the organization.
Founded in 1950, the ACTL comprises the best of the trial bar from the United States and Canada.
Widely recognized for her trial experience, Lukey was named one of "America's Top Fifty Litigators" by the National Law Journal and designated one of the "35 influential judges and lawyers in Massachusetts of the past 35 years" by Massachusetts Lawyers Weekly. She has also been cited as a top trial lawyer by Chambers USA and the Best Lawyers in America.
Lukey's trial practice focuses on complex business litigation. She has tried more than seventy cases in federal and state courts and argued more than forty-five appeals before various federal and state appellate courts.
Lukey is a member of the BC Law Board of Overseers. Fellow alumnus Michael E. Mone '67 served as ACTL president from 1999–2000.
All the News That's Fit to...Download?
STUDENT NEWSPAPER EAGLEIONLINE USHERS IN NEW ERA

Like so much else in the media world, BC Law School's days of newsprint newspapering are over. Eagleionline.com, the internet era's equivalent of the campus rag, has taken over the job, providing community news, opinion, and debate in a lively interactive format.
Since its inception in 2006, Eagleionline.com has grown from a student blog with weekly articles to a full-fledged, independent student newspaper offering, in addition to the usual news fare, an Outline Bank and Campus Calendar.
The nimbleness of being an online newspaper proved useful last year during the debates surrounding the reorganization of the Alumni Council and the decision to invite Attorney General Michael Mukasey to give the commencement address. The number of hits to the site swelled as alumni, faculty, staff, and students weighed in with their perspectives.
"It is encouraging to see the response that we have gotten from wide segments of the community," said Adam Brenner '10, the editor in chief. "Alumni support is important for the continued success of Eagleionline. com, and we encourage those interested in getting more involved to contact us at contact2@eagleionline.com."
In addition to Brenner, the current editorial board comprises Kaiko Shimura as managing editor, Todd Bluth as associate editor, and Meghan Meade as marketing editor. All are 2Ls.
Eagleionline.com was founded by Jesse Stellato '08, Milan Dalal '08, and David Bartholomew '08 in the hopes it would build upon BC Law's strong community spirit.
The cofounders praised the work of their successors. "The new team has added energy to the website by providing their vision and ingenuity," said Stellato, "including the addition of innovative services such as a Car Pool Locator." Dalal noted their initiative in creating strategic partnerships with the Law Students Association and other student groups.
"As long as students are motivated to contribute to BCLS," said Bartholomew, "Eagleionline.com will endeavor to provide tools for them to do so."
BC Law Makes Princeton Review's Top 5 Lists
CAREER PROSPECTS, PROFESSORS ESPECIALLY STRONG

BC Law is listed as one of the nation's top law schools and appears in the top five for Career Prospects as well as for the category "Professors Rock (Legally Speaking)" in The Princeton Review's 2008 "Best 174 Law Schools."
"We select schools for this book based on our high regard for their academic programs and offerings, institutional data we collect from the schools, and the candid opinions of students attending them who rate and report on their campus experiences at the schools," Robert Franek, Princeton Review vice president of publishing, said in a recent press release.
"Best 174 Law Schools" has two-page profiles of the schools with write-ups on their academics, student life, and admissions, plus ratings for their academics, selectivity, and career placement services. BC Law received accolades in the survey for its research resources and library staff.
The ranking also comments on the social atmosphere at BC Law and the sense of community that is felt amongst the professors and students. The school is described as "interesting and enjoyable" with professors who are "truly extraordinary in their capacities as teachers, mentors, and friends."
BC Law is one of the top in the nation for Career Prospects, having a 98 percent rate of placement within nine months of graduation, and an average starting salary of $103,000. The Princeton Review does not rank the schools on a single hierarchical list from 1 to 174. Instead, it has eleven ranking lists of the top ten law schools in various categories.
The lists are based on surveys of 18,000 students attending the 174 law schools. The lists are posted at www.Princeton Review.com.
An Ethical League
BROWN NAMED TO GOVERNOR'S TASK FORCE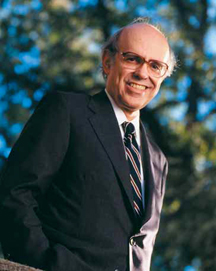 George Brown, the Robert F. Drinan, SJ, Professor of Law, has been appointed to Governor Deval Patrick's twelve-member Task Force on Public Integrity.
The task force will examine the existing regulatory frameworks that govern ethics, lobbying, and public employee conduct, and will seek input from public officials, experts, and the public. The group was also charged with making recommendations relative to legislation necessary to strengthen current laws, regulations, investigative, and enforcement mechanisms, and penalties.
"We in public office are not entitled to our positions. We are placed here by voters to do the best we can on their behalf, and we are expected to conduct their business honestly and openly," said Governor Patrick when making the announcement in November. "The members of this task force offer a broad range of professional backgrounds and experience.
All of them share a commitment to ensuring the highest standards of honesty and public integrity."
Brown is a specialist in the field of government ethics. He served as a former Massachusetts assistant attorney general and was appointed by Governor Weld to chair the State Ethics Commission.
Prisoner Injustices
GUANTANAMO IS FOCUS OF HHRP


"To Abdul Nasser, bed sheets are useful and real, and American justice wasn't worth one," Sabin Willett told an audience of more than ninety people at the tenth annual Holocaust/Human Rights Project (HHRP) Owen M. Kupferschmid Memorial Lecture at Boston College Law School in November. Willett, a partner at Bingham McCutchen, is the leader of the firm's pro bono team representing prisoners at Guantanamo Bay since 2005.
His talk, "America Unbecoming: Reflections from the Guantanamo Looking Glass," was a glimpse into the reality of representing prisoners at Guantanamo Bay while dealing with the Bush administration's legal policies and actions surrounding the facility. In particular, Willett told the story of Nasser, a prisoner for seven years. On one poignant visit, Nasser requested that Willet stop representing him. The guards had recently taken away Nasser's only source of comfort—his bed sheet. In his mind, having a lawyer amounted to causing trouble, and that was the reason for the guards' actions. Nasser's name was not on the most recent court filings.
None of the men Willett represents is considered an enemy combatant by the government, he said, yet they remain imprisoned.
Willett's presentation struck a chord with the audience. "In the ten years since we've been doing the annual lecture," said Gene Kupferschmid, mother of the event's namesake, "this is the first time that the students gave one of our speakers a standing ovation."
The lecture concluded a successful fall semester for the HHRP, which has been undergoing changes. With a new student board of directors and an influx of energy from the 1Ls, the group held its first annual career panel in November and future plans include a symposium on transitional justice and a documentary about HHRP founder Owen Kupferschmid.
—Erin Albright '10
Diversity Honored
GOULSTON & STORRS SPONSORS RETREAT
In what has become an August tradition, incoming BC Law students of color were invited to a two-day retreat designed to familiarize them with Law School life. The sponsoring firm was Goulston & Storrs.
"Diversity within the law profession in Boston is lagging behind where people want it to be," says Kitt Sawitsky '77, comanaging director at Goulston & Storrs. The retreat is the firm's way of ensuring that the students feel supported from the beginning of their stay here, and that they "don't feel that Boston is less than a great alternative when they look for their first jobs."
Following a campus tour, 2Ls tutored the students in how to brief a case in preparation for a mock class led by Dean Michael Cassidy. The first day's lunch speaker was Goulston & Storrs' Suma Nair, who spoke about her own experiences as a law student and lawyer of color.
Highlights of events held the next day at Goulston & Storrs were a talk by Professor Evangeline Sarda on diversity issues in the 1L classroom, a summer jobs panel, and a speech by Kimberly Jones from the Boston Lawyers Group. She discussed the changing legal environment for people of color in Boston.
2011 CLASS PROFILE
There were 6,609 applicants and 299 matriculants.
The youngest student is 20, the oldest is 50.
29 graduated Phi Beta Kappa,
33 have master's degrees, and
7 have PhDs.
The students are from 129 colleges and universities.
Of their 35 home states, Massachusetts is the most represented, followed by California, New York, New Jersey, Florida, Virginia, Maryland, Pennsylvania, Vermont, Illinois, and Washington, DC.
51% to 49% is the ratio of women to men.
22% are students of color.
$38,340 is the tuition cost.
85% of students are receiving financial aid.
The most popular names are Michael and Elizabeth.
1 Fulbright Scholar,
2 National Merit Scholars, and
1 National Science Foundation Research Fellow
They must take 8 first-year courses:
Property
Legal Reasoning, Research, and Writing
Civil Procedure
Constitutional Law
Contracts
Criminal Law
Torts
One elective
37 students speak Korean, Arabic, and Spanish;
31 speak Japanese and French.
They have served in Medical Peace, the Special Olympics, the Peace Corps, and Appalachia Volunteers,
and in the US Navy and Army.
Many are athletes, participating in 30 sports.
1 was a self-employed commercial fisherman,
1 raised hybrid tomatoes,
1 was a senior electrical engineer, and
1 was a paleontology intern.
Among them is a screenwriter, a filmmaker, a securities broker, a web master, and a fair housing investigator.
1 is an opera singer.
Other Articles from In Brief:
An Eleventh-Hour Effort
Capital Gain?
One-of-a-Kind Project Honored