An Eleventh-Hour Effort
plater galvanizes support to protect endangered species act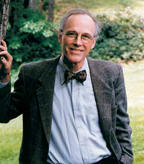 Lee Pellegrini

Last year, when shortly before the November election the Bush administration proposed major modifications to regulations issued under the national Endangered Species Act (ESA), Professor Zygmunt Plater felt he couldn't just stand by.
Plater, after all, quite literally wrote the book on advocacy and environmental law, Environmental Law and Policy, Nature Law and Society (3d edition, Aspen Publishers, 2004). And it was his argument before the Supreme Court in 1978 in TVA v. Hill that helped to define the power of the ESA.
According to Plater, the last-minute Bush administration ESA proposals undercut a number of significant regulatory principles. They allow federal construction agencies to decide for themselves whether their actions threaten species, remove third-party scientific review of projects that threaten species, and, where a hazard to species' survival has cumulative causes, they in many cases eliminate protection entirely.
Plater and research assistants Toby Bannon and Patrick Wu, both 2Ls, reached out by email to environmental law teachers around the country asking them to join him in preparing critical analysis and commentary on the proposed changes. More than seventy signed on to collective comments drafted by Plater and a small group of scholars from Harvard, Columbia, Stanford, and Cal-Berkeley.
Their sixty-page, singlespaced submission to the Department of the Interior, the issuing agency, posed sharp questions about the administration's proposals, setting the stage for potential legal challenges and revisions in the Obama Administration by executive order or a regulatory revision process.
In a Washington Post interview last fall, Interior Secretary Dirk Kempthorne defended the new rules, saying they were a "narrow regulatory change" to "provide clarity and certainty to the consultation process under the Endangered Species Act."
Plater disagrees. "These amendments are a major dilution of species protections that have functioned effectively over the past twenty-two years with bipartisan support," he said. "The proposed rule was consciously launched at the eleventh hour, allegedly 'to improve efficiency,' in the waning months of an administration that has been notably hesitant to implement the protections of the Endangered Species Act. Virtually no scholars in the field think that is advisable." Plater notes the context of lax conservation concern in the Bush Administration: In his eight years, George Bush added only 58 new endangered species to the national listing of protected species, compared to 255 by Ronald Reagan, 231 by George H.W. Bush, and more than 500 by Bill Clinton.
Plater and other environmental protection professors believe the ESA should be protected from such political maneuvering. "In my mind, when I teach students, it's not just a matter of questions of fact and law, but also a straightforward necessity to consider the political context," said Plater. "Acknowledge politics. Not so it takes over your argument, but so you can understand the context. Context, often, is everything."
—Adapted from a BC Chronicle article written by Melissa Beecher
Other Articles from In Brief:
Capital Gain?
One-of-a-Kind Project Honored
More Stories From Inbrief