Girl Power
by jeri zeder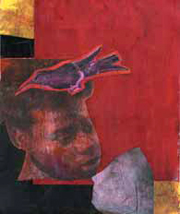 "Ready to Be Free"--By C.

SIXTEEN wasn't sweet for the young woman we'll call Sandra. That's when she wound up in the custody of the Commonwealth of Massachusetts, mentally and emotionally fragile from years of abuse and neglect. She lived in foster care. She lived in psychiatric facilities. She needed special education services in school. After shoving a teacher, she became involved in the state's juvenile justice system. And then, she became an unwed, teenage mother.
Today, Sandra is twenty-two. She has two children and a 4.0 average at the technical school she attends. She's not entirely out of the woods; the court has taken from her, and then returned, one of her own children in an abuse and neglect case. But Sandra knows her future looks better than it ever has before. She credits the staff and students of BC Law's Juvenile Rights Advocacy Project (JRAP) for the progress she's made. Looking back over the five years that JRAP represented her, she recounts many acts of support, kindness, and caring. "Without them," she says, "I don't think I'd be where I am right now."
JRAP is a clinical legal program—with a twist. Like most clinical programs, law students in JRAP provide direct representation to individual clients, under the supervision of a law professor and practicing attorneys. But here's the twist: JRAP also requires the law students to get involved, hands-on, with public policy, particularly with efforts to improve the systems that affect troubled youth. This two-pronged clinical approach, individual representation plus bureaucratic reform, gives law students an appreciation for the way the juvenile justice system does and doesn't work for children, and the way the experience of each child can illuminate the system's weaknesses and point to opportunities for change.
As a result, JRAP has multiple impacts.
"Identity"--By S

The clinic provides necessary assistance to an underserved population; helps agencies and institutions reach better outcomes with the troubled children in their care; offers law students experiential lessons they'll carry into their careers; and injects the field of juvenile law with successive generations of leaders.
Founded in 1995, the clinic is the brainchild of its founder and director, Adjunct Associate Clinical Professor Francine T. Sherman '80. Her vision for JRAP has resulted in a multi-faceted program with well-defined parameters. The clinic focuses on girls who have been committed to the Massachusetts Department of Youth Services (DYS) and other system-involved girls whose cases require the overlapping intervention of a number of social service agencies and institutions. It emphasizes holistic lawyering. And, it initiates and supports programs to improve the juvenile justice system. Annually, eight to ten second- and third-year law students enroll in this year-long clinic. The students are also required to take a seminar course in juvenile justice.
Why focus on girls? Girls are a rapidly growing population in the delinquency system, according to Sherman, with issues that differ from boys' and a dearth of resources for their needs. Yet their numbers are small enough to form a logical target group for pilot programs.

The emphasis on holistic lawyering comes from Sherman's insight that, for kids to stay out of trouble, it isn't enough to focus solely on their legal issues. "If you're successful in school, you're less likely to have any involvement with the courts. That's just a fact. If you have success in your family, less family chaos means less involvement with the courts. You want your client to be successful, so you've got to do those other pieces," Sherman says. Those other pieces include navigating the special education system, helping the child meet the demands of her probation, shoring up her access to mental and physical health care, and more.
By requiring law students to engage in both individual representation as well as policy reform, JRAP teaches about the human ramifications of systems change, and permits law students to have a real impact on the underlying problems of the juvenile justice system. The JRAP model forces law students to confront the root causes of juveniles' legal problems. This is in keeping with an approach known as "holistic and community lawyering," which is common among public interest practices that address the legal needs of indigent or otherwise powerless clients, on matters ranging from legal aid to domestic violence, criminal defense, juvenile advocacy, and elders' services. "Looking at systemic issues and systemic reforms is the most efficient way and the most effective way to address the problems," says Sania Metzger, director of policy for Casey Family Services, the direct service agency of the Annie E. Casey Foundation.
In the decade-plus years of JRAP's existence, it has become a national symbol of exemplary representation for delinquent girls, an indispensable resource for juvenile courts and agencies, and an initiator of evidence-based reforms. "They've had a tremendous impact in the Boston area and nationally," says Patricia Puritz, executive director of the National Juvenile Defender Center, which works to improve the juvenile defense bar. "Their work understanding and representing girls has been groundbreaking and comprehensive."
Groundbreaking, comprehensive—and long-lasting. One of JRAP's earliest collaborations was with Brighton High School, a public school in Boston, where JRAP ran a law center. The partnership has changed over the years and now stands as a teaching program, in which law students develop curricula and teach topics in law to Brighton High students. In this way, the law students learn more about the lives of the youth they represent.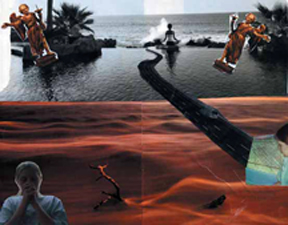 "Path of My Future"--By Anonymous

Another program launched by JRAP is Hear Us Make Artistic Noise, or HUMAN, piloted in 2002. It's a visual arts program for girls committed to DYS, which gives them a constructive outlet to express their emotions and document their experiences with the help of arts educators Kate Jellinghaus, Minotte Romulus, and John Ewing. Some of the girls' artwork is turned into cards that the girls can sell. Law students help with development and marketing. HUMAN's therapeutic value is evident in this disturbing example: Responding to the routine searches she's had to endure in her secured residential facility, a girl overlaid on the "search and seizure" pages of a law casebook a kind of excruciating poetry, "Raise your arms. Cough. Lift your breasts. Squat. Cough."
In 2004, JRAP started a pilot project that grew into the Massachusetts Health Passport Program (MHPP), a collaboration involving DYS, community health centers, and community service providers. The program ensures that girls get regular physical and mental health care, dental care, and help with problems like substance abuse. MHPP kicks in at "reentry": when a girl has progressed enough that she can leave her residential DYS facility and return home. "The issue on reentry is they go from a 24/7 setting back to the environment—the home or community and the stressors—that led to their acting out or their delinquency," says DYS Commissioner Jane Tewksbury. "Fran's idea was that connecting the girls to a health care provider at a community health center would give girls a role model that could reinforce positive behavior." MHPP has been so successful that DYS is planning to expand it beyond Boston and Worcester, and to include boys. Law students support MHPP by, for example, researching and writing guides and manuals about the health care rights of juveniles.
As the law students contribute to these projects and policy initiatives, they receive grounding in the realities of juvenile justice by representing individual girls (and, increasingly, boys). Typically, these girls have a history of crushing personal difficulties compounded by societal deficiencies. They're served by an overwhelmed and overwhelming web of bureaucracies. Their plight takes getting used to. JRAP student Leah Rabinowitz '10 describes the shock of her first visit to a secured residential facility. "It was eye-opening to see what it's like to live with metal detectors at the doors, with swipe cards for access for every door," she says. Rabinowitz wonders aloud how this environment could possibly help rehabilitate a child.
Classie Davis '09, who plans to enter the field of juvenile justice someday, says that JRAP has helped her learn how to advocate effectively for JRAP clients. "I've learned how to gain the trust and confidence of my clients, which has helped me understand their legal issues and locate appropriate solutions," she says.
Donn Dingle '10 taught middle and high school for eleven years before attending BC Law. His challenge is making the transition from teacher to legal advocate. In one case, he serves as a girl's lawyer, where his role is to be a zealous, client-directed champion of her rights. In another case, he serves as a girl's guardian ad litem (GAL), where his role is to help a juvenile court judge make decisions in the girl's best interests. With his background as a teacher, Dingle is finding the role of GAL to be the more comfortable one. The role of lawyer, he finds harder. "I find myself saying, I know she's lying. But my job is not to be judgmental. It is to be an advocate. How can we still knock this out of the park for her?" It's a dilemma with which all aspiring lawyers must come to terms.
As the law students acclimate to their new roles, they're also puzzling through swirls of legal questions. "All our cases run on multiple tracks," says Sherman. In a typical case, a law student will have to deal with a girl's school to address her special education issues, while also keeping a judge apprised of her truancy problems, and staying in touch with her probation officer because she was caught shoplifting. Decisions made by the school will affect outcomes in her court cases, and vice-versa. "You have to be looking at this across systems in order to be a good advocate," Sherman insists. "You can't just treat any of it in isolation and do a good job."
Law students also learn that the law is only as good as the people implementing it: Who the caseworker or supervisor is has an enormous impact on what happens to a child, especially when she turns majority age. "It's not about what the statutes and regulations say; it's the dynamic of the players," says Rebecca Vose '82, who, with her colleague Anthony DeMarco, is a JRAP supervising attorney. "You get more effective for your client knowing that."
JRAP has become an indispensable resource for many who work in the juvenile justice system. Juvenile Court Judge Jay Blitzman '74 is stationed in Lowell, a city with a large population of Cambodian immigrants. He often assigns JRAP students to be GALs for Cambodian girls under the CHINS (Child in Need of Services) law. Blitzman presides over a busy court, so he needs quality information quickly. "They are one of my go-to resources," Blitzman says of JRAP. "They give me information that's frequently dispositive. They help make me aware of alternatives, and help me help kids stay in school and in the family."
The Youth Advocacy Project (YAP) of the Committee for Public Counsel Services, the juvenile branch of the Massachusetts public defenders office, relies heavily on JRAP students to represent, as lawyers, girls in the delinquency system. "Poor young women who end up in DYS frequently have very fractured life circumstances and need advocacy for that," says YAP director Joshua Dohan."We've been very happy seeing our girls getting a lot of very positive attention and important advocacy." YAP also collaborates with JRAP on a number of policy projects. Among the juiciest: reducing the disproportionate representation of children of color in the juvenile justice system.
That issue is close to the heart of Amy Reichbach '05, a JRAP alumna, who now holds the title of Attorney/Racial Justice Advocate & Equal Justice Works Fellow with the ACLU of Massachusetts. She's also working on a project to disrupt what's known as the school-to-prison pipeline, to reduce the number of kids being kicked out of school. Reichbach regularly involves JRAP students as researchers for her policy projects.
Reichbach is considered to be an emerging leader in the juvenile law field, as is JRAP protégé Vincent Herman '04, supervising attorney at the Children's Law Center in Washington, DC, and a recipient of the Zubrow Fellowship for juvenile advocacy. JRAP graduate Barbara Kaban '98, one of the clinic's first students, received the 1998 Soros Justice Fellowship. She is deputy director/director of research and policy at the Children's Law Center in Lynn, a position she created herself. For Sherman, these three JRAP alumni represent important success stories. "We've been responsible for educating a lot of people who are the new leaders in the field," she says.
DeMarco, the supervising attorney, says, "The one thing I've often felt was missing in the law schools is that children's law is not integrated into the curriculum. The fact that [a juvenile justice clinic] exists at a law school at all is a good thing, and the fact that it's here is good, too." The Annie E. Casey Foundation recently singled out JRAP, along with the Children and Family Justice Center at Northwestern University Law School and the Neighborhood Defender Service of Harlem, for its "innovative, comprehensive representation for justice-involved youth." That's testimony to BC Law's staunch support of Sherman's visionary leadership, and to the students of JRAP for their tireless dedication to their clients.
Jeri Zeder is a contributing writer to BC Law Magazine.