The Great Heist
by chad konecky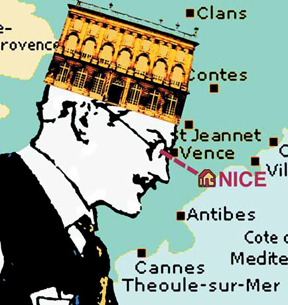 By Franklin Hammond
Chris Hunter '98 helped topple an international ring of art thieves, successfully prosecuting the stateside case thanks to multi-agency collaboration and a transcendent mission to recover the missing masterworks.
MORSELS OF MIDDAY BAGUETTE undoubtedly lurched in the bellies of the six museum guards forced at gunpoint to flatten themselves on the 130-year old floor of the Musée des Beaux-Arts in Nice. It was a Sunday, August 5, 2007. The absolute ebb of France's most languid summer fortnight.
Admission was free, as it is on the first Sunday of every month. But a steep price was exacted upon the museum that afternoon. Five masked and armed thieves wearing jumpsuits strode through the museum's front entrance at about 1 p.m. and left less than ten minutes later shouldering sacks stuffed with four canvases valued at $6.3 million.
Christopher Hunter didn't join the United States Attorney's Office in Miami until a month after the robbery went down. And considering the heist was staged on the French Riviera, the ensuing criminal investigation would seem a few flocks of pink flamingos and about 5,000 nautical miles outside his jurisdiction. The unlikely link was a shaggy-haired, motorcycle-riding, fifty-six-year-old lifelong criminal named Bernard Jean Ternus. A French national residing in a tranquil bedroom community outside of Fort Lauderdale, Florida, Ternus was arrested ten months after the dramatic daylight heist for conspiring to transport the stolen paintings with the intent of profiting from their illegal sale.
Between the guns brandished along the Cote d'Azur and the apprehension of Ternus in Cooper City, Florida, lies a gripping case history of transnational operational cooperation amongst multiple law-enforcement entities, including the FBI as well as French and Spanish police. It's a story of cool, disciplined undercover work and carefully crafted investigative techniques. It is a trail of crumpled coffee cups from stakeouts and clandestine meets on both sides of the Atlantic. Negotiations between perps and law enforcement officers posing as perps took place inside cars, greasy spoon eateries and hotel suites, and even on a glittering yacht docked in Broward County, where champagne was sipped to toast finalized arrangements. When you nick a Monet and a trio of works by two other masters, a little bubbly is in order.
At its core, the operation was a case study in the meticulous coordination of evidence gathering in order to navigate the extraterritorial application of multiple laws and legal standards. And it was Chris Hunter who led the US prosecution, which kicked off with the simultaneous arrest of multiple subjects on two continents and produced a federal conviction along with a sixty-two-month US prison term for Ternus, the would-be fence for the stolen paintings.
US Attorney for the Southern District of Florida Alexander Acosta called the investigation a "model of cooperative law enforcement in the fight against sophisticated international organized crime networks." For Hunter, it was much more than another day at the office.
"I think one of the things that differentiates an art prosecution from almost any other type of prosecution is the emphasis placed upon the safe recovery of the stolen goods because they're of singular value," says Hunter. "In this case, there was an insurance value for the paintings. But in many ways, a Monet is priceless.
"If you look at some of the successful recoveries in the last decade, there are a number of instances where stolen paintings were recovered very quickly and by a means that caused incredible damage [to the paintings]," he adds. "Whether it's art or antiquities or an archeological treasure—something that is part of our world's cultural heritage—the approach is very different than if cargo is stolen from a ship. There is as much importance placed on securing the return of the property as there is on rounding up the bad guys and bringing them to justice."
Building the case within that context dominated the first ten months of Hunter's return to civil service from the private sector, and carried a measure of personal relevance along the way.
The Man in the Mirror
If the thugs who stormed Nice's Museum of Fine Arts epitomize a collection of regrettable sociological outliers, Assistant United States Attorney Chris Hunter represents all that is antithetical to the bad guys' tail of the societal bell curve.
A native Pennsylvanian and the son of a former US Marine, Hunter grew up on the campus of the Milton Hershey School for socially and economically disadvantaged kids, where his father was the superintendent of the grounds and his mother was a teacher. The importance of public service wasn't overtly stated in his family; it was an unspoken truth. Hunter's younger sister served with the Teach for America corps. Eighteen months after the September 11 terrorist attacks, Hunter reported for training at the FBI Academy in Quantico, Virginia. Serving as a Special Agent until November 2005, he conducted investigations as a field and case officer in the bureau's criminal, counterintelligence, and counterterrorism divisions.
"I believed that was the best way at that time to serve my country and make a difference in an area where service was needed," says Hunter.
The Rockwellian lilt to his characterization of his FBI years is far more substantive than sentimental. It speaks to the most elemental disparity between Hunter and the art thieves he helped hunt. Chris Hunter has a beef with guys who steal art not only because they're crooks, but because they're commoditizing creations that belong more to the world than they do to any gallery or collector.
He believes deeply in his service to a cause infinitely greater than himself. And he is loath to discuss his personal part in this investigation or, for that matter, any other highlight on his resume. Hunter relentlessly deflects credit to the FBI, the French National Police, the Spanish National Police, and the Bureau of Immigration and Customs Enforcement, among others. He granted this, his lone interview about the prosecution, motivated solely by "extreme fondness for my alma mater."
A Double Eagle who earned his BA in political science in 1995, Hunter took the bar in July 1998, then allowed himself some time to travel before starting in the litigation department at Mintz Levin in Boston. His first stop was Budapest for a rendezvous with a Jesuit priest pal, a former BC Law professor of Hunter's who was attending a conference in Hungary. From there, the two headed west to Vienna and Salzburg and spent "hours upon hours" touring museum galleries and soaking in the masters. Hunter continued on to France to further his art immersion. His apparently karmic reconnection with French canvases a decade later hasn't gone unnoticed.
"Ten years out of law school and ten years after that trip, it's nice to have a part in something that was more than getting the bad guys and bringing them to justice, but was about returning something special to a public that can now enjoy these paintings," he says.
Anatomy of an Armed Robbery
The modern art thief is not a Cary Grant-type catwalking the clay-tiled rooftops of Cannes clad in a black turtleneck. Think, instead, Tony Soprano henchmen locked and loaded and busting through the front gate.
Due in part to the post-9/11 increased surveillance of banking and largely because of the more palatable risk-to-reward ratio for thieves, stolen art has become commonly used collateral for the drug and weapons deals of organized crime. A getaway from a bank or armored car takedown is a dicey proposition—including the risk of encountering the business end of a firearm—exposing anyone apprehended to hardcore sentencing guidelines. Museums, on the other hand, are primarily concerned with acquisition and conservation and can't afford to finance the security necessary to stop an armed perpetrator who can enter, exit, and flee on a motorbike in a matter of seconds.
The FBI estimates that the international black market for art is a $6 billion annual enterprise. Interpol rates art theft as the fourth-largest criminal endeavor, trailing only drugs, money laundering, and arms. Iconic works of art are oft stolen to settle a debt or are exchanged for drugs, which are then sold. They are also sought after by criminal venture capitalists who can afford to wait years for the right opportunity to resell the painting, or who can archive the work as a bargaining chip for a lesser sentence on an unrelated charge.
The proper diagnosis of the right location, accompanying gaps in security, estimated response by law enforcement, and the value and portability of objects can result in a seven-figure score involving comparatively little risk. In the wake of the 2003 looting of Baghdad's National Museum, the FBI formed an Art Crime Team of a dozen specially trained agents in 2004. Further up the jurisprudential food chain but driven by an overlapping mission is the Law Enforcement Strategy to Combat International Organized Crime, announced by US Attorney General Michael B. Mukasey in April 2008. In July, Acting Assistant Attorney General Matthew Friedrich declared that "the theft and sale of stolen art has unfortunately become part of the portfolio of crimes [that] international organized criminals will use to fund their illegal activities."
From an operational and prosecutorial standpoint, Hunter believes the indictment in the Nice paintings case is a blueprint for success. "Future successes will absolutely require cooperation on an operational level, not merely information sharing, among law enforcement agencies the world over," says Hunter. "This was a great example in that everybody involved kept their eye on the four big pictures. Whether it's trying to dismantle a terrorist network or an organized crime network, it's stating the obvious to say we're fighting those battles in a globalized world."
Interestingly, art litigation appears to be experiencing a surge of claims in civil courts as works of questionable provenance are identified by potential claimants. The University of Chicago is defending a lawsuit in which five American survivors of a 1997 suicide bombing in Jerusalem are trying to seize 2,500-year-old cuneiform tablets lent to the school by Iran. US courts had previously ordered Iran to pay $250 million in damages to the litigants, finding for the plaintiffs in holding that the attack was carried out by Hamas, members of which Iran helped train and support.
Of course, the direct evidence against Ternus and his co-conspirators in the Nice case extends along a considerably straighter line. And for what it's worth, the Beaux-Arts job was part of a pattern for Ternus, who has been arrested at least seven times in France since 1966 on charges including breaking and entering, theft, robbery, possessing stolen goods, and assault with a deadly weapon. His most recent previous conviction came on a 2006 assault charge.
Three of the Nice gunmen escaped in a car along Avenue des Baumettes, while a pair fled on a single motorcycle, Ternus' preferred mode of transport. Ternus, however, was not involved in the actual heist. Though he twice told undercover agents posing as potential buyers for the four paintings that he could introduce them to French contacts capable of distributing cocaine in Europe, Ternus was not charged with any drug-related offenses and the plea deal doesn't specify whether the Nice heist may have been related to any criminal drug enterprise.
Ternus established residency in the US in July 2007, using a fraudulently obtained visa (having knowingly concealed his criminal history) to enter the country. His primary role was to broker the sale of the stolen paintings to a wealthy buyer. But whoever orchestrated the robbery knew enough about art to earn a good payday.
The paintings ripped from the museum galleries' X-shaped hooks were Monet's 1897 "Cliffs near Dieppe," fellow Impressionist Alfred Sisley's 1890 "Lane of Poplars near Moret," and Flemish master Jan Brueghel the Elder's 17th century "Allegory of Earth" and "Allegory of Water." The gunmen tried to bag a fifth painting— a second Sisley—but found it either too heavy or too bulky to carry and let it fall to the floor, breaking the frame.
Stunningly, the incident marked the third thievery in thirty years of Sisley's "Poplars" and the second in a decade of Monet's "Cliffs." In 1998, Beaux-Arts curator Jean Forneris staged a robbery in Nice during which masked gunmen took him "hostage" and fled with the paintings in the curator's car. Forneris quickly confessed and served eighteen months in prison after fingering his accomplices. The paintings were recovered within a week inside a vessel undergoing repairs at a harbor a few miles down the coast. In 1978, the Sisley was stolen while on loan at an exhibit in Marseille, but was recovered within days in a local sewer drain.
To Catch a Thief
When Hunter flicked on his office lights in Miami for the first time, Ternus was already in play as a lynchpin target of the investigation. Hunter's background as an FBI agent surely contributed to his assignment to the case despite being such a fresh face.
"One of the great things about this case is that each of the agents involved was experienced in a lot of different areas," says Hunter. "Art cases can be especially challenging because of the pressure to recover the paintings while building a prosecution. A prosecutor obviously has a strong interest in making sure that there's actually a prosecution to bring forward, ensuring that along the way the right type of evidence is being gathered and preserved and protected. The agents realize that and the result speaks for itself."
From August 2007 until June 2008, Ternus and his co-conspirators, who are unnamed in the US indictment and are being tried separately in France, negotiated the sale of the Nice paintings, which they knew had been stolen. Ternus met with an agent or agents four times in Miami-Dade County in October 2007 to discuss price and logistics, and again in December following a five-week stay in Europe. A sixth Miami-area meeting in early January 2008 solidified a previous arrangement for undercover agents to travel to Barcelona, Spain, to meet directly with French contacts holding the paintings.
The "Detective Joe Friday" description of events in the case's factual proffer belies the tension of a high-stakes undercover investigation.
"Undercover operations are always fraught with a great deal of uncertainty," says Hunter. "Even if you think you have the bad guy and even if you think the bad guy has whatever it is you're looking for, an operation can fall on its face for any number of reasons at any moment."
Hunter emphasizes the excruciating attention to detail behind decisions about "what you say and how you say it and when you say it and how you act and when you make a certain judgment call as the case agent or as the prosecutor about whether there might be one additional thing you can work into the operation that wouldn't necessarily further the objective of recovering the art, but would be a good thing to have with an eye toward prosecution."
The Barcelona meet laid the foundation for the sale of the paintings—a plan that was refined in five further follow-up meetings in Miami-Dade which took place between January and early May 2008. The basic terms and structure of the sale called for the purchase of all four paintings at a price of 3 million Euros (about $4.7 million) in a two-part transaction. The two Brueghels would be transferred to the buyers in France in exchange for half the purchase price. A Ternus co-conspirator insisted the Monet and Sisley be held back for security in the event arrests were made at the exchange. The rationale was that the perpetrators could threaten to tear up the most valuable of the four canvases as a bargaining chip.
Throughout this criminal courtship, Hunter and the agents in charge were rolling tape.
"There were numerous audio and video recordings of co-conspirators meeting and conspiring to sell the stolen art," says Hunter. "As long as you have the technological ability to capture what's happening operationally throughout the pendency of the investigation, you not only have the recovered art when you're done, if things go right, but you also have substantial direct evidence."
On May 16, 2008, an undercover French National Police officer posing as the US investigators' France-based co-conspirator, met with a Ternus co-conspirator who showed him the Sisley and one of the Brueghel paintings. At that meeting, it was negotiated that all four paintings would be transferred in a single transaction.
On June 4, three of Ternus' co-conspirators drove a van to a seaside promenade near Marseilles shortly after 9 a.m., according to plan. In the blink of an eye, they were surrounded by French police cars. All four paintings were recovered intact, having sustained minimal damage. Additional co-conspirators were arrested in and around southern France, while Ternus was placed in custody in Cooper City.
Technically, Ternus was cooked weeks before. By obtaining a sealed complaint and arrest warrant for Ternus based upon the visa fraud offense, Hunter made sure the US operation's target wouldn't wriggle free. "Because of the fluidity of the investigation and the operation, that gave the FBI agents here the flexibility to, if they ever needed to, go out and arrest him."
Just thirty-six days after the takedown, Ternus pled guilty to visa fraud and to conspiring to transport stolen merchandise valued at $5,000 or more. The direct evidence was overwhelming. In September 2008, he received a sixty-two-month prison sentence in accordance with federal sentencing guidelines.
Professionally, Case No. 08-20586 has moved swiftly into Chris Hunter's rearview mirror. But there are some personal loose ends.
He's been itching to get back to France since his post-bar exam tour. He passed on several opportunities to travel there during the investigation, but that's not how his mind's eye envisions his return to France anyway. When his three kids—a son and two daughters, all under the age of five—are grown up enough, he'd like to take the whole family. And an ocher-tinted Italianate mansion at No. 33 Avenue des Baumettes in Nice, the Musée des Beaux-Arts, will be a must-see on the itinerary.
"The trip I really look forward to is with our three kids when they're much older and can appreciate a good story," says Hunter. "I want to take them to the museum and show them the four paintings and tell them the story that goes along with them."
Four paintings by a trio of artists from three different nations all under one roof again. Thanks, in part, to Dad.
Gallery of the Missing
Possessing an insurance value of $6.3 million and a negotiated black market value of $4.7 million, the stolen paintings Chris Hunter helped to recover are, by every other measure, priceless. A staggering number of the world's most recognizable artistic masterpieces remain unaccounted for due to theft. Just a few are listed below. For more information about stolen art, visit the FBI Art Theft Program page at www.fbi.gov/hq/ cid/arttheft/arttheft.htm.
Artist: Pablo Picasso
Piece: "Dance," oil on canvas (missing since: February 24, 2006)
Estimated value: Unknown
Stolen: At gunpoint from Rio de Janeiro's Chácara do Céu Museum (Brazil)
Artist: Henry Moore
Piece: "Reclining Figure," 2.7 ton bronze sculpture (missing since: December 15, 2005)
Estimated value: $5.2 million
Stolen: By crane and flatbed truck from Henry Moore Foundation in Hertfordshire (UK) and feared melted for scrap metal
Artist: Leonardo Da Vinci
Piece: "Madonna with the Yarnwinder," oil on wood (missing since: August 27, 2003)
Estimated value: $65 million
Stolen: By thieves posing as tourists from Scotland's Drumlanrig Castle
Artist: Vincent Van Gogh
Piece: "View of the Sea at Scheveningen," oil on canvas (missing since: December 7, 2002)
Estimated value: $15 million
Stolen: By thieves using a roof ladder from Amsterdam's Van Gogh Museum (the Netherlands)
Artist: Édouard Manet
Piece: "Chez Tortoni," oil on canvas (missing since: March 18, 1990)
Estimated value: Priceless
Stolen: By thieves posing as police from Boston's Isabella Stewart Gardner Museum (one of 11 paintings taken in what remains the biggest art theft in US history)
Chad Konecky, a regular contributor, launched the Great Cases series in the Spring/Summer 2008 issue of BC Law Magazine with a story about the Arcelor-Mittal steel merger.