A Force in the Classroom
hillinger tempers rigor with a soft touch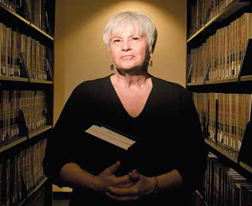 Photo by Dana Smith
Ingrid Hillinger does her writing at home, in a window-filled Gloucester house, across from her husband and fellow law professor, Michael Hillinger. "We have dueling desks," she says. Hers is falling apart and is missing drawer covers, while his is shiny and new; a file cabinet separates them. The two bankruptcy scholars face each other, looking across separate computer monitors, and hash out the next article, casebook, or book chapter; they've co-authored over a half-dozen together in this way. Some might wince nervously at the thought of working so closely with a spouse, but to Hillinger, the collaboration, and the setting, couldn't be lovelier: "It's one of the neatest things possible," she says. "And we get to go to conferences together."
Family is clearly important to Hillinger, whose parents, a Lutheran and a Jew, fled Nazi Germany for the United States by way of Amsterdam. She recently spent a Saturday afternoon helping her nine-year-old granddaughter paint a tile for the floor of a Nordstrom department store. Her advisory role in the endeavor took on notes of the legal expert: young participants were told to make a large drawing, since the glazing process blunts artistic details. When her granddaughter set out to craft a tiny, intricate dog and cat, Hillinger reminded her of the official guidance: big ears, big loops. Everyone made a backup tile, just in case, and Kayla's was a rabbit. Hillinger made sure the thing was huge.
Such pursuits offer a welcome reprieve from a rigorous daily schedule, which begins when the alarm clock sounds at the cocoon hour, 2:00 a.m. To beat the Boston traffic on the fifty-mile drive from Gloucester, and to allow ample preparation time for her business bankruptcy and secured transaction classes, Hillinger hits her desk between 3:30 and 4:00 in the morning. "I could prepare infinitely," she says. She used to worry that the security guard who idles in the Law School's parking lot would mistake her for a prowler, but figures she's safe now that her hair is white.
In light of the recent global financial meltdown, these are dynamic times for the bankruptcy field, and Hillinger has no shortage of opinions. Recently, she has been thinking and writing about consumer bankruptcy issues; with the help of students, she filed an amicus brief seeking to limit the reach of car lenders in a case in the US Court of Appeals for the Second Circuit. She also strongly supports a proposal that surfaced during the fall presidential campaign: stripping down mortgages to the current value of homes, rather than the full loan amount, a reform that would ease the strains on delinquent borrowers and allow them to keep their houses. "If we are to encourage risk-taking, as capitalism does," she says, "we need this sort of safety net."
Hillinger loves and is beloved by her students. When asked about her greatest professional achievements, she points not to a treasured law review article or successful oral argument, but to three young lawyers she taught who have gone on to become bankruptcy judges. Nevertheless, at first some students are intimidated by the professor's intense approach to teaching. "She's a force in the classroom," says 3L Stacie Kosinski, who has taken two of Hillinger's courses and also served as her research assistant.
But after a few weeks of demanding sessions, students in the fall semester show up to find individually wrapped bags of Halloween candy on their desks. When a professor does something like that, Kosinski says, "people start to think, wait a minute. You can't be that tough."
—Michael O'Donnell '04