Behind the Columns
what a difference: an arguement for institutional pluralism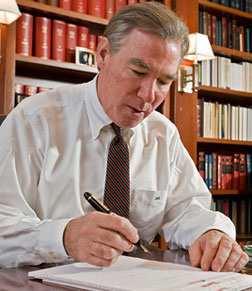 Photo by Gary Gilbert
By BC Law Dean John H. Garvey
I have had the honor, this year, of serving as the president of the Association of American Law Schools (AALS). The association's membership includes most of the 200 law schools in the United States. It aims to improve the quality of legal education, and to represent the interests of legal education before the federal government, with national higher education organizations, and in international legal circles. One of the things the president gets to do is to focus the attention of the association—and by extension all of legal education—on a particular theme. I have chosen the subject of institutional pluralism.
There is more variety in legal education than people usually suppose. Boston College, for example, is a Jesuit Catholic school, and this provenance influences our institutional culture in ways we members of the community can appreciate. Something like this might be said about many of the other religiously affiliated law schools in the country. But religious schools are not unique in their differences. Think about law schools at historically black colleges and universities (Howard). They have a special mission and serve a particular population, and their faculty and students bring a unique set of interests, principles, and points of view. Other schools may focus on a particular subject matter, like the environment (Lewis & Clark) or intellectual property (Franklin Pierce); or emphasize particular doctrines like law and economics (George Mason) or the public interest (CUNY). Finally, there are more than seventy state-supported law schools that give preference to state residents and focus on issues of special concern to the sponsoring state: horses and coal in Kentucky, marine law in Maine.
I think this kind of variety is good for legal education. It is first of all good for consumers of legal education, in the way that varieties of mustard are good for consumers of picnic goods. A range of choices lets more people get more of what they want. This is particularly important in trying financial times, when the discipline of the market may lead to greater competition in price as well as variety in services.
Institutional pluralism may also be good for the progress of legal thought. I had dinner recently with an alumnus, a writer who used to work for Johnny Carson and now does scripts for TV shows like The Simpsons. Comedy writing of that sort, he said, is a collective effort. It may involve a dozen people around a table working on the same page of manuscript. Their ideas inspire and feed off each other. On a more sublime level, this was the institutional design behind the Manhattan Project. The invention of an atomic bomb called for coordinated effort and creativity that couldn't be obtained from universities scattered across the country. In the world of legal education we can find similar stories. Legal Realism, an influential twentieth century movement in legal thought, was born at the Yale Law School. Law and Economics, an equally important school of thought, had its origins at the University of Chicago.
All this might seem both persuasive and obvious but there are forces that push against the cultivation of pluralism. The American Bar Association accreditation process requires law schools to adhere to a set of standards that, not surprisingly, have a homogenizing effect. The AALS's membership review process used to compound this effect, though today it concentrates on a few core values. The US News & World Report ranking system compares law schools in a linear fashion, roughly from 1 to 200, and schools work hard to shine in the ways that matter to the US News. Big firms in big cities rely on the US News rankings in deciding where to interview, and this gives schools a further incentive to conform to that model.
I am not sure where we will come to rest amid these opposing forces. But I have argued this year to the Association of American Law Schools that we, our students, and the legal system our schools serve will lose a lot if we all converge on the same model of legal education.