Legal Doctorate's Unexpected Turn
foreign scholars internationalize the u.s classroom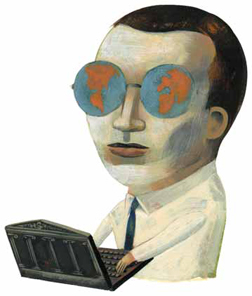 Curtis Parker

By Gail J. Hupper
In our current era of globalization, there has been considerable writing on the mechanisms whereby ideas about law and particular legal norms are diffused around the world. Much of this writing has focused on the spread of US legal norms and ideas in particular, including the adversarial model of criminal justice, the disclosure model of securities regulation, judicial review in constitutional adjudication, and many others. The venues through which this occurs are similarly numerous: from direct imposition in trade agreements, to consultancy on law reform projects, to voluntary adoption to promote foreign investment, to student and faculty exchanges in legal education, to depictions of law and lawyers in popular culture.
In this context, US graduate legal education is sometimes referred to as one of the mechanisms through which diffusion occurs. However, surprisingly little of the literature describes the nature of the graduate degree itself. Most authors assume that students are pursuing a one-year master's degree, along the lines of BC Law's new LL.M.
Increasingly, however, foreign-trained lawyers are pursuing law doctorates in the US, typically after completing an LL.M. For the doctorate, the student's core task is the production of a book-length monograph that is expected to represent a contribution to legal scholarship in the field and to be of publishable quality. The degree is unusual in that it requires a multi-year commitment, is directed primarily towards teacher training rather than legal practice, and competes directly with the terminal teacher training degree in the student's home country.
The doctorate (typically called the S.J.D. or J.S.D.) was imported from continental Europe in the late 1800s and early 1900s, primarily as a vehicle for training US law graduates to teach in American law schools. It flourished during the time that the prevailing site of US legal education was moving from law offices to university-affiliated law schools. During the 1950s, as many as 20 percent of Harvard Law School's faculty held the degree, as did some 25 percent of Yale's. Since then, however, those seeking the degree increasingly received their initial legal training in countries other than the US. In a few countries, the effect has been dramatic. For example, close to half of the law faculty of Israel's Tel Aviv University hold the degree. So do close to 25 percent of the law faculty at National Taiwan University in Taiwan, and 17 percent of the law faculty at Seoul National University in Korea.
The number of degrees being conferred is very small (according to the American Bar Association, US law schools awarded only 97 doctorates in 2006), but it has tripled during the past twenty-five years. What are likely to be the degree's distinctive contributions? In countries in which the degree is most popular (Canada, Israel, Korea, and Taiwan), that popularity marks the reception of not only US doctrinal models, but also theoretical and interdisciplinary scholarship as practiced at a small number of leading US schools.
However, the degree is also having an impact on US legal education. Notably, growing numbers of graduates, most of them from other countries, are landing US law school teaching positions.
In this sense, the degree is having a kind of "reverse transplant" effect: bringing the insights of internationally trained scholars into our own classrooms.
BC Law itself is an example. In the fall of 2007, Assistant Professor Vlad Perju, who had just completed an S.J.D. at Harvard Law School, joined the faculty. Visiting Assistant Professor Paulo Barrozo is in the final stages of his S.J.D. there. Perju, a native of Romania, studied law in three countries before coming to the US, and Barrozo completed his prior legal education in his native Brazil.
Their training is enriching the international and comparative law curriculum at BC Law—European Union law in Perju's case and international criminal law in Barrozo's. However, both scholars are teaching American law subjects as well.
The insights from other systems that they are contributing help prepare our students for the globalized world in which they will live and work.
Gail J. Hupper is the Director of LL.M. and International Programs at BC Law. This piece is adapted from her forthcoming article in the Journal of Legal Education in 2009.