Whale Watch
environmental lessons from the deep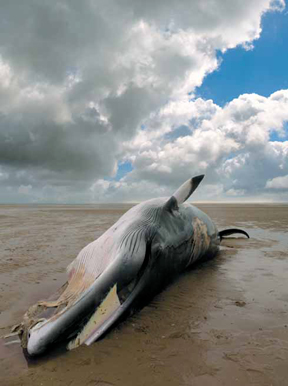 Photo by Dave McAleavy
The images are shocking: photographs of dead North Atlantic right whales lacerated by propeller cuts from shipping collisions, living whales with flesh cut to the bone and tails deformed by entanglement with commercial fishing lines.
On day two of the October symposium, "20-Ton Canaries: The Great Whales of the North Atlantic," sponsored by the BC Environmental Affairs Law Review (EALR) and the Massachusetts Institute of Technology Sea Grant College Program, biologist Michael Moore, from the Woods Hole Oceanographic Institution, pulled no punches in illustrating the latest chapter in humanity's millennium-long conflict with whales.
Moore's presentation at BC Law on the afternoon of October 16 bridged the two parts of the symposium. At the previous evening's session, at MIT's Stata Center, the keynote address by Eric Jay Dolin, author of Leviathan: The History of Whaling in America (W.W. Norton: 2007), was followed by a panel discussion on historic and current causes of whale endangerment.
Organized by EALR Editor in Chief Patrick J. Connolly '09, Symposium Editor Conor O'Brien '09, and their editorial board and advisors, the symposium brought together naturalists and animal rights campaigners with experts in ocean, coastal, environmental, and marine fisheries law. Their brief: to address long-term threats from climate change, habitat degradation, and food chain disruption and immediate dangers from ship strikes, entanglements with commercial fishing gear, and the stealthy resumption of commercial whaling. They were also to consider potential regulatory and technological solutions. As well as being highly charismatic animals, said O'Brien, whales are an important "indicator species" whose health and numbers reflect larger problems in the world's oceans.
From the International Convention for the Regulation of Whaling (ICRW) (1946) to the Moratorium on Commercial Killing of Whales Act (1979), there is no lack of legislation, domestic and international, that seeks to protect whales. But as speaker after speaker confirmed, regulation is failing to remove the threat of species extinction.
At the heart of the problem, said Moore, are conflicts of interest that pit the cultural, social, and economic benefits of fisheries and shipping against extinction avoidance, animal welfare, and the development of sustainable global ecology. Promising approaches for the future include seasonal changes to shipping lanes to avoid areas where whales congregate, enforcement of speed restrictions on commercial vessels, and further research and development of "whale-safer" fishing gear.
If the International Whaling Commission, founded in 1946, is to act as a force for conservation, it must reflect current concepts of ecosystem integrity, sustainability, and accountability, said panelist Alison Rieser of the University of Hawaii at Manoa.
Don Anton, senior lecturer in Law at Australian National University, examined the interaction between Australian and international law as applied to protecting whales in the Australian Whale Sanctuary in Antarctica from so-called "scientific" whaling by Japan. Following a four-year case in the Australian Federal Court against a Japanese company that carries out whaling in Antarctica, in January 2008 the court issued an injunction prohibiting further taking of whales. So far, diplomatic concerns have prevented the enforcement of the injunction, and Anton suggested that a multilateral approach via the international courts might be more effective.
Climate change may pose the gravest long-term threat to whale populations, warned Wil Burns, senior fellow at the Center for Global Law and Policy, Santa Clara. Changes in marine ecosystems caused by rising sea temperatures, higher concentrations of carbon dioxide, and rising sea levels, he said, all imperil the great whales at the apex of the ocean food chain.
"This symposium raised many issues for me," said Natalie Prosin '11, founder of the Student Animal Legal Defense Fund at BC Law. Raising the visibility of animal welfare issues is a key responsibility, she said, and although regulation is an essential tool, "the vehicle that will bring about change will be public pressure."

—Jane Whitehead
The Legal Doctorate's Unexpected Turn