More Stories from In Brief
fall/winter 2007
Record Breaking Money Raising
PILF AUCTION THRIVES IN NEW LOCALE

Starting a new annual tradition, the 2007 Public Interest Law Foundation Auction was held last spring at the BC Club in downtown Boston. Past auctions have taken place on campus, but the organizing committee hoped to lure more alumni to participate by providing a change in venue.

"It was a huge success," says Toni Ann Kruse, co-director of the organizing committee. The event, in honor of John J. Curtin '57, raised a record $38,000 for summer stipends for student public interest work.

"Excitement was high among alumni greeting each other, meeting students, and reminiscing with professors," Kruse says. "It was a unifying event for the entire BC Law community." Over 400 people attended, including 65 alumni.

Adding to the panache of the new location was the professional auctioneer and "Downtown" theme. Popular donations included Red Sox tickets, a bottle of wine flown in from California, and two faculty parking spaces (which
garnered $1,000 a piece).
The 2008 auction is scheduled for April 23 at the BC Club. There will also be a corresponding online auction for those unable to attend the live auction.
To donate items or services, contact Amelia Corbett at amelia.corbett@bc.edu or Ashley Roraback at roraback@bc.edu.

A Long, Long Row
THE TRIUMPHS AND CHALLENGES OF AN OLYMPIC HOPEFUL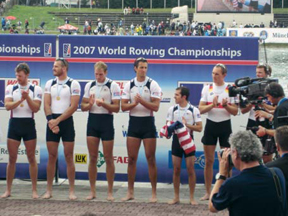 Over the summer, rower Chris Liwski '07 came one step closer to his goal of qualifying for the 2008 Olympics. He became a World Champion.

Traveling and training overseas most of August as the stroke for the US four-withcoxswain, he triumphed at the World Championships in Munich, Germany.

"After a week of very difficult racing across the board, my boat won the gold medal in
our event. Our gold was the only medal won by a US men's team this summer," he said.

With the World Championships behind him, the serious business of fundraising for living expenses and making it into the Olympics begins. Many months of training lie ahead, and no one on the squad is assured of a spot on the team, regardless of past experience or pedigree. Their training will take them to various locations throughout the country, then overseas in final preparations for the games in Beijing.

Liwski was profiled in the Fall/Winter 2006 issue of BC Law Magazine. His gold medal-winning World Championships race can be seen online at www.youtube.com/watch?v=ZAbSHDIcXgY.
-Tiffany Wilding-White


The Drinan Tribute
LETTERS TO THE EDITOR
I applaud the tenor and content of the stirring tribute to Father Robert Drinan in the recent special issue (Spring/Summer '07). The anecdotal nature of Ed Leahy's recollections underscores with appropriate clarity how Father Drinan's unique personal approach hastened the acceleration of the Law School's ascent to the top tier of national law schools in the US. John Kerry's focus on Father's unshakeable opposition
to the wars in Vietnam and Iraq is especially relevant in today's uncertain and perilous
world. Barney Frank's commentary that Father's legacy should be that the notion of human rights be a neutral principle is instructive to politicians both here and abroad.
Thank you for a magnificent tribute to a remarkable man. May all of us who are distinguished by our law degree from BC be grateful that collectively we are the beneficiaries of his vision and talents.
—Patrick J. Daly '73
Hartford, CT

I write to congratulate you on the splendid issue of BC Law Magazine honoring Father Drinan. I have drawn several statements from the magazine for my "quotations file," and I especially appreciate the quote that Nancy Pelosi attributes to St. Francis of Assisi: "Preach the Gospel. Sometimes use words." Thanks so much for bringing such inspiring material to us all.
—R. Lawrence Dessem
Dean and Professor of Law, University of Missouri–Columbia School of Law

What a wonderful piece of work the Law School publication is. You did a lot to get the wonderful selection of articles. Father Drinan would have approved.
—Helen Drinan
Father Drinan's sister-in-law
I am writing to commend you on the series of articles and memorials on Father Robert Drinan. The list and variety of contributors is impressive and the remarks heartfelt. I very much appreciated the issue.
—James C. Sturdevant '72
San Francisco, CA

I was a graduate under [Father Drinan's] leadership of Boston College Law School. He was not only a man of intellectual achievement, but also of great courage and deep faith. He was a great advocate of the rules of law as the solution to the desire for world peace. That was his mission throughout the world.
—Hon. William H. Carey '50
New Bedford, MA
Excerpted from Massachusetts Lawyers Weekly, Feb. 19,2007

What a terrific issue of the magazine. I found it of such interest and thought the perspectives on Father Drinan were wonderful. I can't imagine how much work it was to deal with so many authors and so I wanted to say a special thank you.
—Mary Sarah Bilder
Professor, BC Law School

I received two financial awards in Father Drinan's name that made it possible for me to attend BC Law. I appreciate that the magazine did such a thorough tribute to such a
powerful advocate for the oppressed.
—Amy Vosburg-Casey '01
Atlanta, GA

BC Law in Top Five for Career Prospects
PRINCETON REVIEW RANKS 170 SCHOOLS

Boston College Law School is listed in the top five for Career Prospects in The Princeton Review's 2008 edition of its "Best 170 Law Schools" (Random House /Princeton Review, Oct. 9, 2007, $22.95).

"We select schools for this book based on our high regard for their academic programs and offerings, institutional data we collect from the schools, and the candid opinions of students attending them who rate and report on their campus experiences at the schools," Robert Franek, Princeton Review vice president for publishing, said in a press release.

Best 170 Law Schools has two-page profiles of the schools with write-ups on their academics, student life, and admissions, plus ratings for their academics, selectivity, and career placement services.

The Princeton Review does not rank the schools in the book on a single hierarchical list from 1 to 170, or name one law school best overall. Instead, the book has eleven ranking lists of the top ten law schools in various categories.

Ten lists are based on The Princeton Review's surveys of 18,000 students attending the
170 law schools profiled in the book.

The lists are posted at www.PrincetonReview.com.
Coquillette Donates Bacon Books
Daniel R. Coquillette, L. Donald Monan, S.J., University Professor at BC Law, has donated his collection of rare books by and about Sir Francis Bacon to the BC Law Library. The collection of approximately eighty titles is one of the largest and finest collections of Bacon's works and Baconiana in private hands.
"Professor Coquillette's gift of Baconiana adds the works of and about a capacious scholar of law, philosophy, and science to the Law Library's growing rare books collection," said Associate Dean for Library and Computing Services Filippa Marullo Anzalone. "Professor Coquillette continues to be an outstanding friend and benefactor
of the Law School's rare books program. In fact, he is the foundation on which we have built our program."
Other Articles from In Brief:
The Class of 2010 By the Numbers
Holper Hnored for Immigration Work
In Jesuit Tradition
Training World Leaders