Getting Down to Business
in response to student demand and global considerations,bc law reweighs its business law program and priorities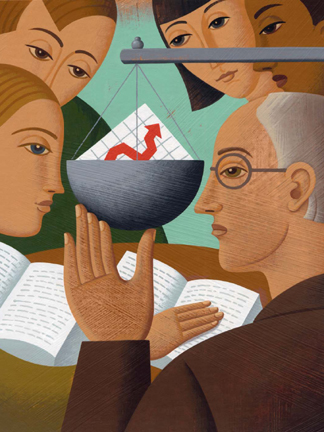 WHEN DANIEL WRIGHT '09, PRESIDENT OF THE BUSINESS AND LAW SOCIETY,entered the faculty lounge in Stuart Hall on a bright October day, the nondescript room had been transformed. It was now a lovely spot for a catered buffet luncheon, complete with white tablecloths, fresh flowers, and clinking glasses. The occasion was the arrival of Michael Wilson '84, executive vice president of State Street Corporation, the global institutional investment firm. He had been invited to campus by Dean John Garvey to address the twenty-seven society members in attendance and explain how he had parlayed his law degree and his early training at a corporate law firm into a career in business.

Each month, Garvey and the Business & Law Society hold a Dean's Roundtable Lunch featuring an alumnus or alumna who, like Wilson, has followed a nontraditional path building a career in business with a JD degree. It's an opportunity for career development and networking. "Students get information that's difficult to come by," says Wright.

The Dean's Roundtable Lunch series is an outgrowth of a burgeoning trend: the blurring of the line between the professions of business and law. One factor driving this trend is the growth in domestic and international regulation of business transactions. The other is a greater appreciation in the business world of the need for legal and ethical compliance (think Enron). Lawyers are finding that their skills are necessary not only as advisors and reviewers of transactions, but also as pro-active, analytical, business leaders. "If you look at the way business is, the enormity of any business in terms of contracts, and the complexity of them because of the regulatory environment, I can't imagine someone being able to do that without a legal education," says Stephen F. Bisbee '81, founder, president, and CEO of eOriginal, Inc., which specializes in processes for legal, paperless transactions.

Garvey agrees. "If we take a wider view about the Law School as an educational institution, the world itself has more opportunities and more legal problems in the area of business," he says. "We're for the most part training young people for jobs in law firms or with companies. Only a fraction of our students go into government and public interest jobs. Two-thirds go into the private sector."

So in this new world, where the intersection of the legal and business professions is ever-widening, exactly what is BC Law doing to prepare its students?

As it turns out, quite a bit.

Last summer, the Law School convened the kickoff meeting of its new Business Advisory Council (BAC). Initially composed of fifteen alumni, the Council quickly grew to more than fifty members and includes inhouse attorneys and business leaders who will advise the dean, faculty, and students on law-related trends and needs in the business world. Dean Garvey explains, using an analogy. "The engine on the train is what the clients are needing," he says. "As the business environment changes—becomes more complicated, more international, faster—as companies' needs change, they come to their lawyers and say, 'This is what we need.' The next cars on the train are the law firms. The law school is in the back. The BAC is telling us what's at the front of the train." BAC members will bring their experience and knowledge of contemporary business issues to the Law School through roundtables, symposia, lectures, student externship opportunities, classroom presentations of case studies, and similar activities.

BAC members are accepting their new role enthusiastically. "We have tremendous graduates who are at the pinnacle of their professions," says David C. Weinstein '75, executive vice president of the mutual fund company Fidelity Investments, who serves with Stephen Bisbee on the council. He says it will strengthen the Law School "to have these talented alumni back on campus to be role models for students, to meet students, to recruit students to their firms, and to energize alumni by the tremendous talent and curiosity and energy of our students."

Weinstein says his own JD degree has been invaluable in the corporate world. "I am a lawyer in a highly regulated business. One immediate way it has helped me as a businessman is to demystify the role of law and lawyers in moving a business, to really be able to see the role of lawyers as important to move business forward."
"Learning to think like a lawyer transfers well to business," adds council member Kathleen E. Shannon '75, senior vice president, secretary, and deputy general counsel of AIG Insurance, a New York-based life insurance company. "I mean approaching an issue in a thoughtful way, looking at the alternatives, looking at the implications, viewing it in the context not only of the business itself but also in the regulatory and legal environment in which you operate, stopping to think, not just rushing straight ahead, learning to marshal arguments both pro and con."
Essentially, the Business Advisory Council is a new way for the Law School to understand how to prepare students for the opportunities and challenges inherent in the major trends affecting businesses now and into the future. These trends include the growth in regulation, the globalization of commerce, the impact of technology both on the speed at which business is conducted and on the acceleration of globalization—with implications for the speed at which legal advice is demanded, and a growing acceptance that the practice of ethics and corporate responsibility is good for busischool ness. Council chairman James A. Champy '68 says, "Legal and regulatory processes now make doing business more complex and demand increasing transparency, especially from publicly held companies. Our students and faculty will have the opportunity to help shape these laws, so that they both protect the public interest as well as encourage the growth of business. Balance is required for the health of our economy." Champy is chairman of consulting at Perot Systems Corporation in Boston.

The Law School is also responding to clear indications from students that they want a stronger business law program. "We did a survey of students in 2006, which asked what area of law do you intend to practice," says Garvey. "Forty-three percent of students said they were intending to practice in the areas of business and finance. That was larger even than the number of students who expressed an interest in becoming trial lawyers."

Most of these students are likely to go into law firms straight out of school, but not all. According to the National Association for Law Placement (NALP), 14.2 percent of employed law school graduates in 2006 landed business positions. Of that number, about one-third were in positions practicing law, with 9 percent to 10 percent of the nationwide law school class of 2006 graduating into business positions where they would not be practicing lawyers. Twenty years ago, the percentage of law school grads going into business positions was half the percentage NALP sees today, further evidence that the line separating law from business is growing less and less distinct.

A glance at the Law School's course catalog reveals a curriculum with a wide and diverse approach to helping students become well-prepared business lawyers or business leaders. With its mix of full-time faculty and part-time adjuncts, the Law School teaches both high theory and hands-on practice. In the high theory category is Professor Kent Greenfield, an award-winning teacher of corporations and constitutional law, who has brought considerable prestige to the Law School with his notable 2007 book, The Failure of Corporate Law: Fundamental Flaws and Progressive Possibilities. In his critique of corporate law, Greenfield argues that corporate law should enable companies to make decisions that are good not only for the bottom line, but also for society. "The law of corporations ought to involve elements to spur investment, efficiency, and wealth creation, but also the recognition and furtherance of social goals," he says.

Greenfield's colleague, Associate Professor Renee Jones, teaches securities regulation and corporations, including a course in corporate governance. Her scholarship focuses on the development of legal systems that will better motivate corporate officials to work to further the interests of corporations and their constituencies, rather than their own. Jones spent a year at Harvard's Safra Foundation Center for Ethics, where she researched mechanisms designed to help ensure that corporate leaders act responsibly. Her paper, "Law, Norms, and the Breakdown of the Board," published in the Iowa Law Review, focused on building and maintaining proper mechanisms for corporate officers and directors.
Jones' work dovetails well with Greenfield's, providing students with the necessary tools and frameworks for thinking about questions of business ethics when they enter the business world themselves.

Jones and Greenfield are serving together on the Business Advisory Council and also on the faculty hiring committee. With the departure last summer of Professor Lawrence A. Cunningham, who taught business law, the committee is aiming to balance out the faculty/ adjunct ratio by hiring several new, full-time business law faculty members in the coming years. "Adjuncts are an important and valuable resource; they teach in a different style, emphasizing more practical, hands-on skills because they are practitioners," says Jones. In contrast, full-time faculty members bring a broader perspective on issues, and, by virtue of their constant presence on campus, can help students develop their research, writing, and analytical skills, and form strong mentoring relationships. "The perfect candidate would be someone who brings real world experience and also has a deep intellectual commitment to scholarly endeavor, is a good colleague, and adds to our faculty in terms of diversity," says Greenfield.

As would be expected of any good law school, the curriculum exposes students to the basics and beyond: an understanding of entity forms, such as corporations, partnerships, and limited partnerships; balance sheets and income statements; accounting and corporate finance; securities markets;financial instruments; government regulation of markets and financial activities; mergers and acquisitions; international business transactions; intellectual property; commercial property, land use, and real estate; and so on. But the Law School is also offering more unusual opportunities for students to blend business and law.

One such opportunity is a course taught jointly by Law Professor Alfred C. Yen and Business Professor Gregory Stoller of BC's Carroll School of Management. Called "Advising the Business Planner," the course exposes students from each school to basic legal and business issues on the founding of businesses and on business planning. A centerpiece of the course is the requirement that the Carroll School students write business plans, and the law students review the plans and offer counsel. "The course provides a controlled experience in giving legal advice," says Yen, an expert in intellectual property law. He appreciates Stoller's engagement with the Law School, noting that Stoller reserves space for law students in his international business consulting class. More partnerships are in the works with the Carroll School, including talk of making it possible for students to earn a joint JD/MBA in three, rather than the current four, years. That would make BC Law the first East Coast school to adopt a compressed joint degree program.
Yen's partnership with Stoller reflects his interdisciplinary mindset as BC Law's Director of Emerging Enterprises and Business Law. Founded in 2004, the Emerging Enterprises Program focuses on study, research, and ethics in the creation, growth, and development of businesses. An entire curriculum of thirty law courses falls within its rubric. Like the work of Greenfield and Jones, the program emphasizes structures and systems that enable businesses, through their corporate officers, to act responsibly. BC is uniquely situated to hold emerging enterprises as a legal sub-specialty, Yen says, because of its location in the Boston area, where the economy flourishes on innovation, invention, and new enterprise. "This program makes us distinctive," says Yen. "'Emerging Enterprises gives us a twist."

Another opportunity is a clinical course to be offered for the first time this spring called Community Enterprise Clinic. Under the supervision of Professor Paul Tremblay, and with some assistance from interested alumni, law students will help low and moderate income people start their own bakeries, dry cleaners, landscaping, and other small businesses, and provide support with business planning, leasing issues, taxes, salaries, and other tasks of entrepreneurship. Law students will assist small, community nonprofits as well.

The new clinic, which will operate out of BC Law's Legal Assistance Bureau in Waltham, grew from the work of a group of students interested in community economic development. "We think it's a great thing for the Law School and the Legal Assistance Bureau to help low and moderate income entrepreneurs to create businesses and jobs in disadvantaged neighborhoods," says Tremblay. "The Law School has some of the best clinical programs in the country, but they tend to be litigation-based. We don't have anything for students who want to do transactional work. This will be the first transaction clinic for students to do business deals," he says.

As the story of the Community Enterprise Clinic suggests, students are a major force in bolstering the Law School's ability to keep pace with changes in the field of business law. The Business and Law Society, for example, was founded by students in 2004. "It became the largest student organization virtually on its first day, with more than 150 members," says Michael Spatola, BC Law's director of development. Today, the group's list server boasts about 270 members, including some twenty-five from the Carroll School. The society brings alumni to campus for lunches, panels, a banquet, and networking opportunities throughout the year. Daniel Wright, the society's president, says, "It's great having these people Getting Down to Business (continued from page 27) come in. You get a great idea of what they do. They're usually very honest in terms of the pros and cons of working in their positions, what about their work fires them up. It's very hard to know as you go through law school what you want to devote your time to and what will make you happy." Through their own initiative, and the staunch support of their dean, their professors, and their alumni, BC Law's aspiring business lawyers will have every chance to find out.

Jeri Zeder is a contributing writer to BC Law Magazine.