A Nobleman's Haunting Legacy
by judy rakowsky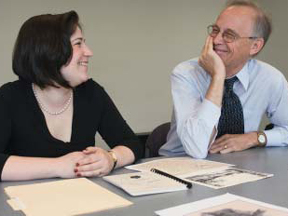 IN A POLISH VILLAGE IN THE 1930S, A BRIGHT FOURTH GRADER named Maria Nikolaevna Yazkovetz had little hope of returning to school in the fall, after state-funded education ended. Her widowed mother could not afford tuition on the meager pay of a seamstress.
Then one day a visitor from the local estate came to Yazkovetz's grammar school in Dabrowica in eastern Poland, now Ukraine. Count Witold Broël Plater offered to sponsor the two best needy students for three extra years of education. Yazkovetz landed one of the slots.

"Lucky for me, Count Plater stepped in," she recalled many decades later.

Yazkovetz's understatement belies the chain of events —some tragic, some triumphant—that swept her, the Count, and their families along in the churning tide of the twentieth and early twenty-first centuries, depositing two members of their respective clans on the unlikely shore of Boston College Law School in 2004.

But that's getting ahead of our story.

Back in pre-war Poland, the young Yazkovetz not only qualified for Count Plater's three-year scholarship, she went on to be named the best student in the school. The honor came with the task of memorizing a well-known poem about the Polish hero Emilia Broël Plater. Dressed as a man, Emilia led hundreds of soldiers into battle in 1831 against the army of Russian Czar Nicholas I. She is known as the Joan of Arc of Poland, rhapsodized in paintings and poems. She was also Count Witold Broël Plater's cousin, separated by several generations. Although Yazkovetz grew up speaking Russian, she memorized the Polish verses and recited the poem at a large family gathering Count Plater hosted at Worobyn, the estate by Yazkovetz's village southeast of Warsaw.

It was not the last time Yazkovetz benefited from the Count's largesse. After seventh grade, her scholastic achievements once again earned her distinction and she joined a group of top students on a trip at the Count's expense to see the mountain resort Zakopane and the Wawel castle in Cracow. They were supposed to conclude the trip in Warsaw. But the timing of their adventure, which started in late August 1939, was fateful: The Nazis invaded Poland on September 1, cutting the trip short. Yazkovetz, then thirteen, rushed home to find that her mother had obtained for her the last seat on a truck carrying children to safety in Siberia before the Third Reich stormed Dabrowica.
Yazkovetz's seventeen-year-old brother stayed behind and became active in the Polish underground. Yazkovetz spent the war in a grim Siberian orphanage. When she returned home, she learned that villagers had tipped the Nazis to her brother's underground activities and the Nazis had retaliated by murdering her mother. Aghast at the betrayal by neighbors and acquaintances, Yazkovetz fled her hometown with a Soviet military officer named Krakovetsky, who became her husband.

The academic opportunities bestowed by the benevolent nobleman served Yazkovetz well. Eventually, she landed ahistory professorship at a university in Moscow and set an example for her daughter, who became an aerospace engineer, and granddaughter, Irene Porokhova, who arrived at BC Law School in 2004.

Unfortunately, Yazkovetz's benefactor lived a shorter, sadder life than she. By the time he met Yazkovetz, Count Witold Broël Plater had already endured tragedy. The mansion near Dabrowica was destroyed in 1918 by marauding Russians who murdered two of his brothers. The Count later inherited a great expanse of agricultural lands, forests, and industry, including a vodka distillery, and he rebuilt the estate. But when World War II broke out, the Nazis seized everything and arrested him. Somehow he escaped, fled to Warsaw, and survived the war. He did not fare well under the succeeding communist government, however, and died in western Poland in 1962.

Irene Porokhova heard about the role Count Plater played in her grandmother's life while she was visiting her in Ukraine in January 2007. But the present-day connection between the families was Porokhova's to make. As her grandmother talked, Porokhova was struck by the non-Polish name of the nobleman and her description of a tall, slim benefactor. Porokhova figured there had to be a link to the lanky property professor she had had as a 1L, Zygmunt Jan Broël Plater.

Porokhova and Plater already had a standing joke that came up during the first-year property class after they discovered they hailed from the same part of Poland. "We would say, 'Ha ha, we could be related,' " Porokhova recalled.

Excited by her grandmother's revelations, Porokhova emailed Plater from Ukraine and stopped by his office when she returned from winter break. At that point, many details were missing, such as the first name of the Count and how he was related to the BC Law professor. And where did the famed Emilia fit in? But it was clear that Porokhova and Plater's families were linked not by blood or even marriage but by the gift of education.

In the months that followed, the professor and the student burned up phone and computer lines researching their roots and the connections between them. The quest sent Plater digging through boxes of documents and artifacts. He peppered his ninety-seven-year-old father, Konstanty Broël Plater, who settled in Pennsylvania after World War II, with questions about relatives from a faraway land and time. He also asked his 103-year-old Aunt Helena in Cracow for answers.

"If it weren't for Irene, I never would have even started this inquiry," said Plater, who even has the signet ring worn by his great-great-grandfather Cesar Broël Plater, Emilia's cousin. Cesar is depicted in a famous nineteenth century painting riding to Emilia's rescue as she battles a squad of Cossack soldiers. Professor Plater already knew that he descended from Teutonic knights who settled on conquered lands in Poland in the twelfth century. What he didn't know was that the fathers of Cesar and Emilia were brothers of Witold's great-great-grandfather. Nor did the professor know the details of the extraordinary hardships that his eastern relatives endured and overcame.

In the more recent past, for instance, Professor Plater's father, Konstanty, a Polish diplomat, was posted to the US when war broke out. When the Polish diplomatic corps collapsed, Konstanty joined the Polish Legion, and then the French Foreign Legion, to fight Hitler. He shipped off to Morocco and along the way had his passport seized. He later snuck back into the United States through the Philadelphia naval yard. The strain and guilt of surviving the war outside Poland took a toll on Konstanty: His hair suddenly turned completely white at age thirty.

Konstanty Plater was the second son in his family and as such stood to inherit nothing, that is, until his older brother Ludwik died of pleurisy at the end of the war, which he spent in concentration camps. With the communist government in Warsaw, however, the inheritance meant little. Konstanty Plater, who grew up on a different Plater estate from Witold, in central Poland, learned that the Soviet-controlled government took over the Bialaczow estate just as it had seized Worobyn from Count Witold Plater.

Zygmunt Plater was born in New York City and grew up on an eighty-acre farm in Pennsylvania that his father bought as a derelict property after the war. Years passed and Zygmunt's father stood to inherit all the Plater properties after Count Witold died, but the government would not relinquish them. "Until I was fourteen," Zygmunt said, "I was living with a foot in both lands. My father was always hoping the Soviets would leave and we would go back."
For her part, Porokhova frequently phoned her grandmother and prodded her to talk about the childhood she'd never previously discussed. Snippets emerged. Yazkovetz was born in Kiev, where her father was a railroad worker. He was assigned to Dabrowica, where he moved the family and then died in a work accident when Yazkovetz was four years old.

As their quest continued, Porokhova and Plater swapped the fruits of their research in lively email exchanges. "Aha. I think I have found my cousin," Plater wrote in May. "In a 1929 atlas of Polish pooh-bahs I just found two listings that may be one person, or one of whom may be the link between our families: Witold Broël Plater." Porokhova's grandmother confirmed it.

For the rest of the school year, more pieces of confirmation fell into place. Even the estate's name, Worobyn, is the same as the street where Porokhova's uncle and children live today. The street leads to the grand property where Count Witold Broël Plater was born in 1893. Zygmunt deciphered his connection to the Count by going back to the famous painting of Emilia and her cousin Cesar.

Professor Plater knew that his family tree was filled with princesses, counts and countesses; he even holds a title of nobility. But it's a fact he seldom shares with acquaintances or even colleagues. "That and $4.50 will get you a double-latte," he quipped. "I've never really taken this stuff very seriously."

He is proud, however, of his family's embrace of the tradition of noblesse oblige. "For me growing up, noblesse oblige was made clear all the time: When you die, you jolly well don't count the money, you look back and see what you've done for people."

That tradition led Plater's forebears to uphold the obligation to feed, clothe, and educate area residents and see to their medical needs. In fact, when Zygmunt Plater's father Konstanty was younger, he was robbed on a train to Warsaw. But the thief was surely disappointed when he saw the contents of the baggage he stole: dozens of urine samples from town residents headed for analysis at a Warsaw lab at the Platers' expense.

Porokhova and Plater say their discoveries last year left them feeling enriched and appreciative for the way their search brought them closer to their family histories and legacies. Plater, for instance, has approached Harvard University and Boston College about taking over the estate on which his father was born, which is inconveniently located 90 minutes by car from Warsaw and Cracow and near the ruins of a castle where Poles once held off attacking Tatars, mentioned in James Michener's book Poland. The fresco-filled chateau at Bialaczow currently is a hospice for 100 patients run by an order of nuns. The government, which is the only one in Eastern Europe that has never repatriated property, might relent for an American institution, he said, if not to its rightful heir.

Porokhova said she sees now that whether he was conscious of it or not, Plater's family history actually predicted his choice of legal specialty. "He loves the land. The fact he became an environmental law scholar is no surprise," she said.

Since their discoveries of their families' historic connection, Porokhova has passed the bar and started work as an associate in Boston for McDermott Will & Emery. She also has weathered sadness in her family in recent months with her mother's hospitalization for a serious heart ailment and the death of her grandmother in September. Sadly, Plater also has suffered the loss of his father, who died in June.
The deaths prompted them both to reflect on the events that their loved ones endured and the looping connection between their families. "Given our family histories, Porokhova said, "I'm not at all surprised we connected through education."

Judy Rakowsky is a freelance writer from Somerville, Massachusetts, who is writing a book about her own family's travails in Poland during World War II.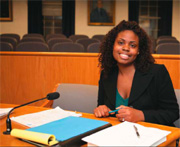 Read more about BC alumni who are working for the public good. more...