Alumni Pen a New Manifesto
an alumni survey says you want change. now you can vote to make it happen.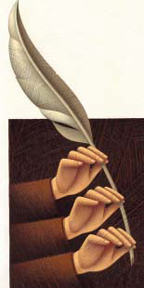 "We believe these changes will bring quantifiable benefits to the entire alumni body and particularly to the alumni leadership," says Marianne Lord, associate dean for institutional advancement. "Programming will be expanded nationally and internationally, providing more opportunities for alumni to engage in and avail themselves of a wide variety of social, public service, continuing education, and career-related activities. Alumni will be invited to get more involved in our admissions, career services, and oral advocacy programs. And an enhanced online network will make it easier for everyone to connect to the Law School and to one another." Among the gains for alumni who choose to step into leadership roles are greater personal and professional visibility and increased power to impact the future of the Law School, Lord says.

Academic Dean Michael Cassidy believes the time had come for the Law School to take stock of its alumni relations. He points to Boston College's recently unveiled ten-year, $1.6 billion plan to strengthen facilities and academic offerings university-wide, a proposition that is expected to benefit the Law School with ten additional faculty, among other programmatic and capital improvements.

"This undertaking means BC has great aspirations. It is not a mom and pop show. If we want to compete with the big teams, then we have to behave like the big players," Cassidy says. To that end, the Law School retained the educational consulting firm eAdvancement, which has worked with nearly seventy private and public universities and colleges and some of their professional schools. "We did so in order to see what best practices were for alumni relations" across the spectrum of higher education, he explains.

The decision set in motion a chain of events that has led alumni and the Law School to a crossroads. Pages 17 and 18 of BC Law Magazine contain a ballot asking alumni to endorse a plan to restructure their organization. What follows is the story of the journey to the ballot box, a course that has benefited from opposing viewpoints and vigorous debate.

The Study
Many people in the BC Law community felt the whiplash effect of a study undertaken for the Law School last February by eAdvancement. Its telephone survey of alumni showed that 98 percent of BC Law graduates were satisfied with their academic experience, 85 percent had positive feelings toward the school, and 86 percent would like to stay involved with the school in various ways—figures that compare favorably to recent Stanford, Columbia, and University of Denver law school surveys. However, it also foundthat only 43 percent of BC law alumni feel they are still a part of the community, 70 percent could not name anyone who ever served on the Alumni Council, the governing body of the BC Law Alumni Association, and 81 percent have no clear idea how their
dues are spent.

Understood in the context of how the Law School has changed in the last quarter century, the survey results were viewed by Dean John Garvey as empirical evidence of a need for reform. "We've grown in the last twenty-five years from a good regional law school to an elite national institution. We've done this in part because our alumni have been so successful; we've been able to attract students from around the country. But the alumni structure and sometimes the mentality we were operating with were better adapted to the kind of school we were in the Kenealy, Drinan, and Huber years," he says, referring to William Kenealy, Robert Drinan, and Richard Huber, deans from 1939 to 1985, respectively.

"The survey, which was the impetus for the revitalized structure that an alumni task force crafted, indicated that our graduates really appreciated their academic experience, had warm feelings toward the school, wanted to be more involved, and yet felt neglected by the Law School," Garvey says. "They weren't involved in the structure we've had for alumni participation, and we needed a way to reengage them in our life." He understood that this was not solely an Alumni Council challenge; the administration's practices too were implicated. The job was to assess both organizations with an eye to building a stronger and more effective partnership.

The Status Quo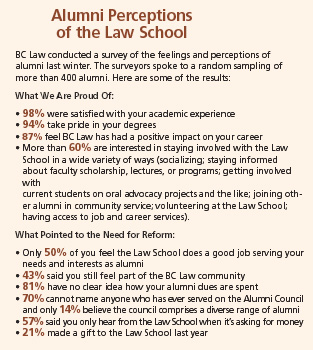 The existing alumni structure comprises the Alumni Association, to which all graduates of the Law School belong automatically, and its governing body, the roughly fifty-member Alumni Council, whose signature accomplishment is Law Day, a popular annual dinner and awards ceremony that draws 400 alumni. The council retains much of the character and shape with which it was founded in 1940: It is a discussion group of dedicated and committed alumni that meets at regular intervals to hear reports from the administration. Committee leaders have traditionally defined their roles without the benefit of detailed written job descriptions or mandated business plans, goals, and measures of accountability, and initiatives have been driven more by an individual member's passions and interests than by a comprehensive strategy. Leadership terms are one year, making long-term planning and implementation challenging. In recent years, membership has depended primarily on councilors' nominations, and leadership has been determined internally by selection, not election.

Though this culture has served the Law School community well over the years, some observers inside and outside the council view its ways as conceived for a less complex community and a less demanding time. Today's alumni population numbers 11,000 people spread across the nation and around the globe, and the Law School's resources are stretched increasingly thin trying to engage or serve that population. As council member James Harvey '77 said during an October meeting about the restructuring, "I think the idea to reinvigorate the organization is a great one. I've been coming to council meetings for four years and it's kind of tiresome. We need baseline expectations and deliverables. It's a matter of maturation."

David C. Weinstein '75, chairman of the BC Law School Board of Overseers, brings a corporate perspective to the situation. Drawing parallels to his work managing operations as executive vice president of Fidelity Investments, he says an alumni relations enterprise with the ability to increase the quality, substance, and quantity of programs and the capacity to distribute them to networks through an accountable central board, "makes all the sense in the world."

Still, not all council members have supported a wholesale restructuring. Throughout the fall, as the plan was being studied, some argued that disbanding the council—which the approval of a proposed new set of bylaws and a constitution would effect— was unnecessary and that amendments to the existing governing instruments could achieve the same results. Numerous people expressed concerns about the quality and draftsmanship of the new documents, and a number were unhappy with a reformation process they felt bypassed the council. Others contended that the council was unfairly taking the rap for shortcomings, such as inadequate funding and staffing resources, that are the responsibility of the administration.

Referring to eAdvancement's survey analysis, past president Maureen Curran '91 said at an October 2 meeting, "There were problems identified in that report that some of us found offensive." At the same gathering, Brian Cardoza '87, a California attorney who was the council's vice president of chapters when the vetting process began, questioned the motives for reform. "We see this as a power consolidation and an attempt to limit the freedom we've had in the past." (Indeed, Cardoza, Curran, and seven others never became reconciled to the plan and resigned after the Alumni Council's December 1 twenty-five to twenty-three vote in favor of restructuring.)

The Task Force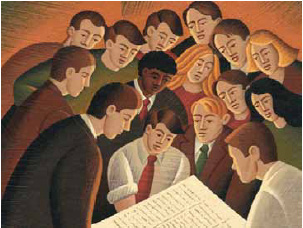 The series of fall meetings was convened to discuss the recommendations of the Alumni Task Force. Dean Garvey assembled the eighteen-member group last summer in response to the eAdvancement survey. The task force's objective? To imagine an alumni relations program that could raise alumni engagement to a level commensurate with graduates' strong positive feelings for the Law School. The task force was co-chaired by Alumni Council President Brian Falvey '97 and Associate Dean for Institutional Advancement Marianne Lord. Of the fifteen alumni participants, eight were Alumni Council members. Staff totaled three. The group came from various sectors and represented a diverse mix of geography, age, and occupation, among other characteristics.

The task force met face-to-face three times at the Boston law office of member John Hanify '74 and spent many hours in between via phone and email considering options and deliberating possible outcomes. There was skepticism. Denis Cohen '76, for one, admits
he joined the task force doubting the need for major reform. One choice was renovating the existing Alumni Council structure, but after much analysis and debate, the idea lost traction with the task force. "To renovate the existing house would have meant making dozens of amendments. It was more efficient to have a new structure. What we did, essentially, was make one amendment to create a new structure," explains Cohen, who, as president-elect of the Alumni Council, was forfeiting his automatic line of succession
by doing so.

Martin Ebel '94 initially thought the task force's mission was overly ambitious but soon saw the group modeling, albeit on a small scale, the very kind of thing it was trying to achieve. "In my view," he says, "the biggest single reason for reform was to give the alumni community a vehicle for getting more done in a shorter period of time." Thanks to an action plan and clearly defined goals and expectations, the task force was able to deliver, on time, a farreaching new vision of alumni relations. It has proven sturdy enough to stand up under several months of intense scrutiny and revision by the Alumni Council and its executive committee—the red-penciling was copious. It won the unanimous endorsement of the BC Law Board of Overseers and ultimately passage by the council. It now awaits the vote of the full alumni population.

The New Structure
As an Alumni Council subcommittee said in a prefatory statement to the proposed constitution and bylaws, "Inherent in the adoption of these documents is the recognition of the need to evolve our alumni relations network and participate more integrally in the life of our law school, focusing on integration and collective partnership."

In a nutshell, the new structure consists of an Alumni Board and an Alumni Assembly. (See the comparison chart on page 15 of key changes from the current structure to the proposed structure.)

The board of about ten to twenty alumni leaders who will serve three-year terms and be chosen for their experience and talent in specific core duties, will manage the basic functions of alumni relations in partnership with the Law School, lead the effort in one of
the functional or structural areas of the board, identify and recruit members to the committees they head, and establish goals and a plan to achieve them. Among the dozen or so committees the board will oversee are Regional Chapters, Student Programs, Classes and Reunions, and Affinity Groups. The board will be centralized to ensure coordination across interest areas. The first board will be appointed by the dean from a list candidates submitted by a special search committee comprising two members appointed by the Alumni Council president, two members appointed by the dean, and one each appointed by the chairs of the Board of Overseers and Business Advisory Council. Thereafter, the board will be elected by the assembly. Board leadership will consist of a president and executive committee elected by the board.

The assembly, a kind of volunteer pipeline that expands alumni representation and voting power, will be populated by 150-plus alumni heads of the Law School's chartered alumni affinity groups (e.g., class, regional chapter, shared personal and professional groups). They will meet once a year to be recognized for their work, informed about developments at the Law School, instructed in effective volunteer leadership, and to vote on a new slate of board nominees. In essence, the assembly will be a leadership farm team for the board.

For its part, the Law School understood that it would need to change in order for the new structure to be viable. Dean Garvey says the eAdvancement survey brought a lot of issues to a head. "Since I arrived in 1999, we've had an unsatisfied demand from offices in our school for more active support and closer cooperation with alumni as a body. Admissions, Career Services, and student advocacy groups have all felt as though the structure we had wasn't well adapted to serving their needs as departments of the Law School," he explains. "Because of the growth of the Law School and of law itself, however, alumni were increasingly underserved. The survey made their unmet needs clear. So, pressure was building on both sides."

With the Task Force focused on the alumni front, Garvey turned his attention to the Law School. An associate director of reunions was added to the institutional advancement staff and the alumni relations director's job was upgraded to assistant dean status. The Law School also contracted with HarrisConnect, a technological powerhouse, to establish a comprehensive, customized online community that will greatly facilitate alumni communications (see story on page 37). Garvey has promised additional resources as programs emerge and priorities become clear.

The institution-wide self-evaluation precipitated by the eAdvancement report also spurred the Office of Institutional Advancement to reassess its alumni relations perspective. "For years we have been able to quantify fundraising operational results simply by looking at dollars raised and participation rates," explains Associate Dean Marianne Lord. "With respect to alumni relations of the non-fundraising variety, we have operated on intuition. As a result, the underlying assumption has been that the benefits are soft, nonquantifiable, and somewhat questionable. However, institutions, especially professional schools, require active, vibrant alumni networks to impact career services, admissions, and other more specific things like oral advocacy competition programs (which depend on volunteer judges and coaches), practical business education, and so on. It is time to quantify these benefits, judge our programs with objective criteria, and get the most from the human and financial resources we—and our alumni—are investing."

One of the Law School's most important contributions to the expanded partnership is an internal, administrative initiative that establishes clear relationships between departments and alumni relations. Traditionally, offices like Career Services and Admissions have had loosely defined, ad hoc interactions with alumni relations around getting volunteers to help with student recruitment, job mentoring, and the like. Yet, with competition for first-rate student applicants at an all time high and the contest for top jobs a constant challenge for graduates, administrators today need all hands on board to serve their constituencies. And alumni's "hands" are among the most effective in getting a job done. "One phone call from an alumnus to an admitted applicant can make all the difference in that person's decision to come to BC Law," says Rita Jones, assistant dean for admissions and financial aid.

Professor Bloom has been waiting decades for such changes. As a long-time chair of the admissions committee, he observed how powerful an asset alumni could be to a small admissions staff trying to recruit top students across the country, but he also saw opportunities missed for lack of a coordinated system to involve and train alumni in the admissions process. "The real beauty of the new proposal it that it will integrate alumni relations with the rest of the Law School," he says.

Under the new arrangement, there is an institutionalized and symbiotic sharing of responsibilities between staff and volunteers that swells the ranks of both camps while spreading out the workload. Alumni relations gets quality face time and support from top
administrators and vice versa. "We're a very lean and mean administration compared with other law schools," says Cassidy, the associate dean for academic affairs and former administrative dean. "Admissions is smaller. Career Services is smaller. I have a part-time secretary who works 9 to 1 and I share her with six other faculty. Without coordination, we're all spending time looking for advocacy [read, alumni volunteers]. If you add the weight of alumni involvement to our efforts, the potential leverage we would achieve would be very powerful."

One exemplary relic of the old days is the database of 1,200 alumni that Career Services maintains. It is inadequate and difficult to keep current. With the help of HarrisConnect, which will tie the names into a central, interactive network due to launch this spring, and with an alumni board member and committee focused on Career Services programming, much more can be accomplished, says director Maris Abbene '87. Career Services runs more than sixty programs annually, involving scores of alumni, and the need for outreach is growing, especially given that about half of graduating students now practice outside of New England. "Our alumni and our chapters have always been terrific in aiding upand- coming graduates with their job searches, but as alumni spread across the country, making connections becomes much more challenging," Abbene says.

The Gains
So, what do alumni take away from this alumni relations overhaul?

"The first thing I'll observe is the key connection between the Law School and alumni," says the Board of Overseers' David Weinstein. "It's a mutually beneficial relationship. Those of us who are practicing benefit from the enhanced reputation, prestige, breadth, and diversity of Law School activities. In return, our successes as lawyers in whatever field can reflect in a meaningful and positive way on the Law School."

A sophisticated, responsive, and nimble alumni relations plan offers many benefits, says Denis Cohen. "Solely from the standpoint of networking, this structure will allow classes, chapters, and the entire alumni community to be more united and work closer together than ever before. It will enable those who share the same professional interests to connect across the country regarding educational opportunities, business referrals, brainstorming, and the like. An organized and powerful alumni community can have tremendous impact in spreading enthusiasm about Boston College Law School nationwide among potential students and employers, which benefits everybody."

And then there are the personal rewards. "When all is said and done," says the Alumni Council's Brian Falvey, "you know you've done something meaningful for people and a place you care a lot about."

(To read the full text of the proposed Constitution and Bylaws online, please go to www.bc.edu/lawalumni. To have a copy of the documents mailed to you, contact Christine Kelly in the Office of Institutional Advancement at 617-552-4703.)



ALUMNI PERCEPTIONS OF THE LAW SCHOOL
BC Law conducted a survey of the feelings and perceptions of alumni last winter. The surveyors spoke to a random sampling of
more than 400 alumni. Here are some of the results:
What We Are Proud of:
• 98% were satisfied with your academic experience
• 94% take pride in your degrees
• 87% feel BC Law has had a positive impact on your career
• More than 60% are interested in staying involved with the Law School in a wide variety of ways (socializing; staying informed about faculty scholarship, lectures, or programs; getting involved with current students on oral advocacy projects and the like; joining other alumni in community service; volunteering at the Law School; having access to job and career services).
What Pointed to the Need for Reform:
• Only 50% of you feel the Law School does a good job serving your needs and interests as alumni
• 43% said you still feel part of the BC Law community
• 81% have no clear idea how your alumni dues are spent
• 70%cannot name anyone who has ever served on the Alumni Council and only 14%believe the council comprises a diverse range of alumni
• 57%said you only hear from the Law School when it's asking for money
• 21% made a gift to the Law School last year


COMPARING THE OLD AND THE NEW
a snapshot of ways the current and proposed alumni relations structures diffe
CURRENT STRUCTURE

PROPOSED STRUCTURE

Members of the Alumni Council are selected through a nominating process. However, they are not asked to commit a prescribed amount of time or deliver any work product by the end of their term.

Board members are selected through a nominating process. They are asked to head up specific functional areas and are selected for their expertise and willingness to commit a substantial amount of time. Each board member must submit a plan for their area, they must recruit volunteers to carry out that plan, and they serve as the spokesperson for their specific area of responsibility in communicating to fellow alumni.

The council does not currently develop a strategic plan in partnership with Alumni Relations or Institutional Advancement. The goals of one group may not be in line with the goals of the other.

Board, Alumni Relations and Institutional Advancement must agree to long- and short-term goals and work in partnership with each other to achieve goals.

The council president has a term of one year and sets the agenda for that year and appoints committees.

Each board member has a term of three years to develop and carry out their agenda which has been approved by the whole Board and in partnership with relevant Law School administrators. This gives more time and continuity to develop meaningful programs and events.

Neither the Alumni Council nor the Alumni Relations Office is at
the center of alumni volunteerism at the Law School. Since they do not work in official partnership with other Law School departments, most alumni volunteers are recruited through the efforts of individual groups and departments:
• The Career Services Office recruits over a thousand alumni volunteers for its Alumni Career Network, Mock Interview Program, Dinner with the Experts, career and educational programs.
• The Admissions Office finds its own volunteers to speak at law school forums and call admitted applicants.
• The Board of Student Advisors yearly recruits hundreds of alums to judge competitions.
• Reunion committees must try to organize their classes every five years without a formal class structure in place.
• Student groups have no central place to go to find alumni volunteers and resources.

The Alumni Assembly and Board and Alumni Relations Office would be at the center of alumni volunteer efforts. This would allow a coordinated effort to recruit, recognize, and reward volunteers for their service. The Law School could create a
more unified and effective culture of volunteerism.

Within the current Alumni Council structure, there is no mechanism for incorporating and strengthening the many affinity groups that exist at the Law School. Thus, the council does not always represent the diversity of the school.

The assembly would be made up of leaders of all of the affinity groups—BALSA, LALSA, APALSA, SALSA, LAMBDA, JLSA, PILF, to name just a few. Volunteers would be responsible for developing and strengthening these groups. The assembly would become a group of leaders of all the affinity groups in the school and an integral part of the Alumni Association.

Under the current Alumni Council structure, council members are not required to work in partnership with Law School departments or administrators. The result can be programs designed by the council that are not part of a department's strategies, priorities or budgeting.

Board members must work in partnership with Law School departments and administrators. The result is that projects and programs will be more in line with the strategic plans, resources, and needs of the school. The activities of the alumni volunteers within the Alumni Association will be more relevant to the functions and needs of the Law School.

There is currently no mechanism to develop new programs. The council must count on one of its members to take an interest and volunteer their time.

There is a board member responsible for recruiting volunteers to carry out approved, new initiatives.

Although the council would like to get students involved early in the alumni activities, there is no mechanism to stay connected to students.

One board member would be specifically charged with developing student programs. That member would recruit alums to be liaisons with student groups. Also, the heads of student groups would be a part of the assembly.

The current council has few budgetary responsibilities.

Full budgetary responsibility and accountability. Board will be able to develop its priorities for projects.



THE ALUMNI TASK FORCE
The following were the drafters of the proposed BC Law School Alumni Constitution and Bylaws:

Brigida Benitez '93 (member, Alumni Council)
WilmerHale, Washington, DC
Professor Robert Bloom '71
Boston College Law School
John F. Bronzo '74
Pfizer Inc., New York, NY
Joanne E. Caruso, '76
Howrey LLP, Los Angeles, CA
Hon. Denis P. Cohen '76 (president-elect, Alumni Council)
Pennsylvania Judiciary, Philadelphia, PA
Joyce Koo Dalrymple '06 (student representative, Alumni Council)
Boston, MA
David G. Delaney '03 (secretary, Alumni Council)
Office of General Counsel, Department of Homeland Security
Washington, DC
Martin S. Ebel '94 (member, Alumni Council)
Commissioner of Massachusetts Commission Against Discrimination
Springfield, MA
Brian E. Falvey '97 (president, Alumni Council; Task Force co-chair)
OHC Development
Peabody, MA
Camille K. Fong '82
McKenna, Long & Aldridge
San Francisco, CA
Jean French (ex-officio)
Interim Director, Alumni Relations
Boston College Law School
Bernard W. Greene '81 (president, Black Alumni Network)
Office of Attorney General, Commonwealth of Massachusetts
Boston, MA
John D. Hanify '74
Hanify & King
Boston, MA
Paul M. Kane '70
McGrath & Kane
Boston, MA
Nathaniel D. Kenyon (ex-officio)
Director of Marketing and Communications
Boston College Law School
Marianne E. Lord (Task Force co-chair)
Associate Dean, Institutional Advancement
Boston College Law School
Hon. William P. Robinson '75 (member, Alumni Council)
Rhode Island Supreme Court
Providence, RI
Carla A. Salvucci '03 (member, Alumni Council)
Todd & Weld
Boston, MA