Pursuing Truth, from Aristotle to Austen
fitzgibbon bridges two great traditions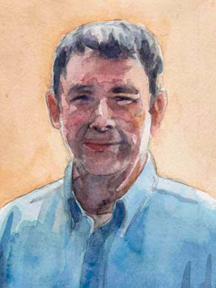 In Professor Scott FitzGibbon's office, towers of books on contract law teeter on the small, overwhelmed desk, and a volume of Aristotle has fallen to the floor. A dusty green papier maché dragon, made long ago by one of his children, perches on a cabinet piled with papers, near the framed photograph of his wife of twenty-eight years, Dr. Kwan Kew Lai, a specialist in infectious diseases.

The comfortable miscellany accumulated over twenty-five years of teaching at BC Law reflects two core themes of FitzGibbon's life: philosophical-legal scholarship, and the theory and practice of family relationships. As the father of three children, Timothy, now in his third year at BC Law; Cara, a recent graduate of the Rhode Island School of Design; and Charles, a sophomore at Vassar, FitzGibbon likes to joke that he has at least the advantage of personal experience over great theorists of marriage and the family like St. Augustine and St. Thomas Aquinas.

Soft-spoken and reflective, FitzGibbon said in a recent interview that he knew from an early age that he wanted to be a law professor, and that intuition has proved reliable over years of teaching Contracts, Jurisprudence, Corporations, and Securities Regulation. "I love everything about teaching, even preparing for class, and I love everything about scholarship, even writing the footnotes," he said.

FitzGibbon was brought up in what he called "a very progressive home" in the New York metropolitan area, and his early intellectual life was shaped by Harvard Law School, and by two stints at English universities, a junior year at the London School of Economics and two years studying legal philosophy at Brasenose College, Oxford.
What he admired about Oxford philosophy, said FitzGibbon, was its attention to the classical roots of modern legal thought. The topic has preoccupied him increasingly over the last twelve years, as he has sought to apply Aristotle's thinking on the nature and varieties of friendship to legal theories of society and the family, in particular. He also likes to give his scholarship in jurisprudence a human dimension by enlisting literary examples, as in a recent article entitled "The Seduction of Lydia Bennet: Toward a General Theory of Society, Marriage, and the Family," although his allusion to Jane Austen's Pride and Prejudice is lost on many American legal scholars, he admitted regretfully.

FitzGibbon's conversion to Catholicism at the age of thirty-three marked an intellectual and spiritual turning point. "Crossing and re-crossing the bridge between English language analytical philosophy and jurisprudence on the one hand, with all its aspirations to clarity and rigor, and the deposit of the classical tradition in and through the Church, and bringing those two in conjunction with each other in my own thinking and writing is a major project of my life," he said.

Professor Hugh Ault, a long-time colleague and early mentor of FitzGibbon at BC Law, has watched with great interest as the young man he lured from the Boston law firm of Ropes & Gray to teach corporate law and securities regulation, has matured into a notable legal philosopher. FitzGibbon, he said, is "not satisfied with superficial or conventional answers," and he encourages the same probing mentality in his students. "He wants students to raise hard questions, questions that aren't easily answered, or even articulated," said Professor Ault.

It's hard to imagine a question that FitzGibbon could not articulate. "I love listening to him talk," said Dean John Garvey. In a society that looks to the law as a framework for addressing moral questions, said Garvey, FitzGibbon's qualities fit him perfectly for the role that top-notch legal academics can play as "intellectual arbitrageurs" who apply insights from many disciplines to the consideration of corporate, civic, and personal conduct.

FitzGibbon sees family life as the complement to all this high-minded scholarship. So although he admitted in the early October interview that his non-legal reading would be Thomas More's Utopia, in preparation for an informal reading group of colleagues from Boston College and beyond, he was also looking forward to watching his college sophomore son's Extreme Frisbee tournament, and to joining his wife—a serious baseball fan—in rooting for the Red Sox.
—
Jane Whitehead