More Esquire News
Travel Wise
BC TRIPS OPEN TO ALL

If you love an adventure and especially one you can go on with like-minded people, the various trips offered by the Boston College Alumni Association may be of interest. Open to everyone affiliated with the university, including members of the Law School community, the nine travel packages for 2008 offer everything from educational treks to wine tastings. Here's a sampling of the upcoming trips. (Prices are plus airfare, unless otherwise noted.)

• April 17-26: Rome and the Amalfi Coast, from $3,119, includes airfare from Boston.

• June 14-26: London and Paris, from $2,249, includes airfare from Boston.

• July 20-27: A Smithsonian Journey Travel Adventure to Iceland, from $2,999, includes airfare from Boston.

• July 31-August 8: County Clare and Ennis, Ireland, from $2,195.

• September 10-22: China and the Yangtze River, from $2,595.

• October 26-November 3: Chianti in a Tuscan Villa, from $2,195.

For a complete list, plus itineraries and registration forms, go to www.bc.edu/ alumni/association/travel.html, and direct questions to Gail A. Darnell, director of travel and special projects, at 617-552-8035.



Friends Rally to Endow a Scholarship
FUND HONORS JUSTICE O'CONNOR '53

It all started in the summer of 2006, when a group of former law clerks,family, and friends of the Honorable Francis P. O'Connor '53, BC Law's first Massachusetts Supreme Judicial Court justice, convened to discuss how to honor a man they all deeply admired.

They decided to establish an endowed scholarship at the Law School in O'Connor's name, but to do so they needed to raise the money to fund it. Former law clerks Mark Michalowski '85, Geoffrey Hobart '85, and David Friedman, and the Justice's son, Brien O'Connor, collectively pledged $100,000, launching an effort that was coordinated largely by daughter Ellen O'Connor and that has yielded nearly $190,000 in cash and pledges.

Among the other BC Law alumni participating were Scott Lively '92, Susan Finegan '91, and M.J. Maltenbray '84, all of whom also clerked for O'Connor.

"Justice O'Connor was a terrific mentor in a quiet, understanding way. He was the most intellectually honest man and always went the extra mile to get things correct. I can't imagine a better role model to start a career," says Michalowski, now executive partner at Holland & Knight.

A Mass and reception were held at BC Law School to inaugurate the Honorable Francis P. O'Connor '53 Scholarship last March, just five months prior to O'Connor's passing on August 3, 2007.

The Boston Globe obituary called O'Connor a man with three passions: faith, family, and the law. In his sixteen years as an associate justice, the Globe said, O'Connor "went his own way on some of the most divisive social issues of the 1980s and 1990s, [and was] a judge who did not hesitate to stand alone on the losing side if he thought it was the right side."

O'Connor attended Boston College High School, served in Korea after World War II, then attended the College of Holy Cross and BC Law. He worked in private practice many years before becoming a judge. With his wife of fifty-two years, Ann, he had ten children. He also left thirty grandchildren.

The scholarship fund, says Ellen O'Connor, reflects people's appreciation of her father's intellect and his commitment to faith and family. "His Jesuit education really fed his gift of faithfulness, and, in the BC Law scholarship, all the pieces—service to God and others, education, and the faithful life—came together."

—Vicki Sanders



Transitions at the Board of Overseers
CAMPBELL PASSES CHAIRMANSHIP TO WEINSTEIN

Boston College Law School surprised outgoing Board of Overseers Chairman Richard P. Campbell '74 at a dinner and tribute November 9 with a portrait of him done in the style of Jackson Pollock. The idea for the painting came from the "Pollock Matters" exhibit at BC's McMullen Museum of Art, which the overseers toured at the beginning of their fall meeting.

Campbell was the founding chairman of the Board of Overseers and served for seven years. Keynote speakers at the Friday evening event were Michael E. Mone '67, Desmond T. Barry Jr., and Dean John Garvey.

At the Saturday business meeting, Campbell passed the mantle to David C. Weinstein '75, who previously headed the board's fundraising committee. Weinstein will serve with the help of a new Leadership Team focused on various parts of Law School community. The team comprises John D. Hanify '74 (Alumni Relations Task Force member); James A. Champy '68 (Business Advisory Council chair); Joseph M. Vanek '87 (career placement); and John F. Boc '74 and Joan A. Lukey '74 (development).

The board received an overview of Boston College's future plans from Boston College President William P. Leahy SJ, and Provost Cutberto Garza.

New members of the board welcomed in 2006 and 2007 are: John F. Bronzo '74, Robert K. Decelles '72, Clover M. Drinkwater '81, Mary L. Dupont, Brian E. Falvey '97 (ex officio), Charles J. Gulino '59, Robert D. Keefe '72, Donald M. Keller '82, John M. Kenney, Michael H. Lee '83, James H. Lerner '80, Sarah Salter Levy '81, Raymond T. Mancini, John F. McCarthy, and Mark C. Michalowski '85.

Also new are: John T. Montgomery '75, Daniel F. Murphy '75, Brien T. O'Connor, Jeanne M. Picerne '92, Patricia K. Rocha '82, Jeffrey S. Sabin '77, Kitt Sawitsky '77, John A. Tarantino '81, Robert K. Walsh, and Douglas L. Wisner '78.



A Time for Recognition
LAW DAY HONORS DEDICATED ALUMNI, FRIENDS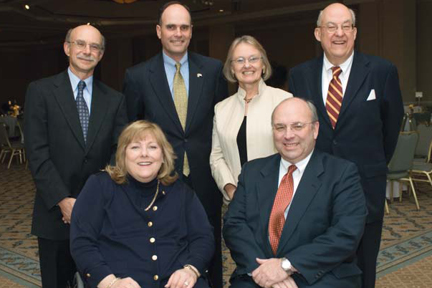 Hundreds of alumni attended a ceremony to mark Law Day last May at the Seaport Hotel in Boston. Gil Childers '81 and Gerald Zerkin '76, both of whom have been involved in World Trade Center-related terrorist cases, were presented with the St. Thomas More Award. The William J. Kenealy, SJ, Alumnus of the Year Award went to John Hanify '74 for his tireless support of the Law School. Taking home the Hon. David S. Nelson Public Interest Law Award was Christine Griffin '93, commissioner of the US Equal Employment Opportunity Commission. Special Service Awards were given to Monan Professor of Law Daniel Coquillette and acting alumni director Jean French for their extraordinary service. The efforts of the Law Day Committee, cochaired by George P. Field '78 and Carla Salvucci '03, resulted in gifts and sponsorships that help fund the Law School's loan repayment assistance program.

This year's Law Day Platinum Sponsors were Arthur Weiner '68, Day Pitney, Goldman Sachs & Co., Hanify & King, Kirkpatrick & Lockhart Preston Gates Ellis, Mintz Levin Cohn Ferris Glovsky & Popeo, and Verrill Dana.

The Gold Sponsor was Hemenway & Barnes.

Silver Sponsors were Adler Pollock & Sheehan, the Black Alumni Network, Bingham McCutchen, Campbell Campbell Edwards & Conroy, Conn Kavanaugh Rosenthal Peisch & Ford, Donovan Hatem, Dwyer & Collora, Edward Leahy '71, Esdaile Barrett & Esdaile, Gelb & Gelb, and Goulston & Storrs. Also, Hinckley Allen Snyder, Holland & Knight, Liberty Mutual, Lynch Brewer Hoffman & Fink, Martin Magnuson McCarthy & Kenney, and the Massachusetts Bar Association. Other Silver Sponsors were Masterman Culbert & Tully, McGrath & Kane, Meehan Boyle Black & Bogdanow, Michienzie & Sawin, Morgan Brown & Joy, Nelson Kinder Mosseau & Saturley, Nutter McClennen & Fish, O'Malley & Harvey, Riemer & Braunstein, Seegel Lipshutz & Wilchins, Sherin & Lodgen, Sugarman & Sugarman, Todd & Weld, Tucker Heifetz & Saltzman, WarRoom Document Solutions, and WilmerHale.



Partnering to Build a Better Law School
FIRMS SEE BENEFITS IN SPONSORING STUDENT ACTIVITIES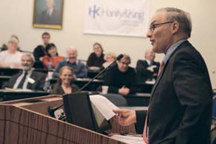 The law firms Hanify & King and Goulston & Storrs were the inaugural participants last year in the Law Partners Program, an initiative seeking firm sponsorship for events and programs at the Law School.

Hanify & King sponsored "Matters of Life and Death: Religion and Law at the Crossroads," a daylong symposium in March that brought students together with scholars to talk about euthanasia and stem cell research. "We were pleased to participate in the program for two reasons. We look to BC Law for our hiring needs and, as alumni, we believe that we should play a constructive role in supporting such initiatives," said John Hanify '74.

Goulston & Storrs chose to sponsor the Students of Color Retreat in August, an annual weekend for incoming 1Ls organized by the Black Law Students Association, Latino Law Students Organization, Southeast Asian Law Students Association, and Asian Pacific American Law Students Organization. "By sponsoring the Students of Color Retreat, Goulston & Storrs has left an indelible impression that they are a firm that is committed to improving the outlook for minority lawyers," said student Cedric Ireland. "Their kind gesture extended beyond the nearly forty incoming students of color who attended. Professors, 2Ls, 3Ls, and school administrators all recognized Goulston & Storrs' invaluable contribution."

The Law Partners Program allows firms to purchase points at $1,000 per point and then use those points to sponsor one or more events. Firms may select from a diverse menu that ranges from 1L Survival Kits and the Oktoberfest social gathering to Law Review symposia and immigration service trips.
"The Law Partners Program is specifically designed to fit into firms' marketing and recruitment strategy," says Christine Kelly '97, director of the Law School Fund. "Each event targets a different audience. Sponsorship demonstrates to students that both the firm itself and the BC Law community at the firm are vibrant and engaged with the Law School."

For more information or to request more information on sponsorship opportunities, please contact Christine Kelly at kellychr@ bc.edu or 617-552-4703.
Nikki Mondschein's High-Tech Tale
From Charles Dickens to Stephen King, writers have hooked readers with serial novels. Nikki Mondschein '06 has been drawing attention for giving an old form a new twist, in the shape of a fictional blog with its own downloadable indie-rock soundtrack. "If you've never heard of Francie Leighton, you might be missing some of the most sassy fiction in South Florida," wrote James H. Burnett III in the Arts and Entertainment section of the Miami Herald, in March 2007.
Since September 2006, readers of Mondschein's The Star Islanders (www.starislanders.com) have followed Francie's adventures as a lowly assistant to a Miami-based rock diva known as Queen Conch. Mondschein describes the tale, which features an enigmatic detective, a mysterious Great Library, and a quest for Ponce de Leon's mythical Fountain of Youth, as "part Miami-noir, part chick-lit, part fantasy."
Mondschein, thirty, speaking by phone from her New York office, said that the inspiration for the story came from returning to her native South Florida for a year after ten years of studying and working in the Northeast. The character of Francie, whom she describes as "perceptive, curious, with a wry sense of humor and a sense of the absurd," allowed her to explore the experience of being "a fish out of water in the strange Miami world."
Much of The Star Islanders takes the form of snappy dialogue, so it's no surprise to find that Mondschein honed her writing skills as a dramatist. She won a Shubert Fendrich Memorial Playwriting Award for her two-act play, Characters, while she was still in high school. After studying English and theater at Amherst College in Amherst, she gained an MFA in dramatic writing from NYU's Tisch School of the Arts.
"But I always sought a career outside of writing," she said, and stints at an internet publishing company and a talent agency prompted her interest in the law as it relates to artists. Boston College Law School, she said, taught her to "think creatively as a lawyer," and her recent move to the New York firm of Caplan & Ross LLP, specialists in entertainment and intellectual property litigation, promises to offer an arena for every aspect of her creativity.
The Star Islanders is on its way to becoming a "blook," i.e., a blog-turned-book, as Mondschein is working on a print version as well as continuing to post new episodes online. Otherwise, she said, she's adapting to her new Brooklyn neighborhood, and "spending a lot of time going to concerts and writing in my local coffee house." She thinks Francie would approve.
—Jane Whitehead

Labor of Love
BENITEZ, DELANEY SERVE THEIR FELLOW ALUMNI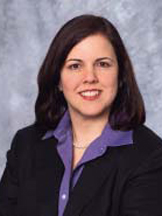 Brigida Benitez '93 and David Delaney '03 are at different points in their careers in the Washington, DC, legal community, and specialize in different areas of the law, but there is one thing they have in common. When Boston College Law School came looking for help, they both signed on.
"Saying 'yes' is not difficult," says Benitez, a partner at Wilmer Cutler Pickering Hale & Dorr. "BC Law is something I care about, so I'm happy to give my time."
"BC Law alumni have a rare and very positive affiliation with their law school," adds Delaney, an attorney in the Office of the General Counsel in the US Department of Homeland Security. "They're happy with what it did for them, and by and large, they want to give back and help students."
Alumni Council members, Benitez and Delaney most recently served on the twenty-member task force that reviewed the Law School's alumni relations operation this past summer and submitted findings and recommendations for restructuring to Dean John Garvey. Both attorneys are also active in the Law School's DC chapter. Benitez went to Washington fourteen years ago. The first Hispanic female partner in her firm, she has made a career of breaking new ground. Although she typically focuses on litigation and complex internal investigations of Fortune 500 corporations, she is perhaps best known for the pair of affirmative action cases she worked on for six years for the University of Michigan admissions office. That is the case in which the Supreme Court upheld the principle of a compelling public interest for diversity in education. Following this success, Benitez was named Hispanic Business Magazine's 2005 Woman of the Year, and last year was listed as one of the "Top 40 Lawyers Under 40" in Washington, DC, by Washingtonian magazine.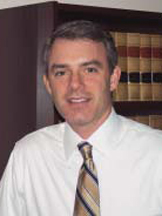 The year Delaney graduated from law school, twenty-two federal agencies united to form the US Department of Homeland Security. Delaney has been there since the beginning, and for this young "cyber-security and communications" expert, the job and department continue to evolve. "It's a challenge," says Delaney, who also has a degree in international relations from the Fletcher School at Tufts University. "This is the first iteration. We're still building a federal entity that can improve the nation's security."
Delaney joined the BC Law Alumni Council the year before he graduated. Since then, he's become even more determined to improve alumni relations and services. The task force was a good opportunity to talk with alums from across the country," he says. "Our graduates show a tremendous amount of volunteerism and love of the school."
Although it is a major commitment, Benitez and Delaney both say they benefit from their involvement with the Law School.
"A lot of lawyers do not enjoy law school," Benitez says. "But everyone I talked to, across generations, who graduated from BC Law, had a very positive experience. I haven't found too many other places like that."
—Tracey Palmer



More From Esquire:

A Life That Spans 100 Years

New Online Community to Launch in Spring
Making Green Good for Business

Bookshelf
Life Lessons on the Art of Giving

Chapter News