Making Green Good for Business
new environmental chief steps up to challenge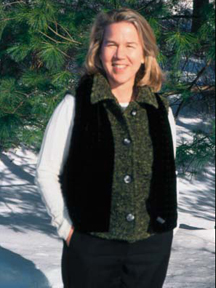 "We are going to rise to the challenge, invent solutions, and reverse the changes, not sit back and cling to what we know—and fail," says Laurie Burt '76, who was appointed by Governor Deval Patrick to the post of Commissioner of the Massachusetts Department of Environmental Protection (DEP).

"No one is better equipped to lead DEP into a new era as we grapple with global climate change and other vital environmental challenges for the 21st century," Ian Bowles, secretary of energy and environmental affairs, said at the time of Burt's appointment in July.

"I absolutely love it," says Burt, of environmental law. An environmentalist to the core—she's been everything from editor of the Environmental Defense Fund newsletter to president of the Appalachian Mountain Club—this leading lawyer intends to make environmental protection good for business.

By rejoining the Regional Greenhouse Gas Initiative (Massachusetts pulled out under former Governor Mitt Romney), the state has begun to enforce a policy on carbon trading that gives power producers the flexibility to decide when to make a major capital decision and provides the environment with consistent benefit, Burt says.

Another major change that has occurred in the Patrick administration is the linking of the Department of Energy and the DEP. "It is a false parody that energy is different from the environment," Burt says. "Energy impacts are environmental impacts." Thus, the two departments now work closely together to create a market and incentive for conservation and renewable energy.

Burt credits her training at BC Law with affecting her daily work at the DEP. "I have the greatest admiration of BC Law for its critical thinking. Its highly disciplined faculty is not afraid to ask the next question, regardless of where it might lead," she says. "They are dedicated to giving back and that is a strong ethic that has prepared me superbly for the unexpected."

So what can alumni do to lessen their carbon footprint? "Whether your motivation to go green is green with a dollar sign or green for the environment, we can do a great deal in our homes, schools, offices, churches, and other clubs," Burt says.

Facing a future marred by climate change is an outcome Burt hopes to prevent by inviting fresh, innovative technology companies to locate in the Bay State. "We're trying to take a holistic, interdisciplinary view. We're not just going to catch it at the tail pipe."

Burt was vice president of the Boston Bar Association when Governor Patrick tapped her to be the state's new environmental chief. She previously founded and chaired the Environmental Practice Group at the Boston firm Foley Hoag LLP, and was the first woman to serve on its executive committee. At one point during her thirty-one years practicing environmental law, Burt represented the Massachusetts Water Resources Authority in federal lawsuits that resulted in the cleanup of Boston Harbor and reconstruction of its sewage treatment system. She previously was a Massachusetts Assistant Attorney General in environmental enforcement and is recognized in Best Lawyers in America for her work in environmental law.
—Tiffany Wilding-White

More from Esquire:
A Life That Spans 100 Years
New Online Community to Launch in Spring
Bookshelf: Published Alumni
Life Lessons in the Art of Giving
Chapter News
More Esquire News