In Limine
vicki sanders, editor-in-chief
The Ties That Bind
Our network is a resource to be treasured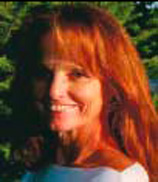 A law school is nothing if not an intricate web with lines stretching out in many directions to form a pattern of connections. Follow any thread and you will come to an intersection that will take you in a new direction to a destination that will in turn lead you elsewhere. Some of these ties that bind a law school community are personal: the friendships forged in school, a lasting relationship with a professor. Some are professional: a job offered by one alumnus to another, a referral to a legal specialist. Others are born of a sense of service to others: a judge's offer to preside over a student moot court trial, a donor's funding of a scholarship.

This issue of BC Law Magazine is all about connections, and whether they are on a grand scale, as in the restructuring of the Alumni Association and Council to better serve BC Law's expanding and geographically diverse population (see story Page 12), or more intimate, as in a 3L's decision to pledge $5,000 for loan repayment assistance to colleagues in public service jobs (see story Page 69), they are the fiber that gives the Law School its strength. The thicker the weave, the tighter, sturdier the community.

One of the most technologically advanced efforts ever undertaken by BC Law School to enable alumni to access one another and a variety of services is the online community set to launch this spring (see story Page 37). The system contains a number of all-new features, including a customized alumni directory, a career advisor network, chapter webpages and email lists, event registration and online payment options, online class notes, and profile pages for personal and professional networking. The online community is an important element in the success of the reconfigured Alumni Association, which is designed to be a nimble, interactive organization capable of reaching out and engaging alumni.

Sometimes the connections we make are serendipitous. That was certainly the case for Professor Zygmunt Plater and student Irene Porokhova '07 (see story Page 20). Discovering during a class that their families came from the same area of Poland, they wondered if they might be related. Luck would have it that on a visit to her grandmother in Ukraine, Porokhova learned that there was a probable relationship. Porokhova and Plater's subsequent research led to findings that surprised both of them. Connections also have a way of making things happen. The family and friends of the late Massachusetts Supreme Judicial Court Justice Francis P. O'Connor '53 established a named scholarship in his honor last year for students in need (see story Page 38). At one point, his daughter, Ellen O'Connor, mused: "Perhaps the F. P. O'Connor scholarship recipient will someday sit on the US Supreme Court...or run for President or something grand and wonderful! One never knows."

One never knows, that is, until one picks up the thread.


Vicki Sanders
Editor-in-Chief