Behind the Columns
bc law dean john h. garvey
Pony Time
Students' call for business training requires rebalancing our offerings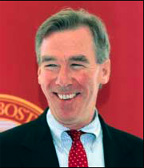 Chubby Checker had a popular song in 1961 called "Pony Time." It began, "Now you turn to the left when I say gee, You turn to the right when I saw haw . . . ." Maybe he hadn't been around horses much. In America "gee" means turn right. Or maybe it was a psychological thing. Freud talks in one of his lectures about primal words having two antithetical meanings. Or maybe it was generational. The young can be contrary. (Think about the Beatles' "Hello Goodbye"—"You say yes, I say no.") I lean toward the latter explanation. Each generation rebels against something its parents held dear. And sometimes this has the effect of bringing us full circle.

We tend to stick by the convictions of our youth. Most institutions of higher education today are governed by 50-something faculty who grew up in the 1960's. They are generally suspicious of business, the military, and the executive branch. Boston College Law School has, consistent with these principles, built a strong tax faculty. (Taxes take from the rich and give to the poor.) We have many offerings in civil and human rights, labor law, environmental law, and similar courses. But we devote only 3 percent of our faculty resources to business courses (corporations, securities law, finance, private equity, investment management, real estate, insurance, and so on).

This tendency toward the left is reinforced at a place like BC Law by the influence of Catholic social teaching, which exhibits a special concern for the poorest members of society. Pope Leo XIII's observed in Rerum Novarum (1891) that "wealthy owners and all masters of labor should be mindful of this—that to exercise pressure upon the indigent and the destitute for the sake of gain, and to gather one's profit out of the need of another, is condemned by all laws, human and divine." He spoke strongly against unrestricted capitalism, and in favor of labor unions and collective bargaining. Pope Pius XI echoed these themes in Quadragesimo Anno (1931) on the fortieth anniversary of Leo's encyclical: "Free competition, while justified and certainly useful provided it is kept within certain limits, clearly cannot direct economic life."

But if you ask our students, as we did in a recent survey, what they want to do upon graduation, 43 percent will say they want to practice business law for a firm or company. Undoubtedly, they have been influenced by the success of the American economy over the last thirty years. They may admire Bill Gates, Warren Buffett, Larry Page, or Sergey Brin as an earlier generation did Jack Kennedy or Martin Luther King. I want to make two observations about this change in direction.

The first is that it is useful corrective to the vision we have had of legal education. Companies that make tractors play a critical role in feeding the hungry. Firms that underwrite municipal bonds help cities build water purification plants so the thirsty can drink. Capitalism has its excesses, but it is the best system we know for lifting everyone's standard of living. Even students who hope for jobs in the nonprofit sector, if they really want to be successful, must know how to read a balance sheet and an income statement, understand the law governing not-for-profit corporations, lease offices, buy insurance, and do a hundred other things that people hire lawyers for.

The second is that the Law School must keep an eye on the mundane charge of serving its customers. If 43 percent of our students come to Boston College hoping to learn about limited liability companies, Sarbanes Oxley, the Investment Company Act of 1940, real estate investment trusts, mutual insurance, and hedge funds, we can't disappoint them or we will learn about markets the hard way. It won't surprise anyone to hear that the faculty are acutely aware of this responsibility. One reason why our students love the Law School is that our teachers put student welfare and satisfaction above all other concerns. We are in the market for three new faculty members this year, and two of them will be in business areas. We will likely hire an equal number next year, and I hope we will continue to address this issue. It will take some time to turn things around. Gee.