Drinan as Dean
by honorable francis j. larkin

THE MIND AND THE HEART OF THE REV. ROBERT F. DRINAN, SJ—"BOB" TO THE countless thousands who knew him and loved him—was always alive with the possibility of transformation. In the beginning he transformed a law school. Later, in Congress, he worked tirelessly to transform an institution that seemed increasingly to forget its values and verities. And, in a decidedly lesser key, with a bow to fortuities of fate and vagaries of chance (to be explained below), he surely transformed my life; I served as his associate dean for almost a decade.
The foregoing reference to "chance" in my coming to Boston College derived from the following improbable circumstances. In the late spring of 1963, I was concluding the second year of a judicial clerkship on the United States Court of Appeals for the First Circuit. With the term winding down and work on many drafts of opinions alarmingly unfinished, I received a call from a fellow townsman announcing that Father Drinan would be in Milford that evening, addressing the annual meeting of the Milford Bar Association. My friend invited me to attend as his guest. I declined, citing my unfinished workload. He insisted, urgently. I accepted.
At the event I met Father Drinan for the first time.1 I learned later that on that same day the Law School faculty had voted to approve the creation of a new position, that of associate dean. Following his address, Father Drinan and I had a brief, private conversation and after a few minutes of rather intense interrogation, he offered me the position. "Amazing," but, as I later learned, the episode was pure Bob Drinan: spontaneous, intuitive, visceral, and, in the generality of situations, usually followed by a happy ending.
My years with him were the most satisfying and stimulating of my career. More importantly, they also marked the beginning of a lifelong friendship with an individual who combined within himself, to a degree unmatched by any person, qualities of mind and heart that will always be an example to me of "greatness in action." 2
What were the sources of that greatness, of the transformative factor?
First, he was a great law school dean. It is surely safe to say that when future generations think of Father Drinan, they will think of Boston College Law School. And when they think of Boston College Law School, they will think of Father Drinan. Indisputably, he will be the "one alone" to be chosen if the history of this great school were to be represented by a single figure.3
A noted legal scholar once asked the question: How does one accurately appraise the stewardship of a dean? And he followed this up by suggesting (again in question form) a number of criteria as relevant and defining benchmarks. They are: "By the quality of the faculty assembled? By the quality of the student body attracted? By the improvement of physical facilities? By financial growth and stability? By the loyalty and enthusiasm of the alumni? By sensitive attuning to the needs and possibilities of the time? By the moral and intellectual climate of the institution?4
Bob Drinan met and surpassed each of these criteria. By his personal magnetism and a prodigious work ethic he assembled the faculty, attracted the students, and was acutely attuned to the shifting dynamics, demographics, and desires of a society in flux. He was equally attuned to the emerging trends in legal education and wanted and achieved a curriculum which would respond to the imperatives of those developments. Examples abound of his early commitment to clinical legal education: the nationally famous Boston Bail Project; the Law School clinic in Waltham known as the "laboratory"; the National Consumer Law Center; and, through personal contact, the fostering of a wide range of legal internships with municipal, state, and federal agencies. All of this happened not because it was trendy but because he believed strongly that legal theory and practical skills were mutually reinforcing initiatives for future lawyers. But above all, he had a persistent, deep appreciation for the centrality of excellent teaching and faculty scholarship to the school's education mission.
His devotion to the students at the Law School was legendary. It was evident that he cared passionately for "his" students, not only collectively but individually. He treated them as family and made clear in so many ways that they were an important part of his life. On more than one occasion, students who sought Father's counsel when they found it difficult to pay a tuition bill or faced some personal crisis, left his office with spirits raised because of a measure of largesse from his seemingly bottomless "discretionary fund." If there was a death in a student's family, no matter how far away the funeral, frequently Father would be there to celebrate or concelebrate the funeral mass or participate in other religious services. And the personal notes of encouragement, congratulation, compassion, or sympathy that began at the Law School continued throughout a lifetime.
During our days together at the Law School, as throughout his life, Bob demonstrated an abiding passion for human rights and civil liberties. These interests were neither fleeting nor episodic but lay at the core of his being, like an inextinguishable flame. To cite but one example, he worked tirelessly to broaden the opportunities for minorities in the legal profession, notably expanding the opportunities for minorities and women at the Law School and in other venues too numerous to recount. His message and mission were clear and unequivocal: "We can't just continue to sit back and wait for them to come here. We have got to be pro-active and find them and give them a reason to come to Boston College," was his constant mantra at faculty meetings. In this quest he led by example, traveling widely to undergraduate schools and, through unstinting personal efforts, finding the funds to make his goals attainable.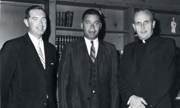 Words spoken by another applied fully to Bob: "He knew, none knew better, that in the house of the law, as in the house of life, there are many mansions. He wanted free access to his mansion. He no less wanted access to the mansions of others to be free, for their sake and his."5
In his efforts to broaden civil rights or confront injustice, Bob never shrank from the battle. Characteristically, he jumped right in to confront the evil. There were times when prudence might have counseled a more muted or ambiguous course of conduct. But that was not Bob Drinan. Quite clearly, "he was not one of those who regarded the omission from the Beatitudes of 'Blessed are the discreet' a regrettable oversight."6
He subscribed completely to the venerable adage that "the work is never done while the power to work remains." The word "retirement" was never in his vocabulary.
That is why his sudden death came as a shock to those who knew and loved him. He was such a vital force that life feels much less alive without him. In the countless tributes written about his life and accomplishments since his passing, the word "ecumenical" appears frequently. Bob Drinan was indeed "ecumenical," but he was so long before the word achieved popular currency.
Like his good friend Richard Cardinal Cushing, Bob Drinan devoted special efforts in building bridges to members of the Jewish faith, first at BC Law and afterwards to all his diverse constituencies. During our years together, I can vouch that rare was the temple or synagogue that Bob Drinan had not graced (and inspired) with his presence and presentations. On one occasion, the large crowd gave him a prolonged ovation at the conclusion of his remarks. When the applause diminished, the presiding rabbi approached Father at the podium, thanked him, and following a pregnant pause, asked, "By the way, Father, are you available for Yom Kippur [services]?" More applause from the congregation. It seems therefore appropriate to recite the words of the late Supreme Court Justice Felix Frankfurter, spoken at a 1949 memorial service to Rabbi Stephen S. Wise, then president of the American Jewish Congress:
"It is foolish to single out one dominant trait in so dynamic a personality. But if I had to fasten on one quality above all others . . . I should say it was moral courage—that rarest ingredient of character. It was moral courage that made him so sensitive to injustice, whoever the victim and whoever the perpetrator. It was moral courage that made him so fearless in the espousal of causes to promote goodness in every direction, and since he felt deeply he put no restraints of prudence upon his eloquent tongue. When he spoke, he spoke out—behind his loyalties was passionate conviction. And it was moral courage that made him inwardly harmonious, however discordant the world outside."7
The central achievements of Father Drinan's life, his constant quest for the "perennial values," are now a part of the public record. His life and, more significantly, the manner of his life, should become part of our national heritage. As for his manifold acts of kindness, his fidelity as a friend, his generosity, these will forever be the private possession of his many beneficiaries. With his death the world is left much poorer in courage and kindness, in wit and wisdom.
Bob Drinan lived for the law and, to a degree, the law made him famous (and, at times, controversial). As legal educator and congressman, he used the law and the progressive legislation he continually sponsored for the protection and enhancement of personal rights and the promotion of public ends. His scholarship, world-wide travels, and other activities, almost all in the cause of human rights and human liberties, were undergirded and in-fused by a creative use of the law and legal initiatives. He enhanced his legal fame with a memorable literary style and a penchant for personal kindness, courage, and brilliance. He became one of the most distinguished members of the country's legal profession, a status epitomized by his recent receipt of the American Bar Association's Medal, the highest award given by the organization.
It should not be forgotten that at the core of his being was the Catholic priesthood, a fact and status which animated and infused him. Famously, in a retrospective autobiographical article he wrote for the Boston Globe (prepared, as I remember, on the fiftieth anniversary of his ordination to the priesthood), he recalled the words of the late Cardinal Cushing to the newly ordained on that occasion: "You men are now Catholic priests and Jesuits. No greater honor can ever come to you in life."
In the article, Father remembered these words, reveled in them, and it is likely, they animated and infused each day of the remainder of his remarkable life.
1 Again, I later learned that I had not come to him "as a stranger"; that over the years, he had, informally acquired some "due diligence" on my background through Georgetown Law publications, our mutual law school alma mater: that I had served as national president of the American Law Students Association and had taught for a year at Georgetown following graduation, prior to entering the US Army Judge Advocate General's Corps.2 "It is required of a man that he must share the action and passion of his time at peril of being judged never to have lived." Justice Oliver Wendell Holmes .3 See, Frankfurter: Of Law and Men, (1956) Harcourt, Brace and Company, New York, at pg. 3; reference to Chief Justice John Marshall 4 See Milton Katz, 108 Harv. L. Rev. 994 (1995) 5 Frankfurter, Of Law and Men, 1956, Harcourt, Brace and Company, New York, at pg. 3196 Holmes-Laski Letters: The Correspondence of Mr. Justice Holmes and Harold J. Laski, Harvard University Press,1953. Foreword7 Frankfurter, Of Law and Men, 1956. Supra, at pg. 355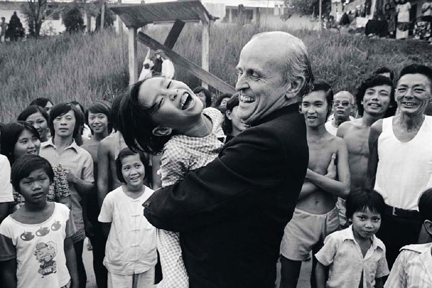 "I urge you to accept and nourish as a direct grace from God those feelings of indignation which come to you because of the denial of the human dignity and the human rights of your fellow citizens. Deepen this indignation because justice will not come unless those who are not hurt, in the words of Solon, feel just as indignant as those who are."

-Father Drinan in a sermon entitled "Human Rights in the Sixties," 1960