Wearing the Rules on Their (ahem) Sleeves
a civil procedure class has a memorable idea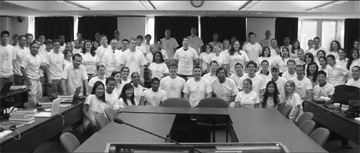 What started as an innocent lunchroom discussion among students in Robert Bloom's fall Civil Procedure class quickly grew into a prank that even the professor could love.

One day shortly after classes began, Stas Gayshan '09 and some of his classmates were pondering how they could possibly learn all eightysix rules of civil procedure. Suddenly, a light bulb went on. If they had t-shirts printed for Bloom '71 and the eighty-three 1Ls in the class and each shirt sported one rule, then they'd cover almost all the rules. That way there would always be someone in class who knew a rule the others couldn't remember.

The brainstorming happened on a Thursday. By Sunday, the t-shirts were printed. Monday, the students distributed them to classmates, and Tuesday everyone donned the rules and marched into class, surprising Bloom.

The students topped off the fun by giving their professor the shirt for Rule No. 1: "Scope and Purpose of Rules. These rules govern the procedure in the United States district courts in all suits of a civil nature whether cognizable as cases at law or in equity or in admiralty, with the exceptions stated in Rule 81. They shall be construed and administered to secure the just, speedy, and inexpensive determination of every action."
Other articles from In Brief:
The Debate Lingers
The Legacy Factor
Rare Works on View in Library
Other Stories from In Brief