More Stories from In Brief
fall/winter 2006
"There's No Place Like Home"
Ruby Slippers Project Reunites a Family.
Mr. M's story could have been like that of any of the hundreds of thousands of immigrants deported from America. Instead, his has the happiest of endings, thanks to the Boston College Immigration and Asylum Project (BCIAP) and its new Post-Deportation Human Rights Project ("The Ruby Slippers Project").
"He deserved to return to the US where his family is," said BCIAP attorney Mary Holper. "This is the first of successes for our Post-Deportation Human Rights Project, and we are trying to bring other deportees back as well."
A citizen of Mexico, Mr. M married a US citizen in Massachusetts in 1995 and became the de facto father of his wife's four children. They later had two more children. Although his wife filed the proper immigration paperwork to sponsor her husband and Mr. M received a temporary green card, when the couple later attempted to inquire about when he would get his permanent green card, Mr. M was suddenly arrested and taken away in handcuffs.
Mr. M learned that he had missed a court date, because, despite the couple's having repeatedly attempted to notify the government of their change of address, it was never recorded in the immigration system. As a result, Mr. M was deported to Mexico in 2002, shortly before his wife gave birth to their youngest child.
BCIAP Attorney Abira Ashfaq and her successor, Alexandra Dufresne, continued to work on his case for more than two years, with many students assisting. Eventually current staff attorney
Holper took over the fight. Holper made final preparations for Mr. M's interview at the US consulate in Mexico, with significant assistance from Jill Dalfior '06. The consulate at first denied him the visa. But BCIAP had prepared a packet of support letters and photographs, requesting a waiver based on the hardship that the family would suffer if Mr. M were not permitted to return to the US. Several months later, Mr. M was called back to the consulate, where he was finally granted the right to re-enter the US. After four years of separation, he returned to live permanently with his family.
Professor Daniel Kanstroom, BCIAP director, notes, "This was a great victory for this family and for our program. But the tragedy is that there are thousands of other families in this situation who go unrepresented and who may never reunite."
The BCIAP provides legal representation for low-income and indigent immigration detainees. The Ruby Slippers Project is a pilot initiative of the Center for Human Rights and International Justice at Boston College, designed to advise, counsel, support, and represent those who have been deported from the US, as well as the families they have had to leave behind.
PILF Auction Moves Downtown
Alumni Urged to Attend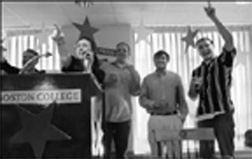 The Public Interest Law Foundation Auction, one of the largest student events at BC Law, has traditionally been held on a spring afternoon at the Law School. Next April, things will be different. PILF is setting the bar a little higher this time and moving the auction to the BC Club in downtown Boston on April 18 at 6 p.m. The event will be in honor of John J. Curtin Jr. '57, who established the Mary Daly Curtin and John J. Curtin Jr. Center for the Public Interest at the Law School. Auction organizers hope that the change in venue will entice more alumni to participate in the auction by attending and donating items to the event. Money raised at the PILF auction is used to pay for student summer public interest work. For more information, contact Toni Ann Krause '08 at Kruset@bc.edu or Adam Baker '08 at bakerai@bc.edu.
LL.M Head Appointed
Hupper is Expert in Graduate Education
Boston College Law School has named Gail J. Hupper, former assistant dean for the Graduate Program and International Legal Studies for Harvard Law School, as director of its new Master of Laws (LL.M.) program. She will hold the title Director of LL.M. and International Programs.
The Law School plans to admit its first students for the LL.M. degree in the fall of 2007. The goal of the program is to expose international students to the fundamentals of the US legal system and to train them to meet the challenges of globalization.
Students admitted to the program will commit to one full year of academic residence comprising twenty-four credit hours. The candidates will have the opportunity to enroll in courses of their choice compiled from the Law School's regular curriculum.
Hupper brings a significant international focus and broad experience in graduate program management to the position, having also acted as the deputy director of Harvard's graduate program and as its director of admissions and financial aid.
From 2002–2004, she served on the executive committee of the Association of American Law Schools section on graduate programs for foreign lawyers and as the associate director of the European Law Research Center at Harvard Law School.
She is a graduate of Williams College and Columbia Law School.
My Brilliant Balancing Act
Six Women Share Life Lessons
Six lawyers from different generations offered honest, funny, and sometimes moving lessons at an October panel discussion, "Beginning the Journey: An Exploration of Career Paths," organized by the Council for Women of Boston College and BC Law School.
Moderated by Lauren Stiller Rikleen '79 of Bowditch and Dewey LLP and the author of Ending the Gauntlet: Removing Barriers to Women's Success in the Law (Thomson/Legalworks 2006), the panel condensed decades of life experience into an hour's discussion.
"I'm going to be brutally honest with you," said Joan Lukey '74. "It's very difficult to make it to partnership while raising a family." A trailblazing litigator and senior partner at Wilmer Cutler Pickering Hale and Dorr LLP, Lukey laid out the plusses and minuses of the big-firm track. Prestige, highprofile cases, outstanding training, and high compensation weigh against grueling hours and unforgiving schedules. "It's a choice for you to make," she said, but one that still requires "incredible balancing."
"You don't have to be a radical feminist to care about fairness," said Wendy Murphy '83, founder and director of the Victim Advocacy and Research Group, an impact litigator who takes a high percentage of pro bono test cases, and a legal analyst for CBS News. Murphy, a mother of five, told of giving birth by Caesarian section to fit in with a trial schedule and a judge who denied her a fifteenminute breastfeeding break. "It's too easy to absorb the pain and pressure yourself," said Murphy. "You have to force the system to give a little."
"Don't rely on the [contraceptive] patch," advised Kathleen Burke '94, general counsel of MKS Instruments Inc. and now pregnant with her third child. A former colleague of Lukey's at Hale and Dorr, Burke took a decade to figure out that she wanted a job that would allow her to leave the office at 5:30 p.m. without sneaking out coatless in order to pretend that she was visiting another floor rather than quitting the building for the day.
"Pick your firm well," said Jodi Petrucelli '92, managing partner of Sugarman and Sugarman, a small Boston firm. "If you're not happy where you end up, look around," she said, advising students to talk to female associates at firms they are considering. Petrucelli is the mother of two small children who with her two fellow women partners recently ended years of Halloween agony by declaring everyone could leave the office by 3 p.m. on October 31 to trick or treat.
"Ask yourself what's your motivation," said Nicole Whittington '02, a fifth-year associate in the commercial litigation department of White and Williams LLP. For her, an important consideration was finding a firm that allowed her time for community work. Being a young single female associate can be "very isolating," she said, as it is harder to get access to informal networking. Juggling billable hours and dating can be a challenge, she admitted, advising, "Don't do dinner, do drinks—it's quicker."
—Jane Whitehead
Other articles from In Brief: