Christopher Liwsky '07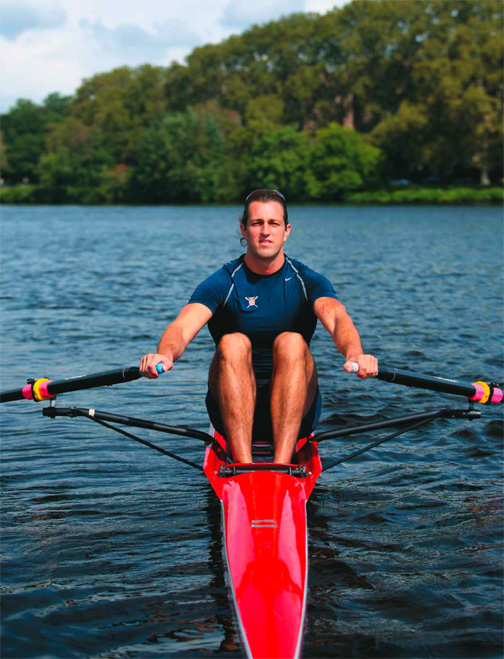 Judy Sanders/Wildsands

Graduate of Syracuse University. 6' 7", 218-pound Olympic-level rower.

WHAT BROUGHT YOU TO BOSTON COLLEGE LAW SCHOOL?
I had taken a year off of law school at Syracuse to train for the 2004 Athens Olympics, and then another year to earn my master's (in international water policy) at Oxford. Professor David Wirth was a visiting professor at Oxford then, and I liked his method of teaching and his whole approach. Plus, Boston is ideal for training in terms of rowing. The Harvard coaches have given me full access to their boathouse and their equipment.

DO YOU SEE ANY CORRELATIONS BETWEEN STUDYING THE LAW AND TRAINING FOR THE OLYMPICS?
Yeah—no one cuts you a break in either one.

HOW DO YOU BALANCE THE DEMANDS OF LAW SCHOOL WITH THOSE OF ROWING?
I try to schedule my classes either back to back or very far apart, to leave time to get on the water. All told, I devote about eight to nine hours a day to training, between driving to the boathouse, lifting weights, pulling on the erg machine, and actually rowing. I'll be studying in the library and when my phone alarm goes off, I shut my books, close my laptop, and go to practice.

THAT DOESN'T SEEM TO LEAVE ANY FREE TIME.
My other hobby is sleeping.

IN THE LAST OLYMPICS, YOU WERE THE ALTERNATE ON THE TEAM THAT WON THE GOLD MEDAL. WHAT ARE YOUR FUTURE GOALS?
That race was tough to watch. My past successes include gold medals at the 2002 Nations Cup World Championship and the 2003 Pan Am Games. This summer, I earned a bronze medal at the World Championships. Right now, I'm focused on graduating this May, and training for and making the 2008 Beijing Olympic team. After that, I'll hang up the oar.

WHAT KIND OF LAW DO YOU INTEND TO PRACTICE?
I'm interested in international environmental law. But, I'm a natural in sports law.

DO YOU HAVE A FAVORITE CLASS HERE AT BC LAW?
I enjoy Professor Wirth's classes, and Trial Practice; I'm enjoying the idea of litigation.

WHAT DO YOU TYPICALLY EAT IN A DAY?
When I'm training, I'll eat between 5,000 and 6,000 calories a day. I'll make a six-egg omelet for breakfast, and dinner might be two cups of rice, three breasts of chicken, and an entire bag of frozen vegetables. When I make pasta, I cook the whole one-pound box for myself. If it's on sale at the store, I'll buy five boxes for five days.

—Tiffany Wilding-White