A Woman with Altitude
whether scaling a difficult case or climbing mount kilimanjaro, the intrepid joan lukey keeps her ey on the summit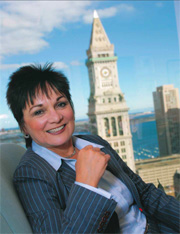 Photo by Michael Manning

JOAN LUKEY '74 thrives on the heights. She is at the top of her professional game as a trial lawyer, her idea of fun is high-altitude trekking, and even her office at Wilmer Cutler Pickering Hale and Dorr is on the twenty-third floor of the firm's State Street headquarters, with a vertiginous view of the harbor and the Custom House Tower.
Lukey, fifty-six, has just returned to this office after a fourteen-day business trip to London and Dublin for the annual meeting of the American College of Trial Lawyers. In between dinners at Kensington Palace and Greenwich and marveling at the Irish economic revival, she has been learning the ropes of her new position as Secretary to the elite organization, whose membership is drawn by invitation from the top 1 per cent of the Bar. Lukey is the first woman to become an officer of the College, the latest in a long line of such distinctions, beginning in 1974 when she was the first woman to be named Best Oral Advocate in the National Moot Court Competition. In October, she won the Boston College 2006 Alumni Award of Excellence in Law.
If Lukey is jet-lagged after her travels, it doesn't show. Sporting a spiky haircut, chunky contemporary gold jewelry, and a new pair of sleek French eyeglasses—replacing the ones she refers to as her "Harry Potter" glasses—she's relaxed and friendly as she talks about her early life as a tomboy growing up on army bases from Puerto Rico to South Carolina, before her family settled in Wareham when she was seven.
Lukey's father, Philip, a soldier wounded in World War II, and her mother Ada, an elementary school teacher and later principal, raised Joan and her older brother with a mixture of encouragement and caution. "My father always made me believe that I could do whatever I wanted to do. And I always felt that he believed that himself," says Lukey, who was thirty-one when he died following a stroke at age sixty-five, after battling lung cancer. In honor of her father and his unflagging support for his children's ambitions, on the twentieth anniversary of his death Lukey established the Philip E. Lukey Endowment Fund with a $100,000 pledge to BC Law School.
"My mother was always the cautionary one," recalls Lukey. "When I was young I thought she was really being a downer, but as I got older and had a child of my own, I fully understood that she was trying to protect me from disappointment." Lukey is still close to her mother, now ninety, who lives near Marion, where Lukey and her husband Philip Stevenson, have a summer house.
At Wareham High School, Lukey evolved from tomboy into competitive gymnast, accepting knee injuries and concussion as a natural part of being athletic. "I simply continued through the pain," she says, although she admits that she was much less blasé as a soccer mom watching her daughter Heather, now twenty-two, similarly refuse to give in to injuries on the field.
In a corner of Lukey's office is testimony to her doggedness in another direction, a poster-sized version of the cover of a legal thriller she published in 1994, showing a tousle- haired blue-eyed blonde woman and the top of the Boston Custom House tower. Lukey wrote A Fiduciary Duty, featuring a brilliant but troubled young lawyer called Tica DeWald, in snatched hours and moments over four years, while her daughter was young and she needed hobbies she could do around the house. Lukey is an accomplished legal writer, but fiction and journalism offer a welcome relief from the constraints of legal writing, she says, and she has published a number of Op-Ed pieces in the Washington Post and Boston Globe. Lukey makes no claims for the literary merits of her novel, dismissing it as "really lightweight beach reading."
One indication that she did not take this foray into fiction too seriously is that her contract had given the publisher, Utah-based NorthWest Publishing, Inc., the rights to first refusal on subsequent novels. When the publisher went bankrupt, the bankruptcy court only released the rights after Lukey "drove them crazy" with a blizzard of motions. The draft of a second novel is lying in a drawer in her Lincoln home, but Lukey is in no hurry to revise it. For now there are more substantial causes demanding her time, notably her new role in the American College of Trial Lawyers, and her work as New England Finance Chair for Senator John Kerry's political action committee.
Lukey's interest in politics evolved while she was an undergraduate at Smith College in Northampton. She became involved in local political campaigns and took summer internships in Washington, DC, with a local congressman and senator. After flirting with the idea of acting as a career—"I would have been very hungry!"—Lukey chose to go to law school, partly because she saw the law as preparation for a possible life in politics.
Lukey's observations of the pressured lives of politicians during her Washington summers ultimately convinced her that this was not a path she wanted to pursue. Watching the career of another trailblazing female lawyer, Geraldine Ferraro, and seeing the media attention focused on her husband and family because of her political ambitions, Lukey says she "completely walked away from the notion of ever becoming personally involved in politics," deciding to focus instead on working behind the scenes for political candidates whose views she supported.
At Boston College Law School, Lukey left a lasting impression on peers and faculty alike. "She was extremely visible, very well respected, and a great role model for younger women," remembers Marianne Short '76, now the managing partner of the Minneapolis-based international law firm Dorsey & Whitney, and a fellow member of the BC Law Board of Overseers. Lukey was in her third year at BC Law when John Kerry '76 entered the school after serving in Vietnam. Looking back to those law school days, Senator Kerry says of Lukey, via email, "The best part of who she is today was right there on display back then. She was someone we all admired enormously—intensely articulate and a talented advocate who we all knew would go on to do great things."
Lukey had gone to law school believing she wanted to be a trial lawyer, and after her first experience of the oral dueling of Moot Court, she says she knew without question that "this was the only field in which I wanted to go forward. In a lot of ways, Moot Court was the single most influential factor in my future career," says Lukey, who with L. John Osborn '74 and Michael K. Mattchen '74 represented BC Law in the finals of the National Moot Court competition in 1974.
Thomas Carey '65, who directs the Advocacy Program at BC Law and coached Lukey throughout her law school career, says in a telephone conversation, "I've never seen her have a bad day." Always on top of the case record, always candid, and always "on point," says Carey, Lukey mesmerizes her audiences, because she always focuses on the core issues in a case. He well remembers Judge Frank Larkin's account of the finals of the National Moot Court Competition. Carey had stayed in Boston, while Larkin accompanied the team to New York. Presiding over the bench of distinguished judges was US Supreme Court Justice Thurgood Marshall. After hearing arguments from the competing teams, Marshall was heard to say, as the bench adjourned, that they would follow the Supreme Court protocol of voting in reverse order of seniority. "But I just want you to know before we start," he said, "that Joaney's my girl!"
With the announcement that the BC team had won, and that Lukey had been named Best Oral Advocate, Carey says that she was mobbed by senior partners from Wall Street firms, pressing their business cards on her and offering her jobs on the spot. Buoyed by a spring tide of self-confidence, Lukey negotiated with the venerable Boston firm of Hale and Dorr that she would accept their job offer only on condition that she could forego the usual rookie rotation through different departments and go straight into litigation. And into litigation she went, becoming a junior partner in 1979 and making senior partner in 1983.
When Lukey joined Hale and Dorr on September 3, 1974, she was the only woman and the only non-Harvard Law School graduate among ten new associates. At that time, the firm had only two female attorneys on staff. Over a recent lunch, Lukey and her younger colleague and friend Gabrielle Wolohojian, who joined the firm in 1991, muse aloud about how things have and have not changed for women in the profession. As a member of the firm's hiring committee, Wolohojian has the figures at hand: 20 percent of the partners are now women, and 49 percent of attorneys below the rank of partner. Changes in the gender composition of law school classes have yet to be fully reflected in the upper reaches of prestigious firms, and both women express frustration at the pace of change in the profession's elite power bases, like the American College of Trial Lawyers.
Lukey wishes she could assure her daughter, a Columbia graduate who plans to go to law school after volunteering for Teach For America, that she will be playing on a level field with her male peers. But as she will tell an audience of Law School students at a BC Council for Women panel discussion on career paths a couple of weeks later, the brutal truth is that for women it is still "very difficult to make it to partnership while raising a family."
One of the many ways in which Lukey has been a stellar role model, says Wolohojian in a telephone conversation, is that she has always carved out time for family life. "When her daughter was young, she would say to the judge, 'I have to leave early because my daughter has a soccer game,'" says Wolohojian, who has worked with Lukey on many cases and tried at least half a dozen with her. "
I've learned so much from her," says Wolohojian. The qualities that make Lukey "an absolutely amazing trial lawyer," she says, are her complete fearlessness, her tenacity, and her ability to connect with jurors on a human level. "She's had jurors and even court reporters in tears," says Wolohojian, and even when things go badly, "Joan will never, ever, give up for her clients." As a mentor, says Wolohojian, Lukey is not interested in creating clones. "She's very good at encouraging you to become the best kind of lawyer you can be."
"She really is a force as a litigator," says Lukey's BC Law contemporary Robert Joy '75, who is appearing for the opposing side in an employment law case due to be tried in February 2007. Appearing against Lukey, says Joy, puts opponents on their mettle. "I always feel I have to be at the top of my game, because she'll be at the top of hers, and it's a pretty lofty one," he says. His judgment is confirmed by a stream of accolades from within the profession. The 2006 edition of The Best Lawyers in America includes Lukey in the areas of employment, business, commercial, personal injury, and First Amendment law, and she has been named one of "America's 50 Top Women Litigators" by the National Law Journal, and one of the most powerful attorneys in Massachusetts by the Massachusetts edition of that publication.
Lukey has tried more than fifty federal and state cases, mainly to juries. She has also argued many cases before the US Court of Appeals for the First Circuit, and before state appellate courts in Massachusetts and New Hampshire. She mentions a couple of cases that have had a lasting impact on her, for different reasons. One was her representation of oncologist Dr. Lois Ayash in a libel suit against the Boston Globe, following the tragic death of Globe columnist Betsy Lehman and permanent heart injury to another woman, Maureen Bateman, of massive chemotherapy overdoses at Dana-Farber Cancer Institute in 1994.
The Globe incorrectly identified Ayash as one of the doctors who signed the order prescribing the fourfold overdose, in the course of an experimental treatment for breast cancer. Only in February 2005 did the Massachusetts Supreme Judicial Court uphold the jury's original $2.1 million award to Ayash, on the grounds of psychological suffering and negative impact on her career. Lukey calls Ayash "one of the finest people I have ever known," and found it troubling to watch her bear the emotional and professional toll of the protracted case. "That she ultimately reaped the benefits she did was professionally probably the single most satisfying case in which I've ever been involved," says Lukey.
Another case that turned out to be "almost career-altering" for Lukey was a medical liability case in District Court in New Hampshire in 1997. Lukey represented the plaintiff, a young cardiologist, Dr. Richard Klonoski, whose wife Jolanta had died of eclampsia after giving birth to their third child at Dartmouth Hitchcock Medical Center in May 1993. In the course of the trial, defense counsel for the hospital repeatedly raised questions about marital problems between the Klonoskis, which Lukey says puzzled her client. She got a court order requiring the production of any evidence they had to suggest discord, and nothing was forthcoming.
On the last day of the trial, says Lukey, defense counsel "literally pulled out of his pocket" a copy of a letter that Jolanta Klonoski had written to her sister in Poland a week before her death, indicating her intention to divorce her husband. "I was beside myself," says Lukey. "Our system is set up so we're not supposed to be subjected to litigation by ambush, and this was total ambush." After a lengthy bench conference, at which Lukey passionately argued against the admissibility of the letter, about which neither she nor her client had known anything, the trial judge allowed it in evidence. As Lukey recalls, "it so inflamed the jury, it was so contrary to everything we had said in our case about the relationship, that there was a defendant's verdict in about an hour."
Shortly afterwards, Lukey was traveling in Kenya with her family, on photo-safari, still "very, very upset" about the case. She remembers sitting on the banks of Lake Naivasha, northwest of Nairobi, and telling her husband, "I don't want to go back; the system has so totally failed." With hindsight, she can smile at the calm with which Stevenson, himself a former senior partner at Hale and Dorr, now retired, responded. "That's an interesting thought," he said. "It's very beautiful here, but where is Heather going to go to school?"
Back in Boston, Lukey channeled her outrage into a book about the case, in collaboration with Richard Klonoski, with the working title Broken Oaths. The book was never finished, although Lukey had written about one third of her chapters on the legal aspects, when in September 1998, the US Court of Appeals First Circuit reversed the verdict, affirming and extensively quoting Lukey's spontaneous arguments to the trial judge. "I sometimes wonder what I would be doing today if the First Circuit hadn't reversed, whether I would have just gone on, or changed course," says Lukey.
One sustaining professional association through this period was Lukey's involvement with the Boston Bar Association (BBA), which she served as President in 2000–'01. Continuing the focus on outreach efforts to children and youth that had been started by previous presidents Lauren Stiller Rikleen '79 and Thomas Dwyer, as president Lukey also worked to advance the cause of gender parity in the practice of the law, and to make Boston a more hospitable environment for lawyers of color and other minority lawyers. "Lauren was a great role model as president of the BBA," says Lukey. Rikleen, who preceded Lukey as winner of BC's Alumni Award of Excellence in Law in 2004, praises Lukey's "terrific diplomatic and consensus-building skills" and the enthusiasm with which she built up the fledgling Children's Outreach Program into "a lasting legacy."
Outside her legal practice and professional obligations, Lukey's outstanding commitment has been to supporting the Democratic Party, through her close relationship with Kerry. When Kerry ran for the US Senate in 1984, Lukey agreed to head his committee of "Lawyers for John Kerry," although by the end of the campaign she was heavily pregnant and gave birth to her daughter just before the primaries. Senator Kerry's brother Cameron Kerry '78, who has seen Lukey in action on the campaign trail, speaks of her "remarkable combination of toughness and friendliness, intelligence and practicality," qualities which she brought to subsequent Senate campaigns, and to her role as a crucial member of John Kerry's fundraising team in the 2004 presidential race, a "roller coaster" experience that she captured in an essay for this magazine in the Fall/Winter 2004 issue.
Throughout the wild ride, right to its bitter end, wrote Lukey, Kerry remained "the compassionate, committed visionary I've known for the last thirty years." In his turn, Kerry values Lukey highly, not only for her support for his own cause, but as an embodiment of values they share: "Joan never stops, she's such a great advocate and she isn't afraid to wear it on her sleeve. Whether it's been as President of the Boston Bar Association, as a leader on my campaigns, as a caring mother, Joan is such a steady center of moral authority," he says. Now, Lukey's hand is on the financial helm of the New England branch of Kerry's political action committee, "Keeping America's Promise." According to a report in US News and World Report, in the first three months of 2006, nationwide the group raised $1.1 million, 60 per cent of which went to support promising Democratic candidates in November's mid-term elections.
Lukey has also been a tireless supporter of BC Law School, ever since she joined the Leadership Gifts Executive Committee in 1994. This year's alumni excellence award is her third honor from the university, as she received the St. Thomas More Award in 2003 and the Founder's Medal in 2004. As one of the founding members of the Law School's Board of Overseers, Lukey has been a forceful voice for the pursuit of excellence, says Dean John Garvey. "She is ambitious for her alma mater," he says. "She is always pushing to admit the best students, hire the best faculty without regard to politics, and make it affordable to the best students." And, he adds, "she puts her money where her mouth is," referring to her establishment of the endowment fund.
Although Lukey's early childhood was peripatetic, vacations abroad were not within her family's means, and it was only in adulthood that she discovered the pleasures of foreign travel. "I don't do technical climbing," says Lukey, but she and her family have enjoyed high-altitude trekking in some of the high places of the world, from New Zealand to the Alps, and she and her daughter are planning a trip to the Himalayas in summer of 2007.
One of her most memorable trips was the ascent of Mount Kilimanjaro in Tanzania in 2004. Every night she would lie awake in the thin air, unable to sleep because of the lack of oxygen, thinking, "Why am I here?" The question was answered when she reached the summit. "It's an incredible sense when you finish," she says. "You feel as if, having accomplished that, there's nothing you couldn't accomplish." And somehow, coming from Joan Lukey, that barely sounds like exaggeration.
Jane Whitehead is a regular contributor to this magazine.