Payback with Interest
what the law school is doing to cultivate lawyers in public service
Photo by Judy Sanders/Wildsands

ALISON HICKEY '06 came to BC Law intending to pursue a career as a public interest attorney. Before law school, she was a Peace Corps volunteer in Mali advocating women's reproductive health and educating people about AIDS prevention. At law school, she immersed herself in various public interest and pro bono opportunities, including a summer internship at the Harvard Legal Aid Bureau, as president of BC Law's Public Interest Law Foundation (PILF), and in BC Law's clinical program at the International Criminal Tribunal for the Former Yugoslavia at The Hague. She did enough exploring to know that, while her heart needed to follow a public interest path, she also wanted the law firm experience. She joined the large law firm of Bingham McCutchen—in no small part because of the firm's mission-driven, serious, and well-established commitment to pro bono service.
Part of what made it possible for a student like Hickey to integrate public interest and pro bono work into her educational and professional life are the offerings on BC Law's campus. The Law School is home to various clinical programs, including the 39-year-old Legal Assistance Bureau (LAB). The Law School provides resources and office facilities to the many student-run pro bono groups on campus through the Mary Daly Curtin and John J. Curtin Jr. Center for the Public Interest. PILF distributes stipends to make it affordable for students to take on pro bono internships. The Career Services office works hard to help students find opportunities in the public interest sector. And LRAP, the loan repayment assistance program, assists alumni in public interest jobs by helping them pay off their educational debts.
"Working in the public interest has been a conscious part of the mission of the Law School since its founding," says Dean John Garvey. "It's part of what Boston College lawyers are all about."
An ambition of the Law School's strategic plan is to further enhance public interest and pro bono opportunities, including the development of programs in human rights, public interest and social justice, and international law with an emphasis on justice and the human implications of globalization; the beefing up of the popular and highly ranked clinical programs, which offer critical legal assistance to the underserved; and loan repayment and scholarship.
The plan to enhance LRAP reflects the Law School's recognition of the dilemma of many graduates who want to make their careers in public service. Students leave law school facing high costs of living while burdened by college and professional school debt. Professor Alan Minuskin, who has served on the Law School's admissions committee, says, "We know that a majority of people coming to law school come driven by idealism. The idealism gets sucked out of them in the process of figuring out what they're going to do over the summer, after the second year, after graduation. The cost of law school is high. When faced with that reality, students ask themselves, 'How am I going to do this? I'm going to have to get a high paying job.' They think they can't afford being idealistic in the future."
LRAP is BC Law's attempt to address this issue. Qualified LRAP applicants receive funds to help them pay off their student loans while they pursue lowerpaying public interest careers. Supported largely by contributions to the Law School Fund, LRAP in 2005 awarded fifty-three recent alumni a total of $180,000 in loan repayment assistance, with an average award of $3,400. The number of alumni receiving assistance has more than doubled in five years. Though the Law School boasts that it has never turned away a qualified applicant, the need is greater than available support, according to Garvey. "It's never been where it's needed to be," he says. "It would be great to persuade one of our angels to provide an endowment to secure this program into the future." A Law School "wish list" item is to increase LRAP scholarship amounts so qualified applicants receive 100 percent of their need.
Minuskin, who has watched many a law student morph from energized idealist to lukewarm realist in the face of financial pressures, has often found himself reassuring students at commencement who worry that they have compromised their values. "I have identical conversations with students at graduation who say, 'Yes, I'm off to a big firm, but I'm only doing it for five years until I make a dent in my loans. Then I will do what makes me happy,'" Minuskin says. "Some will do that; some will find it difficult," he continues, noting that graduates will accumulate financial obligations as children, homes, cars, aging parents, and other responsibilities enter their lives.
One of the jobs of the Law School, he says, is to make all students mindful of their social justice obligations, so they can have an impact regardless of their career paths. "There's nothing to apologize for in going to a corporate law firm," he says. "When you're representing Exxon in a courtroom and you see a person in poverty in the court, you'll know what that means. You'll be rich and will be able to pitch in to do good work for the people who need it."
A source of strength for BC Law's public interest and pro bono programs is the students themselves. For example, PILF, noted for its summer stipend program that makes it affordable for students to take on unpaid public interest internships after their first and second years, is run by students. And 2006 marked the second year of the Public Interest Retreat, which was funded by the Office of the Dean but organized and managed entirely by students. Retreat organizer Gavriel Wolfe '07 says the weekend is an important source of support for students who want to make public interest a centerpiece of their legal careers. "Returning to school in the fall, they discover that many of their colleagues are returning with job offers and a sense of security for their next move," says Wolfe. "The job path for those interested in public interest work is not as well lit. It is reinforcing to come back and spend time in a community of people like you who are casting about with flashlights to find their way." Wolfe's observations point to another paradox: Though typically lower paying, the public interest job market is tight, competitive, and less conducive to systematic job hunting.
Some students talk about a divergence on campus among those who increasingly look to private sector careers and those who continue to hold a candle for public service. "A lot of students who enter BC wanting to do public interest work change their minds," says Hickey. "There's a divide that develops. What BC could do better is make clear that going to a law firm is not abandoning your ideals and sense of wanting to do good in the world. Students are getting out there and learning they can do pro bono work even if they are not making it a focus of their careers."
Hickey thinks she's found her way to do that by joining Bingham McCutchen. During her stint in the Peace Corps, Hickey witnessed two women die in childbirth. Both women were in labor with their twelfth child. Both had been denied access to birth control, in part, because of the patriarchal culture that refused women the right to determine their reproductive destinies and bestowed social status on large families, and in part because of President Bush's 2001 reinstatement of the Global Gag Rule. The rule disallows US aid for family planning to organizations that use their own, non-US money for abortions, abortion counseling, or abortion advocacy.
"Decisions were being made in boardrooms in a Western country that were having a grassroots impact," Hickey says. The incident was one of many reasons she decided to become a lawyer: so that she'd be able to speak with authority on matters of human rights and equality.
Hickey points to the Massachusetts Rules of Ethics, which say that every lawyer should aspire to doing twenty-five hours a year of pro bono work. "We're trained, we're in a unique position to make a difference for individuals. BC Law is creating lawyers to serve the community" she says.
Regarding her decision to deviate from a straightforward public interest career to join a corporate firm, Hickey says, "Bingham has given a lot of support to public interest work at BC." She was especially impressed with Bingham's policy allowing its lawyers, within certain parameters, to count pro bono time toward their billable hours.
Given its extraordinary commitment to pro bono work, it is perhaps unsurprising that Bingham McCutchen is the firm of John J. Curtin Jr. '57, who is nationally recognized for his work on behalf of the poor and who made the Curtin Center possible. "We have an obligation as lawyers to give back to the communities that we serve. We are not strictly a business," insists Curtin. "The privilege of being a lawyer includes the obligation to help others get access to the justice system."
In honor of Curtin, Bingham McCutchen established a fellowship program at the Law School. "The Bingham Fellowship Program funds 50 percent of a student's internship in the areas of civil rights, legal services, the justice system, environmental protection, and government lawyering," says Jonathan Albano '82, via email. Albano, a litigation partner and also a hiring partner in the firm, says Bingham McCutcheon spent $23 million in lawyer time on pro bono causes last year. He attributes the firm's ability to give so much free legal assistance to its business success: "I saw a cartoon in the New Yorker a while back that had one lawyer saying to another lawyer that the firm could not do all of its pro bono work if it did not also have 'anti-bono' cases."
Another large law firm with strong BC Law ties and a fine pro bono program is Mintz Levin Cohn Ferris Glovsky & Popeo. Sixty-one percent of Mintz Levin attorneys served the community pro bono in 2005, according to a firm report, with over a third of its lawyers giving twenty hours of pro bono work over the course of the year. Mintz Levin now has a legal services fellowship that lets its own attorneys spend periods working full-time, onsite, at legal services agencies. Fellows have worked at political asylum and immigration projects, at Greater Boston Legal Services, and in Mississippi assisting Katrina victims, according to John Markey '73, chair of Mintz Levin's pro bono committee.
The touting of their commitment to pro bono has become something of a trend among large law firms. "Law firms have become sensitized to pro bono being important to the mission and success of the firm," says Markey. Large law firms across the country are recognizing that if they are to be viewed as places that are both profitable and provide a quality of life that young attorneys aspire to, having a comprehensive pro bono program is critical, he says.
Law firms are finding that "giving back" is not only the right thing to do; it also makes them better. Young attorneys in particular get opportunities to demonstrate leadership and get involved in community networking, according to Markey. And pro bono work improves law firm morale.
The practice of private sector lawyers taking on cases for the public good is a time-honored American tradition. Back in 1770, for example, it was none other than John Adams who successfully defended British soldiers arrested after the Boston Massacre. But according to Meg Connolly '70, executive director of the Volunteer Lawyers Program in Boston, which provides representation in civil matters for the poor, the increased pro bono involvement of today's private bar is traceable to the emergence forty years ago of federally funded legal aid. Last September, in a talk on campus, Connolly described the cyclical nature of federal financing for civil legal matters—which, even in the best of times, was never adequate for the vast needs of the poor—and discussed how poverty lawyers and their supporters creatively sought to address the dearth of resources. These approaches included the creation of programs like IOLTA (Interest on Lawyers' Trust Accounts) in Massachusetts, which requires lawyers and law firms to set up interest-bearing accounts on certain monies held for clients, pools the interest across the state, and distributes the funds to the Boston Bar Foundation, Massachusetts Bar Foundation, and Massachusetts Legal Assistance Corporation. IOLTA can raise upwards of $10 million a year.
In addition to helping establish programs like IOLTA, legal services attorneys seeking to fill in for funding gaps looked toward their colleagues in the private bar for support. As private and public attorneys started working together and learning more about each other and the problems of the poor, the private bar became even more supportive, according to Connolly. Even with increased assistance from the private bar, however, Connolly cautions that the need is still great, and she cites studies from the American Bar Association (ABA) showing that only 20 percent of the poor who need legal assistance in civil matters receive services, and that only half of those who know they need a lawyer actually get help.
But, Connolly says, "despite these challenges, the program has accomplished a lot in forty years. It has created entire new bodies of law, and made a difference in the lives of millions of people." Developments in landlord-tenant law; housing law doctrines around the issues of warrantee of habitability, retaliation evictions, and for-cause evictions; consumer law; domestic violence law; and the establishment of housing courts are among the accomplishments of the legal services bar—and are today among the areas of focus of pro bono programs in private law firms. This past August, the ABA adopted a resolution calling for the civil equivalent of Gideon (which guarantees to criminal defendants the right to counsel), urging federal and state governments "to provide legal counsel as a matter of right at public expense to low income persons in those categories of adversarial proceedings where basic human needs are at stake, such as those involving shelter, safety, health, or child custody."
BC Law provides many opportunities for law students to prepare for careers in public service, and to experience firsthand how unequal access to justice affects the lives of the underserved. In addition to PILF and the Curtin Center, which houses the many student public interest law groups, there are the Law School's extensive clinical offerings.
At LAB, for example, law students get well-supervised, hands-on practice experience while assisting the poor and elderly. The clinic handles about 600 cases a year, according to Associate Clinical Professor Alexis Anderson. "Many students who work here don't have public interest career paths in mind, but they get great training from the clinic and get a chance to give something back to the community," she says.
Minuskin, who works with Anderson at LAB, says, "One of the things that attracted me to being a clinical teacher is that this is a Jesuit school. [The Jesuits] don't think it's enough to stay inside the protective walls of an academic institution. You must go into the field where people are hurting and do something about it and bring that experience back to the academy and go out again. The interweaving of practice and theory, of learning and service, that's a perfect model for clinical education."
BC Law continues to grapple with the status of pro bono and community service on campus, and to improve opportunities and participation. Dean Garvey appointed a Pro Bono Committee of faculty, students, and administrators, which in 2005 offered recommendations primarily aimed at raising awareness on campus for volunteering and pro bono opportunities. According to Freda Fishman, who works in the Career Services Office as associate director for public interest programs, many of these recommendations have already been implemented, including a pro bono website: www.bc.edu/schools/law/services/academic/programs/curriculum/probono.
In the end, an emphasis on pro bono and public interest is the Jesuit way of channeling the student impulse to do good within the context of a well-rounded BC Law education: learning based in reality as well as theory, supported by an intellectual framework for making sense of real experience, and weighted in content and analysis necessary for excellence in legal practice. It is also the Jesuit way of reminding the legal profession of its obligations to those less fortunate, and expanding its commitment to the value of equal access to justice. "If the Law School doesn't make it possible to pursue public interest work," says John Curtin, "we won't have the people out there to do the work that needs to be done. There's a tremendous need."
—Jeri Zeder is a contributing writer to BC Law Magazine. Matthew Carr '08 contributed to this report.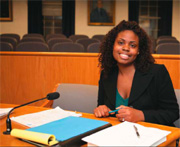 Read more about BC alumni who are working for the public good. more...