Defending Moussaoui
gerald zerkin '76 reveals what it was like taking on a federal public defender's worst nightmare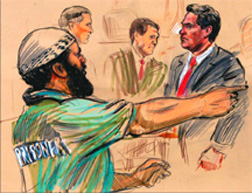 AP Photo / Dana Verkouteren

Imagine the most unforgiving fact packet in moot court history, then multiply the pitfalls by a million. Now, raise the stakes to real life and cast yourself as the senior litigator duty-bound to direct examination of a universally reviled defendant who only breaks his vow of silence when he baits the free world using the media as his mouthpiece. Oh, and don't forget to make it a federal capital case.
Even marinating in those sticky details indefinitely wouldn't make our insight into the life of Gerald Zerkin '76 these past four and a half years any less murky. A Queens Borough native of New York City who grew up from the age of ten in Bethesda, Maryland, Zerkin first came to Boston as a Brandeis undergraduate in the late 1960s. Three decades before becoming the assigned trial counsel for the so-called "20th hijacker," Zerkin's passion and pastime was his career as a collegiate track athlete. Aggressive prying obliges him to reveal that he won the fifty-yard dash at the Greater Boston Indoor Championships Freshman Meet in his debut season at Brandeis.
Conjuring up a post-graduate encore to a modest small college sprints and middledistance career is one thing. But what comes next after arguing one of the century's most poignant, powerful, perilous, soul-possessing, and precedent-setting cases? Especially since Zerkin knew there was a reasonable chance he would litigate just such a case from the moment the planes hit the towers.
"I knew I was in the crosshairs on September 11," recalls Zerkin, fifty-seven, who had been hired, but was still waiting for the brand new federal defender office for the Eastern District of Virginia to open when the 9-11 terrorist attacks occurred. "It was self-evident that if anyone were still alive who had been involved in 9-11 in some way, who would be charged criminally, the government would bring that person to trial in the Eastern District of Virginia. It's a high-profile district directly across the river from DC. It's a fairly conservative district in the most conservative circuit court of appeals in the country, the Fourth, and, of course, the Pentagon is in Alexandria. I knew if there was a defendant, we were going to get him."
Enter Zacarias Moussaoui, a French citizen of Moroccan descent, who was arrested by the FBI on an immigration violation almost a month before the 9-11 attacks. Moussaoui had aroused the suspicions of a flight instructor he'd worked with in August of 2001 at Minnesota's Pan-Am International Flight Academy. Flight-training supervisors tipped federal authorities.
From the beginning, Moussaoui was a federal public defender's worst nightmare. Indicted on six felony conspiracy charges for his role in the 9-11 attacks, he declined the assistance of court-appointed attorneys and elected to defend himself (his self-representation was terminated by presiding Judge Leonie Brinkema in November of 2003).
Having initially proclaimed his innocence, Moussaoui later admitted he knew about the attacks and did nothing to stop them. Finally ruled competent to plead guilty, he entered that plea in April of 2005, with the death penalty as a possible sentence.
Lawyering blindfolded
After a sentencing trial jury found Moussaoui eligible for the death penalty a year later, the most challenging phase of the trial began for those representing him. Could their mitigation efforts avert a finding for capital punishment? "He had told numerous stories about what his 9-11 role was or wasn't," Zerkin explains. "He denied involvement as part of his initial plea. He told a story about being part of a separate plot using a hijacked airplane to coerce the United States into releasing 'The Blind Sheikh' [Sheikh Omar Abdul Rahman, serving a life sentence for conspiring to bomb the World Trade Center in 1993.] There were also variations on those stories. We did learn of the story he ultimately told—that he was going to be the pilot of a fifth plane—a couple of weeks before the trial started, but we didn't know that was the one he would tell."
Zerkin was admitted to the US District Court of Virginia bar in 1976 and had twice argued before the US Supreme Court. But nothing in his legal experience had prepared him for the direct examination of a witness whom he had never deposed and who was standing trial for his life.
"From my standpoint, the examination of Moussaoui as a witness when he testified that was the toughest part of the lawyering," Zerkin says. "I had no idea what was going to happen. It was a blind examination because, obviously, he wouldn't talk to us. So, you had no way to know what he was going to say his role was, and you didn't know what the details were going to be. I was really just winging it. I had ideas about what I was going to do with it, but it was pretty extemporaneous."
Interestingly enough, one of the trial's most headline-grabbing twists was also one that almost gave Zerkin his own life back. In March of this year, when a prosecuting attorney for the Transportation Security Administration shared trial testimony with upcoming witnesses in violation of court rules, the government's case was nearly eviscerated.
"Originally, the judge said she was going to throw it all out," says Zerkin, a Richmond, Virginia, resident. "I have to tell you, we were hoping that it was headed for the desk drawer at that point. The judge gave us reason to think that might be the outcome, and we certainly were enthusiastic about that possibility. Ultimately, it had no effect on the case. [The government] came up with a substitute witness who provided them with the testimony they needed."
Ex parte Adams
It doesn't take a law degree to surmise that the landscape of a fifty-four-month trial is marked by precipitous peaks and valleys, and lots of ebb and flow. When their resolve was most vulnerable, the team of federal defenders representing Moussaoui grew fond of using as a rallying cry John Adams and his defense of British soldiers during the 1770 Boston Massacre trials. Zerkin's fellow counsel Edward MacMahon started the trend.
"We did invoke John Adams internally to keep up our spirits," Zerkin says. "Ed was reading the John Adams biography in his leisure time during the trial, whatever that was. An extraordinary lawyer and voracious reader, Ed encouraged us to compare ourselves to Adams, so we certainly thought we were fighting in that great tradition of criminal defense lawyers in America."
Even litigating in the name of a founding father couldn't spare Zerkin from reliving a hard lesson of criminal defense when he cross-examined a former US Attorney by the name of Rudi Giuliani. The former Mayor of New York was the first victim witness called by the government to testify during the second phase of the sentencing trial.
"One of my earliest cross examinations was while taking a criminal law clinic in the summer [while at BC]," Zerkin explains. "It was a credit card fraud case in West Newton and I was crossing a police officer on the stand and everything was going great. It was a classic case of asking one too many questions. I asked it and, I don't remember what it was, but it killed me. The judge de-briefs you after and talks about your performance, and he said, 'That's the lesson: Don't ask one too many questions,' and that's the anecdote that I've always kept in mind about cross."
But not near enough to the front of his mind, Zerkin notes, when he had Giuliani on the stand.
"So, I'm questioning Giuliani and what I'm trying to do with him, obviously, is have him talk about how great New York is and how resilient it was in its response to 9-11," Zerkin says. "I was getting exactly what I wanted, and then, of course, I ask that one question too many, something about New York and how well it's 'coming back.' And, Giuliani says, 'Yeah, of course, except for the people who died.'"
That smidgeon of gallows levity aside, Zerkin is downright reverent about the victims' impact testimony during the trial. "That's the part of the case that stands out," he says. "It really is difficult to imagine and hard to comprehend how intense that was if you weren't in the courtroom. It went on for three-and-a-half days for the government's victims and that was really tough stuff."
Victims' impact witness testimony also comprised the component of Moussaoui's defense that stands as the most unprecedented. It was also the component Zerkin calls the "most rewarding" to be involved with, personally. According to Zerkin, via a strategy spearheaded by a victim-offender reconciliation program at Eastern Mennonite University in Virginia, victims of the 9-11 attacks were called by the defense to offer impact testimony.
"It was something nobody had done before and I don't claim credit for the idea," Zerkin says. "It involved existing programs that deal mostly with helping to shape victims' opinion away from the death penalty by getting witnesses talking to the defendant and those sorts of things. What had never been done was for the defense to call witnesses to testify as part of victims' impact. It was an extraordinary experience to be on the ground floor of and witness.
"Some truly amazing people testified as witnesses on our behalf and gave some very poignant testimony," he continues. "Just as the government witnesses could not testify as to what punishment they thought was appropriate, neither could ours. But it was very different from the testimony that the vast majority of the government victim witnesses provided and it was very moving, humorous; it was a celebration of the lives of the people who had died. It was about trying to take something horrible and turn it into a positive."
In hindsight
Almost six months following the trial's May 3 conclusion (when the jury rejected the death penalty after seven days of deliberation), Zerkin confesses that finding clarity in the legacy of US v. Zacarias Moussaoui remains difficult. On the afternoon of the final verdict, Zerkin told ABC News that sparing Moussaoui's life "sends a message that we are able through our judicial process to provide a fair trial [and] that Americans are capable of sitting in judgment of … their sworn enemy."
Today, Zerkin isn't so sure.
"I continue to process this case and continue to reach different conclusions," he says. "When I speak about the case to groups, I usually start out by saying, 'If you see me speak about this again in a month, I'll probably be saying different things.' In reality, I don't know if it proves what I said or not. One of the things we now know is that only one juror voted against death [unanimity is required for the death penalty]. Would we be saying that Americans can sit in judgment of a sworn enemy if that one person had voted for the death penalty? The conclusion may be true, but I'm not so sure I'd so easily reach that conclusion now."
What Zerkin is sure of is his conscience. He never felt conflicted, patriotically or professionally, about representing Moussaoui. He may have been managing the defense of an enemy of the state, but the way Zerkin sees it, his client was ultimately the Constitution. And in the Moussaoui trial's four-and-a-half-year lifespan, Zerkin believes the precedents set did not serve the Constitution well.
"We were defending the Constitution in some very serious ways and I feel we kind of lost that battle in many ways too," Zerkin says. "Actually, the losses that we suffered in Moussaoui provided the momentum for … the new rules for enemy combatants. We contributed in a very negative way to where we're at now on that."
So what's on the docket for Gerry Zerkin these days? For starters, a lot more time spent with his younger daughter, who turns four on New Year's Eve (Zerkin has a twenty-year-old daughter by a previous marriage). And, predictably, a far more normal caseload.
"It took a while to decompress, but you just go back to doing the cases that come your way," he says. "I'm defending every day federal cases and it's kind of nice, to tell you the truth. It's great to be back on an even keel."
Chad Konecky is a freelance writer living in Gloucester and a regular contributor to the Massachusetts Bar Association's Lawyer's Journal.